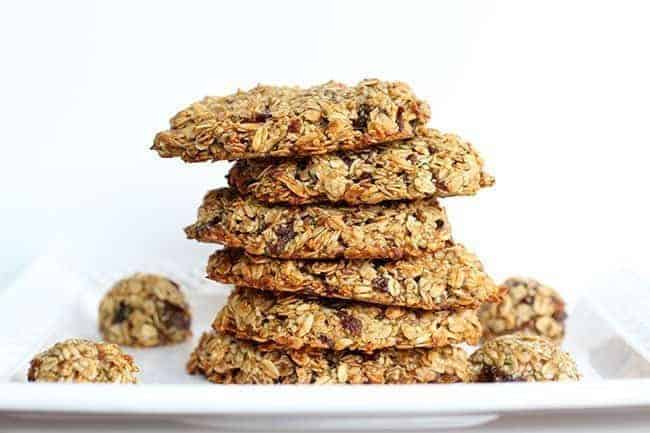 As much as I love a crazy decadent breakfast like my Strawberry Nutella French Toast Rolls, that's just not how you can eat all the time.  My breakfasts are so boring during the week you would snooze. Two eggs, either boiled or scrambled with cheese if I am feeling decadent and usually a bowl of watermelon. I eat watermelon almost every single day. It's my thing. I love it. When I am out of watermelon, it's usually a banana or grapes and with my usual cup of tea of course.
I'm just not an early morning eater, which must be why I love weekend brunch so darn much. I've usually slept in and not only that, I'm fully awake to eat by the time I prep anything.
My children however, eat a large and varied breakfast. Eggs, toast, bagels, cereal, you name it, they eat it. So these breakfast cookies are definitely for them.
I actually had a ton of bananas to use up and I was tired of making banana bread. I then thought of cookies, but wanted to make something healthier. These breakfast cookies basically are everything I had on hand thrown in to make a cookie.
And they are good.
And they are big.
Three cookies per sheet, folks. These are meant to be a large breakfast cookie, not a snack. This is an on the run, have one quickly in the car with a banana type of cookie. The full meal deal.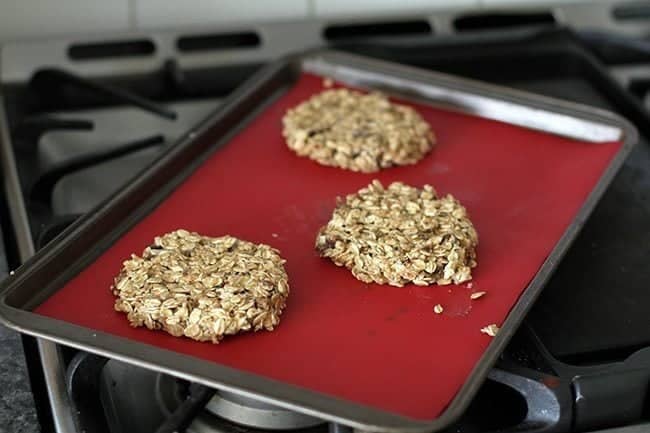 They are sweet but if you are looking for a junky, sugar tasting cookie, these are not the cookies you are looking for. These taste like a breakfast cookie, closer to a homemade granola bar.
The secret to these cookies not falling apart is leaving them to firm up on the counter, in the air and not in a container. They wanted to fall apart as soon as I took them out of the oven, then I wisely left them alone. They don't dry out as much as firm up and then I had no problems with them at all.
Happy baking everyone! I hope that you enjoy them!
Love you more than cookies,
Karlynn
** Remember to join ZIPLIST to create your own online recipe box and then click SAVE on my recipe below to add it! I use my online recipe box ALL the time!  And please rate my recipes every chance you get!** 
Healthy Banana Date Oatmeal Breakfast Cookies
Healthy and hearty Banana Date Oatmeal Breakfast Cookies. Easy and delicious!
Ingredients
2 large ripe bananas mashed
3 cups large flake oats
1 cup of dates pitted and chopped
1/3 cup of butter softened or applesauce
1/3 cup honey
1/2 cup hemp hearts
1 tsp vanilla
1 tsp cinnamon
Instructions
Pre-heat your oven to 325 degrees.

Combine all ingredients in a large bowl.

Pack the dough tightly into a large ice cream or cookie scoop. Place on a parchment lined baking sheet then press down to thin it out. You can fit 3-4 per cookie sheet.

Bake in the oven for 25-28 minutes until the bottoms are browned.

Remove and let cool on the cookie sheets completely.

Let the cookies sit on the counter for a few hours to firm up.
Nutrition Facts
Healthy Banana Date Oatmeal Breakfast Cookies
Amount Per Serving (12 g)
Calories 0
* Percent Daily Values are based on a 2000 calorie diet.
16