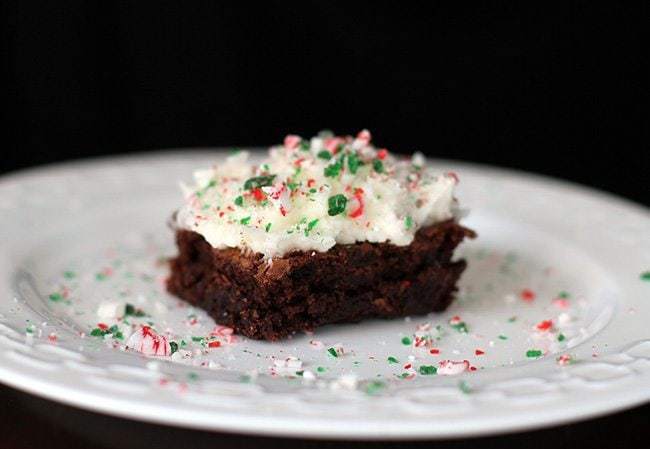 I told you that my peppermint buttercream icing would make a few appearances before Christmas! Not only have I made York peppermint patty stuffed cupcakes and topped those beauties with this gorgeous icing, today I have a mint brownie recipe for you that is also topped with that icing.
You could never accuse me of not loving the recipes I post for you all, ever. I love them like I love my children, except funny enough, my recipes never sass me back….
It is true that once I fall in love with a new recipe I love to try to use it in as many imaginative ways as possible. My love of peanut butter cups attests to this fact as I am still coming up with new recipes for peanut butter cups all the time. My love never wans, just perhaps takes a creative break now and then.
The lovely thing about these brownies is that again, you can cheat. This Christmas has been all about the cheating, hasn't it? How many recipes so far have I encouraged you to cheat on?
Let's see.
There's my Eggnog Breakfast Bake.
My Christmas Fruitcake Chocolate Chip Skillet Cookie.
Last, but not least, my peppermint patty stuffed cupcakes iced with the peppermint buttercream icing.
All of these – and many more upcoming before Christmas- encourage you to take a short cut and cheat. No judging. Use a cake mix, use a cookie mix, use a brownie mix. You're in the kitchen baking for your family and that's enough for me. This time of year is crazy so if I can help relieve your stress by coming up with shortcuts and helpful recipes, the happier we all are!
You cannot cheat with the buttercream icing and that's why I really love this recipe. You are still making a fabulous all-from-scratch recipe to add on to the brownies.
 Now, I DO have a fabulous mint brownie recipe and I can't suggest enough for you to try it. I promise, it's so very easy and delicious that you will never buy another boxed mix again.
It will be in the recipe below but again, if you feel that you can't, I'm all for you using a boxed mix.
Can you believe that December is almost here! Which means that soon I will be basking in the warmth of Phoenix, visiting my parents for a week then off to Texas for our Disney Cruise!
Oh, if you are tired of hearing about Disney, just wait until I am on that cruise ship! You're going to be bombarded with everything from my trip.
Two weeks left! Eeek!
Happy baking everyone!
Love,
Karlynn
** Remember to join ZIPLIST to create your own online recipe box and then click SAVE on my recipe below to add it! I use my online recipe box ALL the time! **
Mint Brownies with Peppermint Buttercream Icing
Ingredients
1 1/2

cups

white sugar

3/4

cup

flour

3/4

cup

cocoa

3

eggs

3/4

cup

butter

1

cup

mint chocolate chips
Instructions
Melt the butter in a pot, remove from the heat and stir in the white sugar.

Once that is combined, mix in your cocoa.

Remove the mixture from the stove and cool until warm, not hot.

Add in your eggs, whipping them into the hot mixture one at a time, very fast so they don't instantly cook into chunks.

You can mix in the cup of chocolate chips after the eggs are thoroughly combined into the mix.

Once all that is mixed very, very well, add in your flour and barely stir it in. Just barely. In theory, the less you stir, the less gluten and then chewy brownies here we come!

Line a 9 inch x 9 inch pan with parchment paper.

Pour the batter into the pan.

Bake in a 325 degree oven for 30-40 minutes, until the edges are set and firm, and a knife inserted in the middle comes out mostly clean. I know, backwards, but a little sticky batter on the knife is what you want, mostly baked but not all the way.

Cool completely then frost with Peppermint buttercream icing.
Nutrition Facts
Mint Brownies with Peppermint Buttercream Icing
Amount Per Serving (10 g)
Calories 396
Calories from Fat 180
% Daily Value*
Total Fat 20g 31%
Cholesterol 88mg 29%
Sodium 154mg 6%
Potassium 130mg 4%
Total Carbohydrates 53g 18%
Protein 4g 8%
* Percent Daily Values are based on a 2000 calorie diet.
0