This decadent brownie recipe has been on my website since 2009 and I made sure that it was in my first cookbook, THAT'S how good it is and how much I stand behind the excellence of this recipe. This has been one of the most popular recipes on my website for years upon years now, so I'm giving it an update with new photos and new tips and tricks. This is honestly the best brownie recipe, it's all that you are going to need from here on in!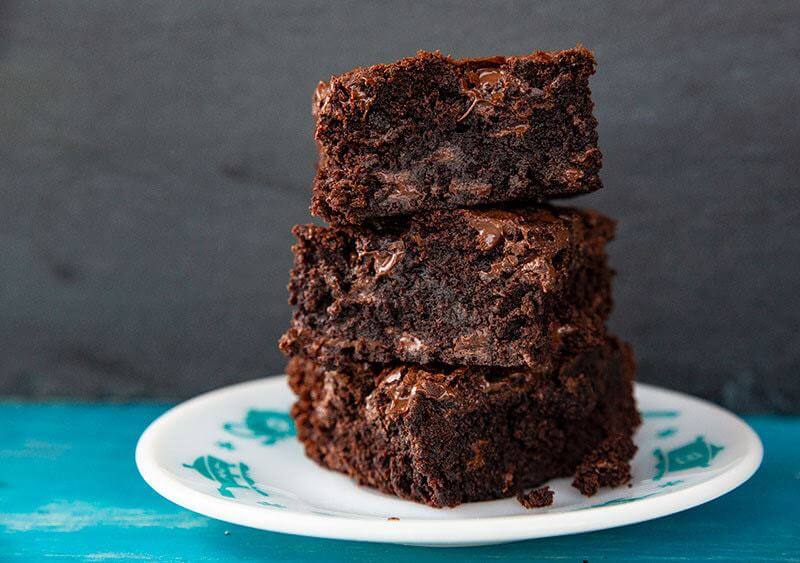 The Best Brownie Recipe
Ever since I made the best chewy, fudgy brownie recipe ever, that were the most delicious, chewy brownies I have ever eaten and promptly lost the recipe for them, I have been searching for a recipe that creates the same chewy-riffic, chocolate bliss that I once experienced. In the searching to learn how to come up with the best chewy brownies recipe that I possibly could, I learned a few things. Read on to learn how to make thick, fudgy, NOT CAKEY brownies! We aren't making cake, we are making stick-to-your-teeth-and-smile-a-chocolate-smile brownies.
Brownie Recipe Video
How do you Make a Chocolate Brownie?
Brownies are one of the easiest things to bake up and a great recipe to start your kids baking with! To make a chocolate brownie you only really need 5 ingredients :
salted butter
eggs
white sugar
flour
cocoa powder
You can then add the other ingredients to the brownie recipe as you see fit, I like to add chocolate chips for some extra chocolate goodness! People usually fall into two camps when it comes to brownies and their preferences. Either you like your brownies like cake, fluffy and a little moist or you like them thick, chewy and so decadent you can barely stand it. I know, that sounds biased – can you tell that I don't like cakey brownies? If you need proof of this being the best brownie recipe ever, just take a look at the photo below. These aren't under cooked and raw looking, like some brownie recipes are in order to get that fudgy look and feel, these brownies just simply are, they end up being wonderfully thick, chewy and fudgy with no raw batter middle in sight. There is a huge difference between raw batter and fudgy!
How do you Make Brownies from Scratch?
Making brownies from scratch is super easy! You guys, this is a one bowl dessert and trust me, once you try these ooey, gooey brownies from scratch you will never use another recipe again. Remember, these were in my cookbook, these homemade, from-scratch brownies are the best! And I never say that lightly, because claiming somethings is the best is a bold thing to do. The reviews on this recipe speak for themselves however!
To make brownies from scratch all you need to do is:
Melt the butter and sugar, then the cocoa.
Beat in the eggs.
Whisk together dry ingredients.
Mix them all together gently and pour them into a pan! Voila!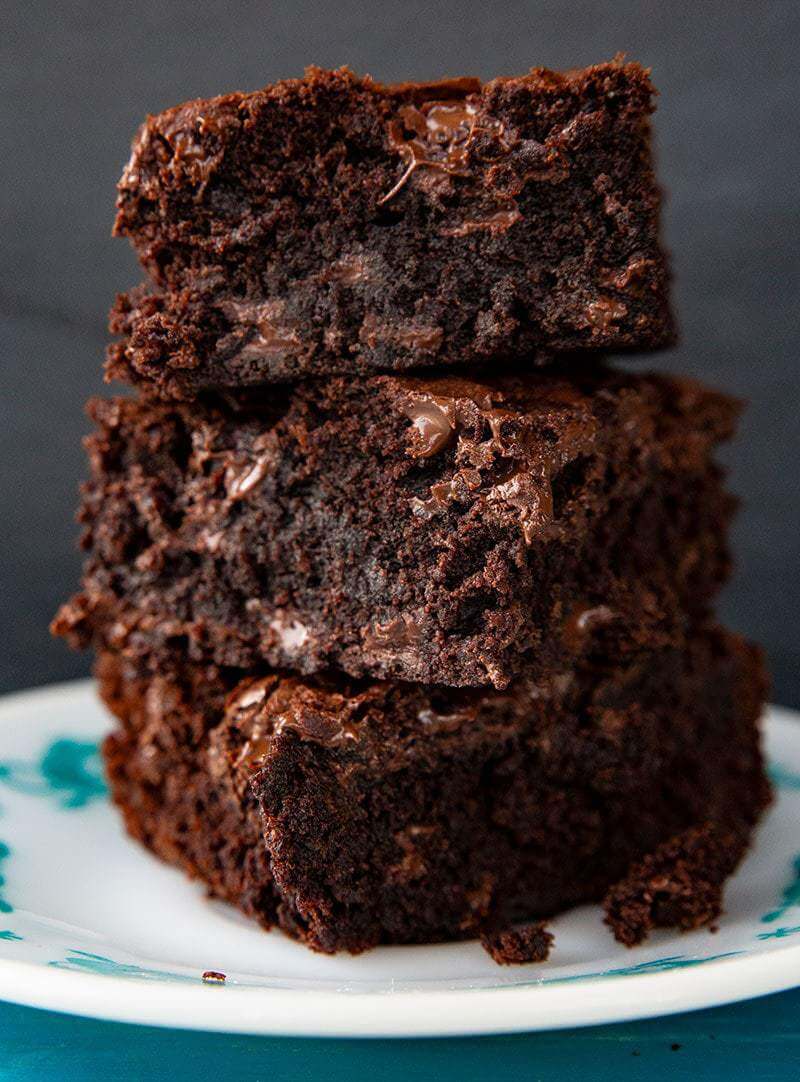 What Makes Fugdy Brownies?
It's all about the fat, baby. A brownie recipe that is going to yield you fudgy, delectable brownies is going to have a higher fat ratio than flour. Look at how small the amount of flour is that I use – it's only 3/4 of a cup! This ensures that it's NOT raw, undercooked brownie that is going to yield your end result of chewiness, it's the butter. And it should be only butter, why waste your fat calories on tasteless oil? If you see a brownie recipe with oil, skip it! ( the boxed mixes use oil, need I say more? They have their time and place, but only when camping!)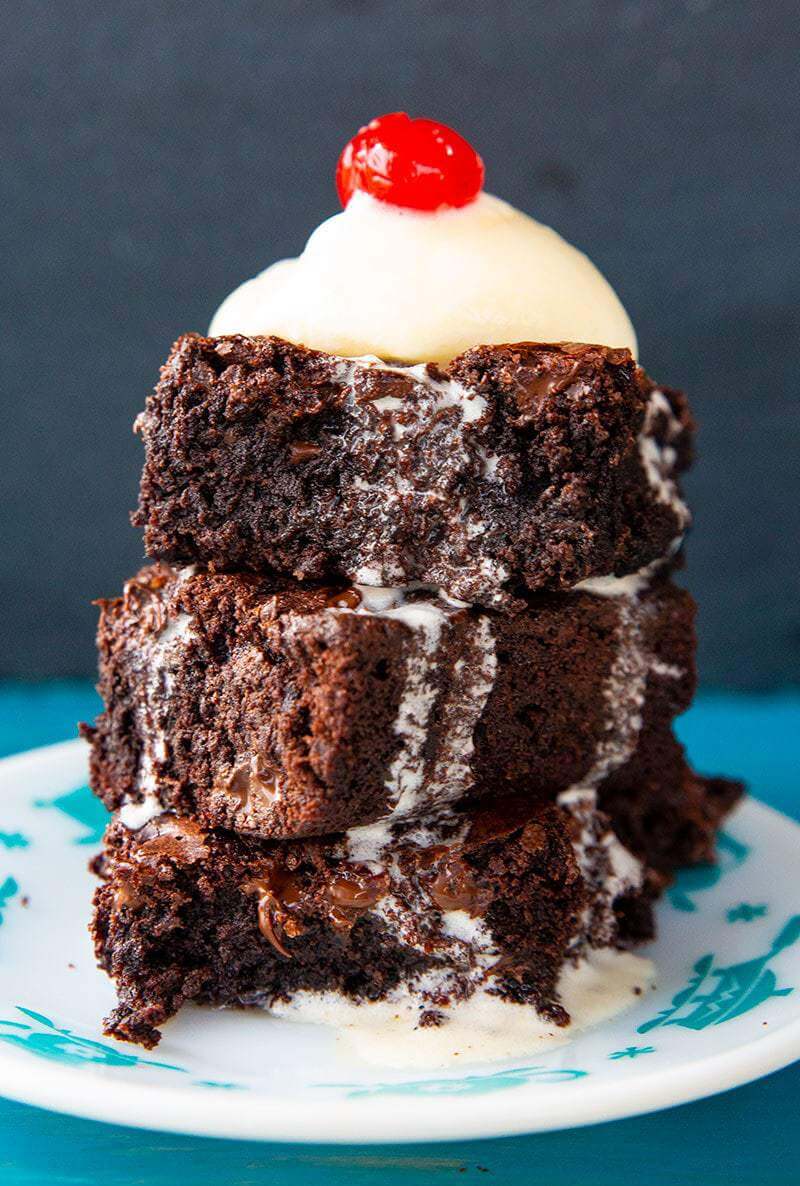 Karlynn's Tips & Tricks for Baking up the Best Brownie Recipe Ever!
You need to learn how to not mix the hell outta them when you put in the flour, and thus you need to do things in a certain order to be able to do that. Make sure to follow the directions in order for success!
You do NOT need any leavening agents at all in a true brownie recipes! No raising of these brownies, thank you kindly! We are aiming for thick, fudgy little bites of chocolate heaven. If you use a leavening agent ( baking soda or powder) you turn these into a cake as it makes them rise up and become airier.
Those two are the main key to success when it comes to making the best chewy brownies but the next one? UNDER BAKE THEM. Always. Remember that your baked products are safe to eat when the temperature reaches 165 °F in the middle, that kills any germs from the raw eggs. Baked goods firm up around 200-210 °F, so you have a lot of area in between to play with. You want them to be chewy but not raw. The brownies will continue to cook a little after you pull them from the oven, so if you insert a toothpick and it comes out fairly clean – you still want some fudgy-ness on it though – remove them before they bake too much.
Looking for some other brownie recipes? Try these popular favourites:
Happy baking everyone! Let me know in the comments below if you tried this brownie recipe!
Love,
Karlynn
Pin this picture to your DESSERTS BOARD and remember to FOLLOW ME ON PINTEREST!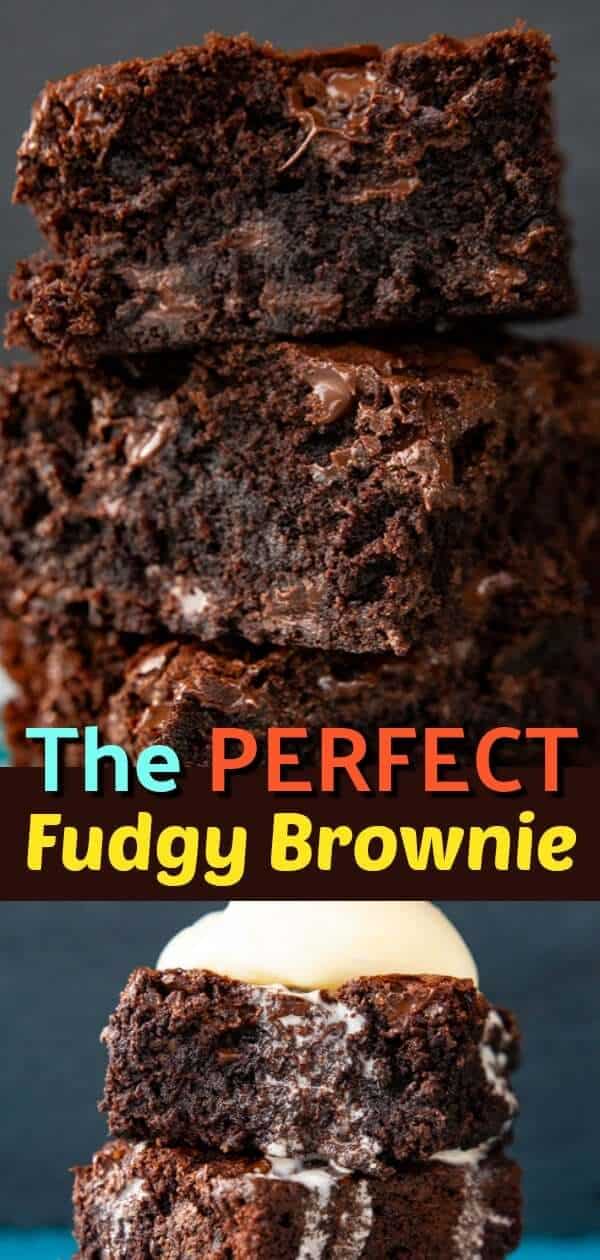 The Best Brownies AKA Chocolate Chewy Wonders
The Best Chewy Brownies Recipe AKA Chocolate Chewy Wonders. These are for the people that love fudgey brownies!
Course: Dessert
Cuisine: American
Keyword: brownie recipe, brownies
Servings: 12 servings
Calories: 330 kcal
Ingredients
3/4 cup of butter
1 1/2 cups of white sugar
3/4 cup of cocoa
3 eggs
1 tsp vanilla
1 cup of chocolate chips or chocolate chunks
3/4 cup of flour
Instructions
Kick the tires and light the fires and preheat your oven to 350 degrees.

 Melt the butter in a pot, remove from the heat and stir in the white sugar.

Once that is combined, mix in your cocoa.

Add in your eggs then add in the vanilla. If you are using chocolate chips instead of chocolate chunks, you can mix in the 2/3 of a cup after the eggs are thoroughly combined into the mix.

Once all that is mixed very, very well, add in your flour and barely stir it in. Just barely. I read somewhere that stirring the flour mixture creates gluten, which in turn creates the cakey texture I don't like for brownies. So in theory, the less you stir, the less gluten and then chewy brownies here we come!

Line a 9x9 pan with parchment paper.

I used chocolate chunks, which I placed on top of the batter. They are so heavy that they sink right into it. Bake at 350 degrees for 20-25 minutes, until the brownies pull away from the edges slightly.This is why I use the chunks, they sink in right to the top level of the brownies. Cool the brownies.
Recipe Video
Recipe Notes
This brownie recipe is easy to adapt to your liking, you can use any type of chocolate chips that you want, add walnuts to the batter, marshmallows, it's really is the best base brownie recipe out there! 
Nutrition Facts
The Best Brownies AKA Chocolate Chewy Wonders
Amount Per Serving
Calories 330 Calories from Fat 144
% Daily Value*
Total Fat 16g 25%
Saturated Fat 10g 50%
Cholesterol 73mg 24%
Sodium 128mg 5%
Potassium 108mg 3%
Total Carbohydrates 44g 15%
Dietary Fiber 2g 8%
Sugars 34g
Protein 4g 8%
Vitamin A 9%
Vitamin C 0.1%
Calcium 3.5%
Iron 8.2%
* Percent Daily Values are based on a 2000 calorie diet.
132