Butter Tart bars or butter tart squares are almost as easy as my homemade butter tarts! You can make these in no time at all and they are just as delicious as a real butter tart is!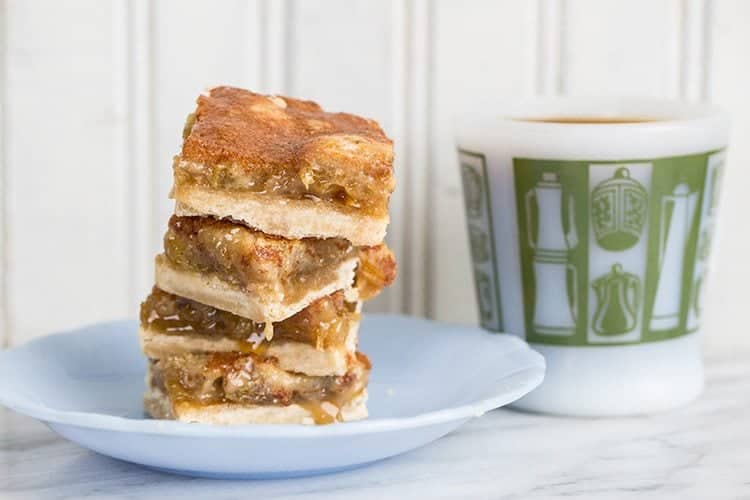 Butter Tart bars are almost as easy as my homemade butter tarts.
Almost. You do have to make a crust for these, but it is incredibly simple to whip up and they are a crowd-pleaser, let me tell you! There is nothing like a batch of butter tart bars hidden in your freezer for when company comes over.
And I do mean hidden! If anyone knows that there are butter tart bars in the freezer, they won't last long!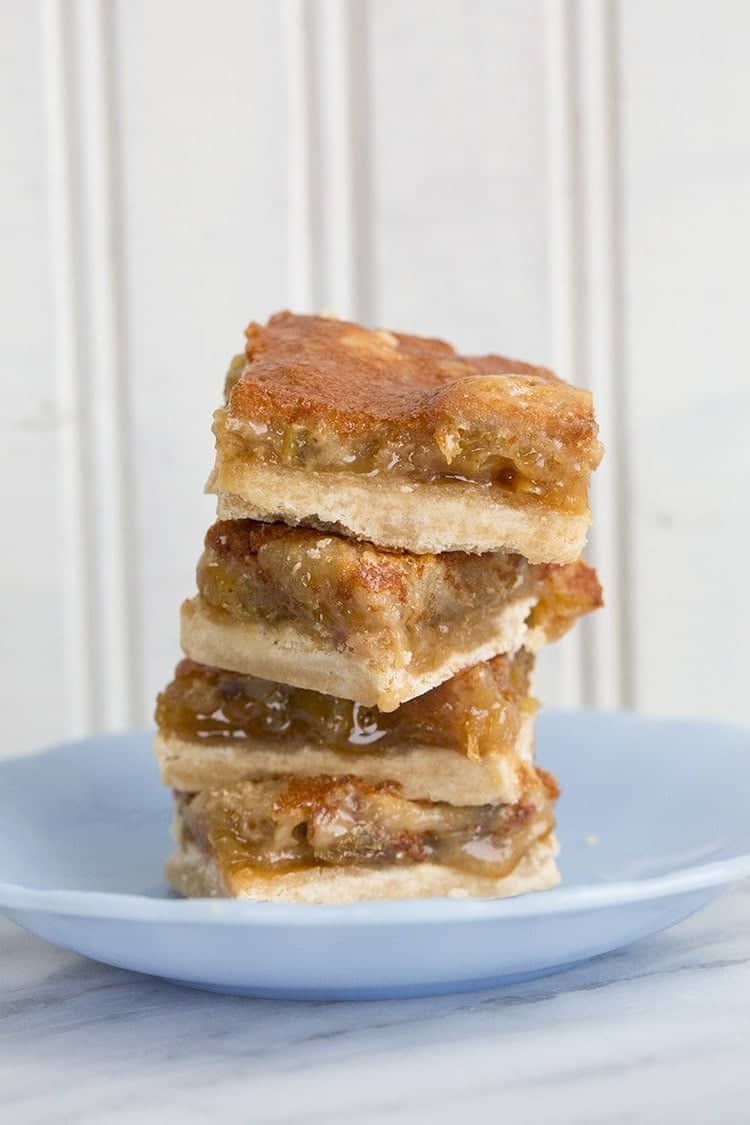 Can I put walnuts or pecans in butter tart bars?
Now, I don't actually put any nuts in my butter tarts but I have been known to add nuts to these. It depends on what mood I am in at the time. Oh fine, it actually depends on whether or not I am organised and have nuts in my pantry to use in them. You caught me. I am pretty sure that I have lost small children in my pantry, it's so disorganized. Which is scary because I organize it at least 6 times a year. It just won't stay clean!
So the long answer to the short question is YES you can put nuts in these butter tart bars!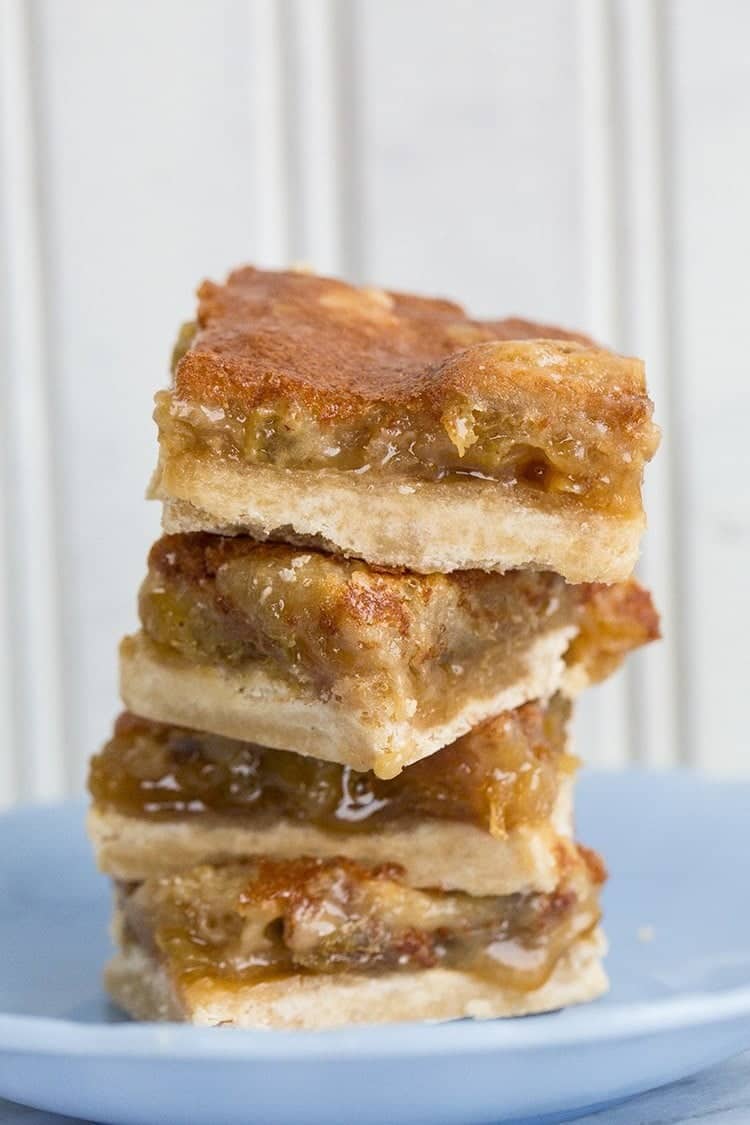 Butter Tart Bars Tips and Tricks
Butter tart bars are THE way to get that butter tart flavour that we all love with the least amount of work possible, with maximum payout. True, they aren't as easy as using pre-made tart shells for a few dozen butter tarts that you whip up, which is my time-saving trick, but you can bake up a couple batches of these and freeze them in no time at all.
Make sure to let them cool completely in the pan before you slice them!
Can I freeze butter tart bars?
Yes you can freeze butter tart bars, here's a few tips how:
Make sure to cut them before you freeze them – I find that it's just easier to slice bars before they head to the freezer.
Get a good quality plastic container and you can freeze two layers of bars at a time, following step three below.
To prevent freezer burn try to wrap the bars one layer at a time with plastic wrap. I find that putting them in a plastic sealed container doesn't always prevent freezer burn. Make sure that there is wrap between the layers.
How long can I freeze them for?
If you follow the steps above there is no reason that they won't last in your freezer for 1-2 months. It's wrapping them so that you don't get freezer burn OR take on any of the other "scents" in the freezer as well.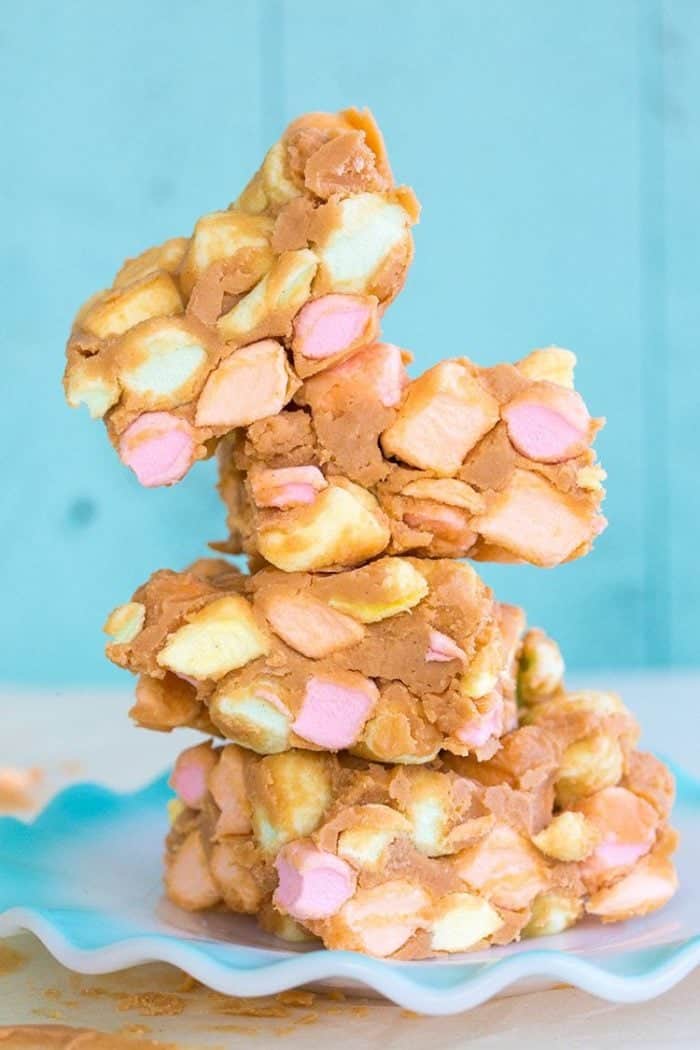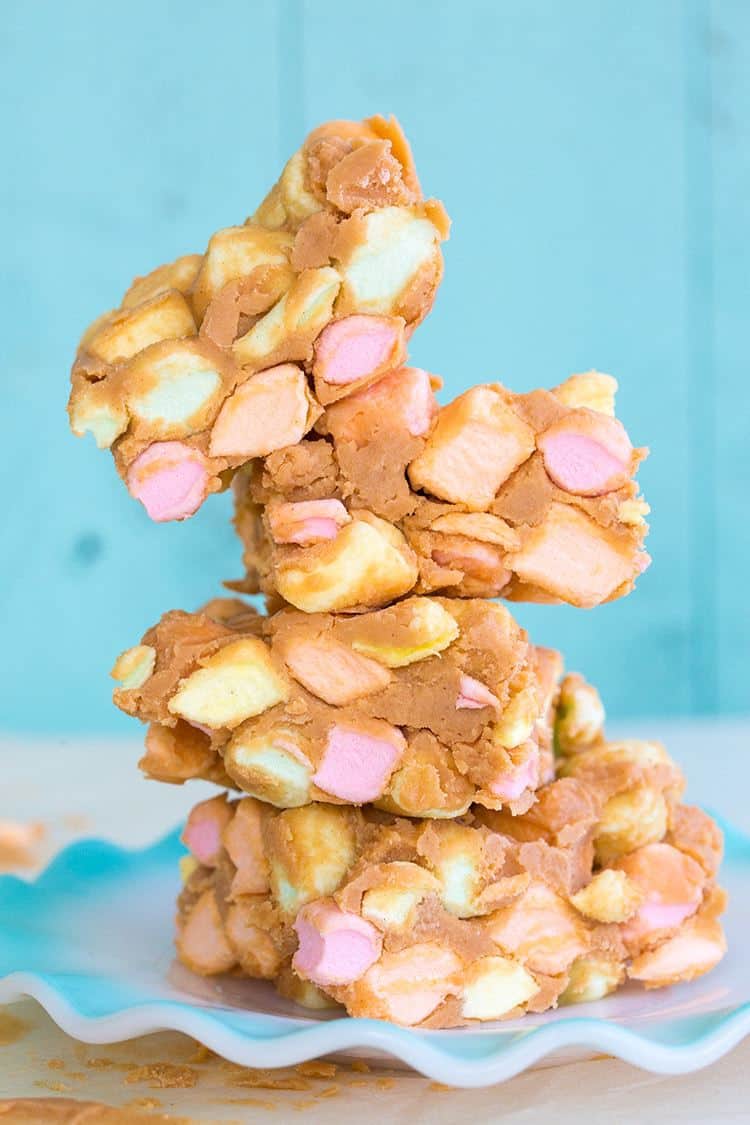 If you are looking for another retro recipe that is seriously the bomb, try my Peanut Butter Marshmallow Squares / Confetti Bars as pictured above. Now THESE don't last in the freezer, mainly because they taste amazing frozen!So who here makes butter tart bars? Has made them? WILL make them?
Happy baking babes!
Love,
Karlynn
Pin this recipe to your Christmas Baking or Dessert Boards and Remember to FOLLOW ME ON PINTEREST!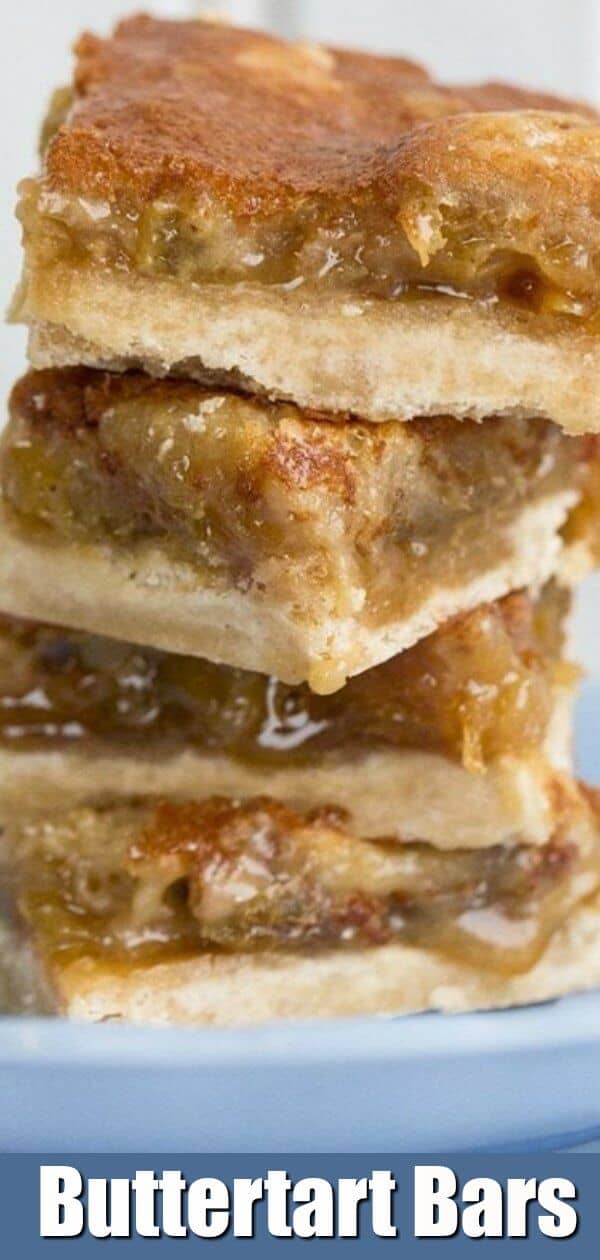 Butter Tart Bars
Butter Tart bars or butter tart squares are almost as easy as my homemade butter tarts! You can make these in no time at all and they are just as delicious as a real butter tart is!
Course: Dessert
Cuisine: American
Keyword: Butter Tart Bars
Servings: 16 squares
Calories: 280 kcal
Ingredients
Crust 
1/2 cup butter
1/3 cup of brown sugar
1 1/4 cups of flour
Top Layer
2 large eggs
1 cup of brown sugar
1 tsp flour
1/2 tsp baking powder
1/4 tsp salt
1/4 cup  butter
1 tsp vanilla
1 1/2 cups  of raisins
1/2 cup chopped nuts optional
Instructions
Preheat oven to 350 degrees fahrenheit

Combine the first three ingredients in a bowl until crumbly.

Press the mixture into an ungreased 9x9  pan and pop into the oven. Bake for about 15 minutes, until browned.

Combine your brown sugar and your eggs together well.

Add in the rest of your ingredients.

Bake at 350 degrees until beautifully browned, about 18-20 minutes.
Recipe Notes
Pecans and walnuts are exceptionally good in this!
Nutrition Facts
Butter Tart Bars
Amount Per Serving
Calories 280 Calories from Fat 99
% Daily Value*
Total Fat 11g 17%
Saturated Fat 5g 25%
Cholesterol 43mg 14%
Sodium 131mg 5%
Potassium 257mg 7%
Total Carbohydrates 43g 14%
Dietary Fiber 2g 8%
Sugars 17g
Protein 2g 4%
Vitamin A 5.9%
Vitamin C 1.5%
Calcium 3.9%
Iron 7.6%
* Percent Daily Values are based on a 2000 calorie diet.
237