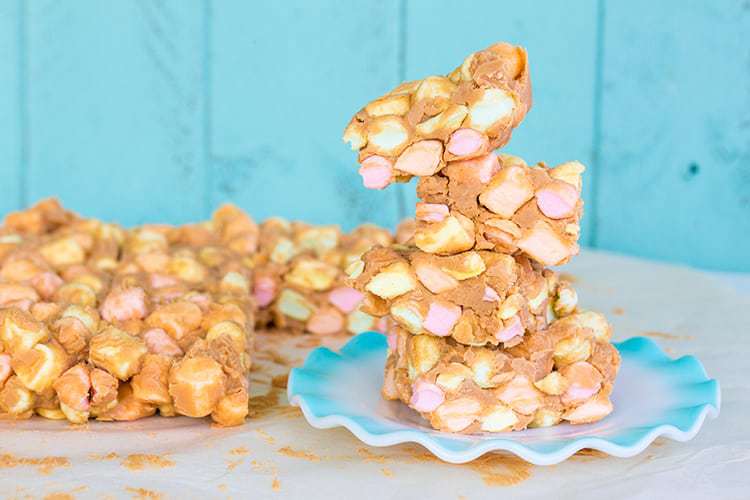 No Bake Peanut Butter Marshmallow Squares / Confetti Bars are from my repertoire of my Grandma Marion's recipes,  as she was an avid fan of  "dainties".  Or squares, as most people would call them, but I prefer the word dainties instead, not only because it brings forth very fond memories of my grandma who has sadly no longer with us, but because it also evokes a feeling of times gone by, in which you always had a supply of dainties ready in the freezer in case your neighbour stopped by.  This was really common in my grandma's rural area;  if you stopped by, there would be a cup of coffee and a plate of squares produced for your chat in less than 10 minutes.
Peanut Butter Marshmallow Squares / Confetti Bars

PEANUT BUTTER MARSHMALLOW SQUARES aka CONFETTI BARS!

Who remembers this old fashioned sweet treat?

Share and tag the person you could totally sit down and eat a pan of these with.

Recipe here: https://www.thekitchenmagpie.com/peanut-butter-marshmallow-squares-confetti-bars/

Posted by The Kitchen Magpie on Wednesday, March 29, 2017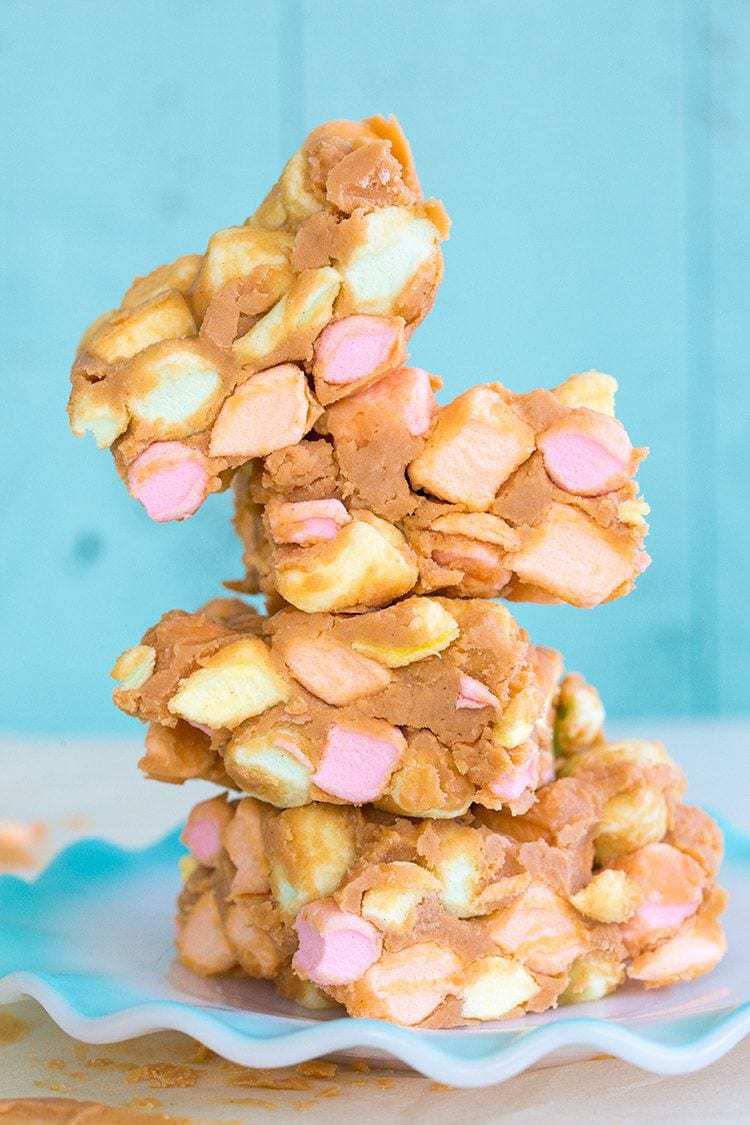 Oh colored marshmallows, how I love thee. Especially the large ones roasted over a campfire, which reminds me, those large colored marshmallows are darn hard to find! This recipe uses just over half of a large bag of the mini variety rainbow marshmallows. When then leaves just under half a bag of colored mini-marshmallows for snackin'. Gotta love a recipe that pulls double duty!
No bake peanut butter marshmallow squares are probably my favourite square on earth and they totally made it into my cookbook even! Now, the cookbook has a NEW version of these bars as well that you will totally have to check out as well.
Those are super deadly and delicious as well! For now though, this recipe is still a winner and my favourite.
The really important question is: are you a butterscotch or chocolate lover when it comes to these bars? You can make both versions easily,my Grandma always had both but I do believe that these butterscotch ones disappeared faster than the chocolate ones did.
And if you can believe it, these are even BETTER when they are frozen!
Happy baking everyone!
Love,
Karlynn

Peanut Butter Marshmallow Squares / Confetti Bars
No Bake Peanut Butter Marshmallow Squares are an old fashioned favourite!
Course: Dessert
Servings: 26
Ingredients
1/2 cup butter
1 cup peanut butter you can use crunchy if it's your favourite!
1 package butterscotch chips or chocolate chips
1/2 tsp vanilla
8 cups coloured marshmallows
Instructions
Line a 9x13 pan with parchment paper and set aside.

Place the butter, peanut butter and baking chips into a large saucepan. Heat over low-medium heat until melted and smooth, stirring frequently.

Remove from the heat and stir in the vanilla.

Cool until you can safely touch the bottom of the pot, then stir in the marshmallows.

Spread out evenly in the prepared pan. Cool completely and let set, then slice and serve.

These freeze well and even taste better frozen!
Nutrition Facts
Peanut Butter Marshmallow Squares / Confetti Bars
Amount Per Serving (1 bar)
Calories 0
* Percent Daily Values are based on a 2000 calorie diet.
55