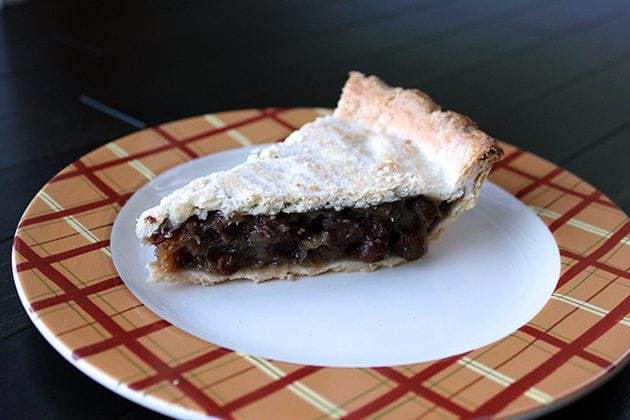 Happy New Year, everyone! And to celebrate, here's a  Raisin Pie Recipe!
What, you think I'd start the New Year out with celery sticks? Think again, my dearest friends, think again. That's so not how I roll. If you have one resolution this year, make it this:
Eat more pie.
To add to that, bake more pies, create more pies, gift more pies and enjoy more pies, pies, PIES!
I started my pie kick way back in November. For all the things I have baked,created, made, I haven't tackled many pies. Now don't get me wrong, there's nothing better than pie. Flaky, melt in your mouth crust cradling a beautiful hot (or cold) filling, topped with ice cream that slowly melts over it, combining with the luscious ingredients to make the supreme mouthful of happy.
Indeed, I do like pies. I just haven't really liked baking them that much. Pies take committment, planning and practice. That's just a whole mouthful or words that I usually don't have time for. But my New Years Resolution is to tackle pies.
So 2012 is going to be the year of Pie Day – Friday to you lay folk.
So I am going to try to get out as many Happy Pie Day posts as I humanly can. If it's every Friday, then I'm kicking the tires and lighting the fires, Big Daddy. If I miss a Friday, don't fuss, there are going to be a lot of pies this year.
Or how about this: If I don't feature my own pie, I will make sure to feature someone else's!
So.
52 pies in 52 weeks. Not necessarily my own.
I can do that. I like that. No stress! This makes for a happy Magpie. Have you ever seen a stressed Magpie? It's not pretty. It involves pecked out eyeballs and shrieks.
And on that happy note of pecked out eyeballs, let's move on to the actual recipe, shall we?
I was really proud of myself and made 3 different types of pies this Christmas. The one that I loved the most was the raisin pie, simply because I honestly haven't had one that really jumped out and screamed "I am the awesome!".
This one was the awesome. Tons of raisins, good thickness ratio and yes, lemon. I added lemon instead of the usual vinegar. Of course.
Ingredients Needed:
3 cups dark/Thompson raisins
3 cups water
3/4  cup packed brown sugar
3 tablespoons cornstarch
1  teaspoon ground cinnamon
1/2 teaspoon salt
2  tablespoons lemon juice
1 tbsp lemon zest
2 tablespoons of butter
pastry for a 9-9.5 inch double crust deep dish pie (I'll be getting into crust recipes soon!)
Using a 9 or 9.5 inch deep dish pie pan, line the bottom with the pie pastry. Put it back into the refrigerator until you are ready to pour in the filling.
 First you need to make the raisin filling. Combine the raisins and water in a small saucepan and boil them for 5 minutes, getting them nice and soft and plump. Blend the brown sugar, cornstarch, cinnamon, and salt together then add then into the hot raisin mixture. Cook, stirring constantly, until the mixture is clear. The cornstarch will be cloudy for a little while then poof! All of a sudden your filling is clear and beautiful.
Remove from heat, and stir im the lemon juice and zest, followed by the butter. Cool slightly.
Time to get out your pie dish. Pour the filling into the pie plate and then cover with top crust. Seal edges, and cut slits in the top crust, whichever designs you like the best. Just make sure there are slits in the top of the pie.
Bake at 425 degrees F (220 degrees C) for 30 to 35 minutes until it's gorgeous and browned
Now, getting to know your oven is probably the most important thing I have learned so far in my foray into the Pie World.
The lower racks are where you want to bake your pie, whether it's the very bottom or second from the bottom is something you are going to have to learn from trial and error. The bottom of unbaked pie crusts will not cook properly any higher than this, you end up with a too toasty crust and a soggy bottom.
On the note of that too toasty crust, you also will most likely have to cover the edges of your pie with tinfoil. All my pie crusts darken too much before the entire pie is baked up completely.
Oh, my, was I happy with this pie! Considering I was into my 3rd day of strep throat and trying to get Christmas dinner together, I was rather proud of myself for tackling this at all.
So Happy Pie day everyone! I can't believe that Christmas break is over and the kids go back to school on Monday. Where did the last two weeks with my wonderful kidlets go? It was a massive blur of sickness on my part, an amazing Christmas anyway, followed by wonderful friends, family, visitors galore and sadly it's over.
I also miss the Christmas music on the radio, am I the only crazy one? For some reason I am having the post Christmas blues, this year. It might have a lot to do with the fact that I was horribly ill with that strep throat from December 21st until Boxing Day, indeed, the very first meal I tasted was the prime rib I made that day. After weeks and weeks of preparation I felt a little ripped off that I got so run down and sick, right in time for the big day. The days were a haze of antibiotics, pain killers and not tasting a single thing I made. Bah. For a home cook, there's nothing worse!
Luckily this pie kept so well that I was able to take pictures on Boxing Day and enjoy a real taste of it.
I hope you all have a fabulous weekend! Hug those kids and enjoy these last couple days before they go back to school!
Love,
I'm Dreaming of Pies Magpie
Raisin Pie
Thick, raisin pie with some lemon zing to it!
3 cups raisins3 cups water3/4 cup packed brown sugar3 tablespoons cornstarch1 teaspoon ground cinnamon1/2 teaspoon salt2 tablespoons lemon juice1 tbsp lemon zest2 tablespoons of butter inch pastry for a 9-9.5 double crust deep dish pie
Using a 9 or 9.5 inch deep dish pie pan, line the bottom with the pie pastry. Put it back into the refrigerator until you are ready to pour in the filling, keep it nice and cool.First you need to make the raisin filling. Combine the raisins and water in a small saucepan and boil them for 5 minutes, getting them nice and soft and plump. Blend the brown sugar, cornstarch, cinnamon, and salt together then add then into the hot raisin mixture. Cook, stirring constantly, until the mixture is clear. The cornstarch will be cloudy for a little while then poof! All of a sudden your filling is clear and beautiful.Remove from heat, and stir im the lemon juice and zest, followed by the butter. Cool slightly.Time to get out your pie dish. Pour the filling into the pie plate and then cover with top crust. Seal edges, and cut slits in the top crust, whichever designs you like the best. Just make sure there are slits in the top of the pie.Bake at 425 degrees F (220 degrees C) for 30 to 35 minutes until it's gorgeous and browned