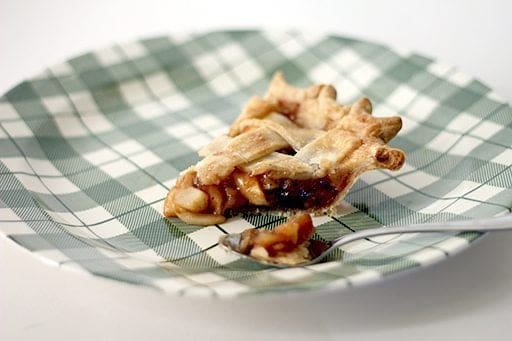 Crabapple pie is the ultimate labor of love. Or thriftiness. Or perhaps even craziness.
There's a reason crabapple trees aren't included in my edible landscaping and it's because I can't stand them.
Oh, I like to eat them, love to pick them off the tree that is out at my parents farm, but as for my own yard? The cleaning up of little worm eaten ones, the ones that fall off for no apparent reason, their tartness and inediblilty if you don't pick them at the right time and of course, their size.
In the apple world, size matters, baby. At least in mine. The payoff of larger apples that store better, peel better and mostly taste better is what makes all the fuss and cleaning that come with apple trees worth it in the end. Crabapples? Not so much.
I absconded with crabapples from my parents farm with the intent of making a crabapple pie, to savour the little devils in a gorgeous pie, one that smelled of Fall and tasted worthy the time it takes to peel those little suckers.
Crabapples are the perfect tartness for pie and indeed, it really didn't take me that long to peel, core and slice them. It can be a lot of work for little payout, but if you have a free tree in your backyard, why not? Free for the win.
This was a take on classic raisin rum pies. I didn't have rum, I had Amaretto. I also have had a raisin apple pie on my list to make and having a cup of raisins helped to fill the space up = less peeling and coring of mini apples for me!
Ingredients for Amaretto Crabapple Raisin Pie
1 cup golden raisins
4 tbsp amaretto
1/2 cup of water
4 cups of crabapples
1/2 cup brown sugar
1/4 cup white sugar
1 tsp cinnamon pinch each of nutmeg,ginger and cloves
3 tbsp cornstarch
1 tbsp butter
egg
white sugar for sprinkling
pastry for a double crust 9 inch pie
Kick the tires and light the fires to 425 degrees
In a large glass measuring cup, combine the raisins, Amaretto and water. Microwave them on high for 3 minutes, stir and then microwave for another 4-5, until the liquid is absorbed into the raisins. You end up with plump, juicy raisins that taste absolutely divine! Set them aside to cool while you prepare the rest of the pie.
Peel, core and slice the crabapples until you have 4 cups. I was fairly lucky that my mom's tree has larger but more tart apples on it. The largest one I picked is above.
Once the apples are prepared, mix together your dry ingredients. When working with brown sugar in a pie, you have to make sure that it's broken down with no chunks in it. Combine these dry ingredients thoroughly.
Toss the raisins,apples and dry mixture together gently until everything is coated evenly.
Place your bottom pie crust in the plate gently, letting it fall into place rather than pressing it in.
Scoop the filling into the plate. Dot the filling with butter.
You can top with a full crust or a lattice. Beat the egg and then brush over the top of the crust!
I felt this pie begged for a lovely lattice top and while doing it I went a little spiky on the sides. It ended up looking like a sun.
I think this will be called my Sunshine Crust, it lets the beautiful ingredients shine through the lattice and the spikes baked up into beautiful little browned flaky points.
Using the lowest rack of your oven, bake for 15 minutes at 425 degrees, then lower the temperature to 350 degrees and bake for about 40-45  minutes more.
When your pie edges start to become too brown – and they always will- cover the edges with tinfoil or use a pie crust cover. If you haven't bought a pie crust cover yet, do so. They are amazing!
Continue baking until you see the pie filling bubbling and your pie is beautifully browned all over the top.
Remove from the oven and cool on a baking rack.
You will end up with this. A beautiful browned pastry sun
Root Beer was there as always to "help" Mom with the photography. Which consisted of getting under my feet as usual. I don't know what it is about pies, but when I bake them and shoot the pictures, he's always underfoot.
Looking cute gets you no pie, I'm afraid.
If you like tart pies,this is the one for you! The sweet Amaretto raisins are a perfect foil to the tart crabapples and with vanilla ice cream? Drool worthy.Exceptional. Amazing.
Happy PieDay everyone! Can you believe that our kids head back to school on Tuesday? My lord, where did the summer go? It seems to go faster and faster every year. I'm ready to enjoy a long weekend with visiting relatives and relaxing before diving back into the craziness of the school year. We'll be starting up with the Culinary Arts Cook Off again very soon, (the website is undergoing under a revamp over the next couple of weeks) and I'm back to being a chauffeur 5 days a week.
Oy. That also means we are back to packing lunches. Sigh.
Have a fabulous long weekend everyone!
Love,
The I'm Missing My Kids Already Magpie
5