This post may contain affiliate links. See my privacy policy for details.
There are so many ways to make an omelet, from fancy French styles to the classic American diner omelet, but how do you actually make even a basic one? Why not learn the first steps to making a basic omelet right here?
Now that you've perfected a basic omelet why not try something a little more complicated like this Egg Drop Soup? Also don't forget to learn How to Make Toast in the Oven to serve with your omelet!
Table of Contents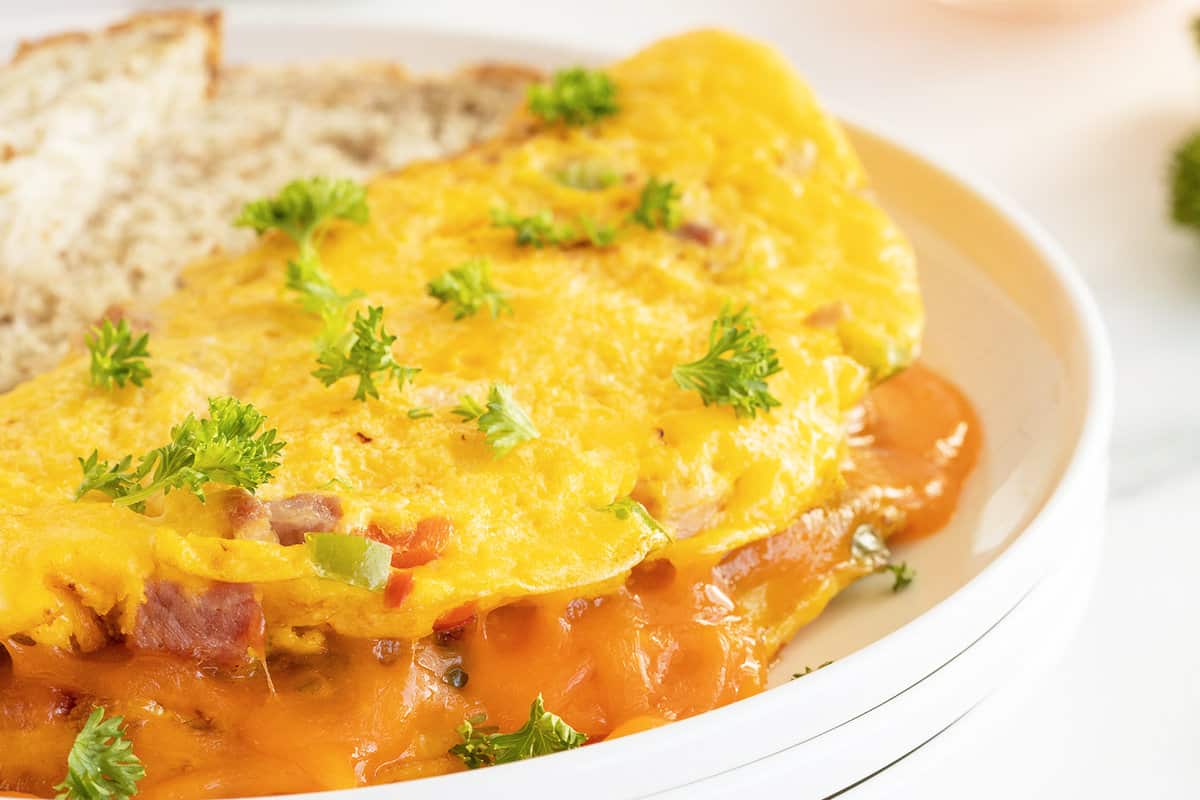 How To Make An Omelet
The omelet is the universal breakfast egg dish and is present pretty much everywhere in the world.
However, whether you are looking to learn how to make your own omelet, or just looking to salvage some ruined scrambled eggs, there are a few things you need to learn and improve before you can go ahead and start making omelets.
It might seem as simple as cracking some eggs and heating up a pan, but there is actually a good amount of special steps you need to understand to be able to truly consider yourself a master at making omelets.
The First Step: Picking & Cracking Your Eggs
As might be expected, the first step to any good omelet is getting your eggs.
Any eggs will do, but there really is a difference in both quality and taste between caged hens and free-range, but pick whichever eggs are right for you.
Once you've got your chosen eggs, you just need to separate them from their pesky shells.
Most people will probably try cracking their eggs on the corner of their countertop, or the edge of their bowl, but in actual fact, the best way to crack your eggs is on a flat surface.
Give each egg one firm, sharp crack against your flat countertop, and then hold the eggs over your bowl and separate them using your two thumbs, opening the egg like a hinge.
Though it seems a bit needlessly complex, this is actually the best way to avoid bits of eggshell from finding their way into your bowl.
How To Mix Your Eggs
The next step to making your omelet is mixing your eggs.
This sounds simple, right? Just stir it a little bit and then you're done?
Unfortunately, mixing your eggs together actually requires way more stirring and wrist action than you might expect.
Whenever cooking eggs, but especially when making an omelet, you want to ensure that your eggs are really, thoroughly mixed into one cohesive liquid, with no trace of any egg whites remaining.
If you are lazy and only stir it until you think it looks done, you will probably end up with those really gross, stringy white bits in your omelet that just never seem to cook properly.
If you are having trouble with stirring together your mixture and getting it to the right consistency, try adding a little bit of liquid to help thin everything out.
Traditionally this would be something like milk, but even a splash of water can help to thin the egg mixture and make it easier to stir.
This is also the time to properly season everything with whatever seasonings you feel like, but just salt and pepper would be traditional.
Now that it's stirred together and ready, the only remaining thing to do is to cook it.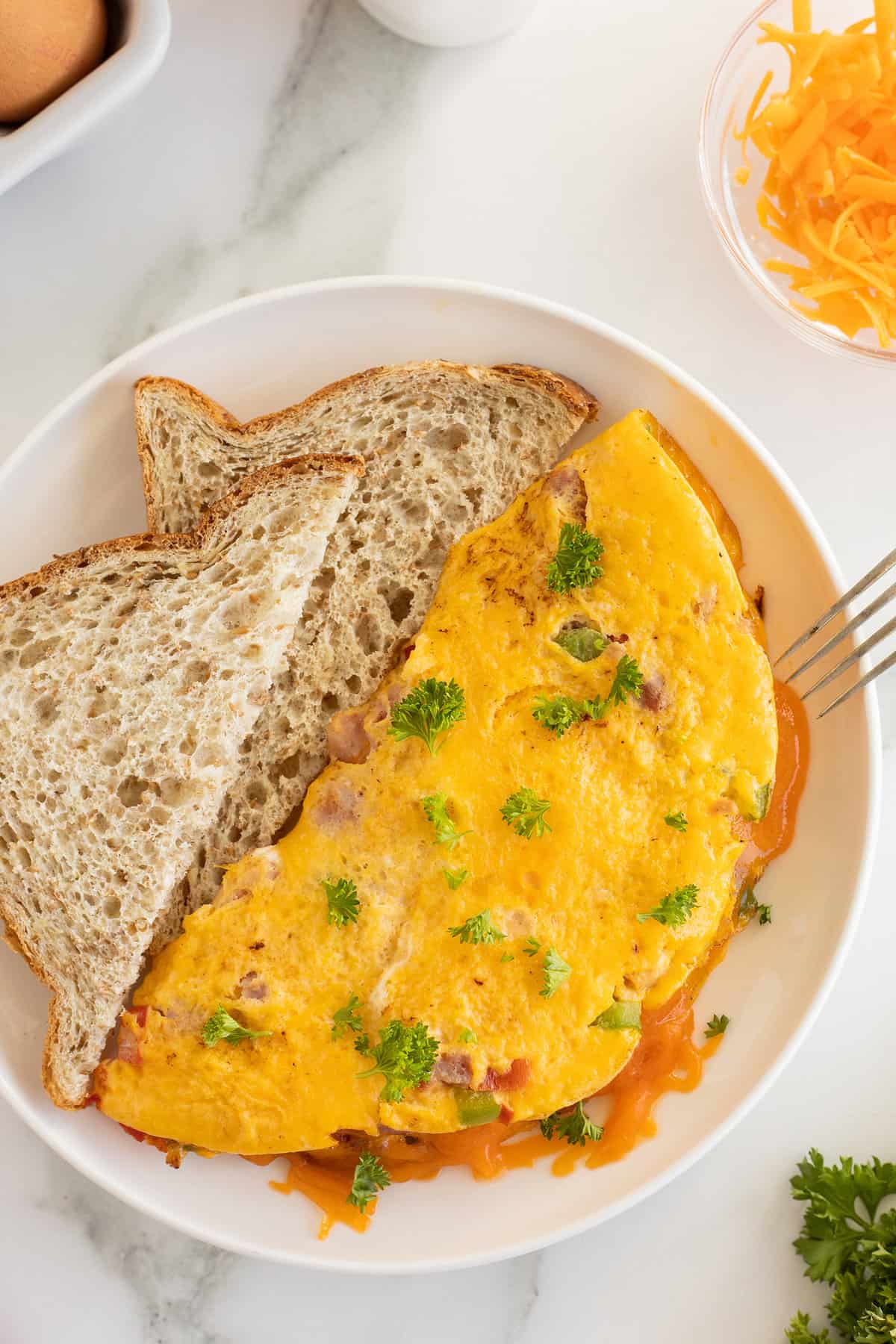 How To Cook & Flip Your Omelet
When it comes to making a perfect omelet, the key is cooking is to not overcook it.
One of the best tips for achieving a flawlessly cooked omelet is to use plenty of fat in your pan. This will help prevent your eggs from sticking and make for easy flipping, as well as adding a ton of flavor.
Start by heating your pan over medium-high heat and add a generous amount of butter or oil. Once your fat has melted and is bubbling away, pour in your beaten eggs and immediately start stirring gently with a spatula to help form a consistent, thick layer on the bottom.
Another great tip is that, as the eggs begin to cook, use your spatula to lift the edges of the omelet and let the uncooked egg mixture run underneath, helping to thicken the sides and keep everything stable.
Once set and ready, it's time to fold your omelet. Use your spatula to carefully lift one side of the omelet and fold it over the other side. You might need the help of an additional spatula, or even another pair of hands if they're available.
If you're adding any fillings, now is the time to add them, either onto the top or the inside of your folded omelet. Make sure that any fillings you are using get a chance to heat through as well!
You should cook your omelet for another 30 seconds or so, just to let any cheese or other fillings melt and heat through. Then, use your spatula to slide your omelet onto a plate and serve immediately. You could also be a bit more artful and sort of toss it if you are looking to channel your inner TV chef.
Easy Ways To Improve Your Omelets
You can make a great omelet with nothing but eggs, butter, and salt, but there is nothing stopping you from adding a few additional ingredients to really make your omelet your very own creation.
Cheese is the classic omelet ingredient – it not only adds savoriness and the obvious cheesiness, but it also contributes that awesome gooeyness that only happens if you give the cheese time to melt.
Whether some simple diced-up, leftover ham, or some slices of ham from the supermarket, ham is another classic omelet addition. Meatiness, saltiness, and that little bit of chew all contribute to a great way to add some protein to your omelet.
Though you do need to be a little cautious of burning it, minced garlic is a great way to add that little touch of something extra to your omelet.
Try giving it a little bit of time in the butter just before adding your eggs to get the most garlicky flavor possible.
Onions are another classic addition to omelets, but just make sure you give them the chance to cook first! Try adding them to the butter and giving them 10 minutes on medium-low heat before adding your eggs, to give the onions time to develop additional sweetness and really become delicious.
Looking for more great How To Guides? Try these out:
• How To Make Perfect Hard Boiled Eggs
• How to Make Bacon in the Oven
Happy Cooking
Love,
Karlynn

Pin this recipe to your Breakfast Recipes Boards and Remember to FOLLOW ME ON PINTEREST!
Thanks to ads on this website, readers of The Kitchen Magpie are now sponsoring 2 families a month through the Edmonton Food Bank. Learn how you can help here.
Learn to cook like the Kitchen Magpie
Subscribe to The Kitchen Magpie on YouTube
One click and you'll get notified of new videos added to our YouTube account!
Subscribe on

YouTube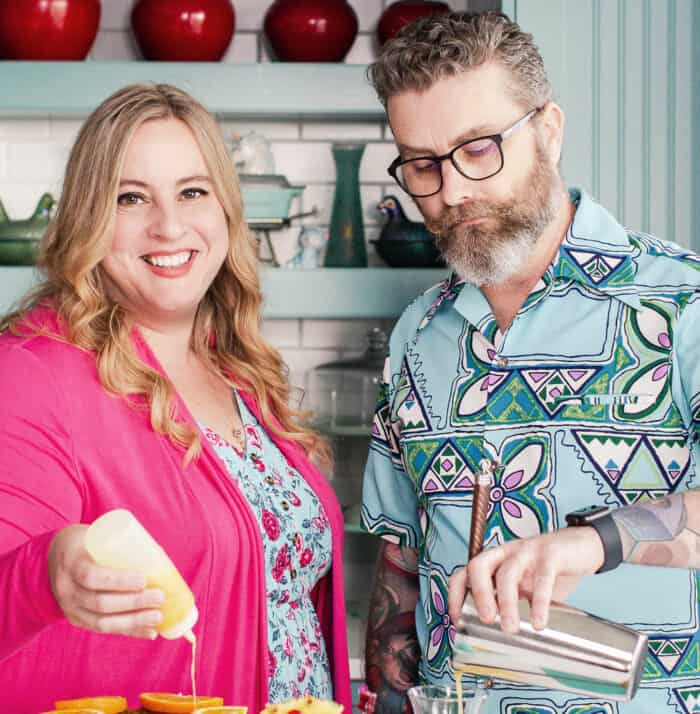 How to make an Omelet
This omelet is a great combination of eggs, peppers, onions, ham, and cheese making a filling breakfast!
Prep Time

5

minutes
Cook Time

5

minutes
Course

Breakfast
Cuisine

American
Servings

1
Calories

470
Author
Ingredients
1

tablespoon

butter

3

large eggs

1/2

cup

onion finely chopped

1/4

cup

green bell pepper/red bell pepper finely diced

1/4

cup

cooked ham chopped

1/4

cup

sharp cheddar cheese

salt/pepper to taste
Instructions
In a medium bowl beat the eggs well. Set aside.

In an 8 inch skillet, melt 1 tbsp of butter. Add in the onion and saute until tender.

Add in the bell peppers and fry until the onions are softened to your liking and the bell peppers are tender crisp.

Add the ham and cook for one more minute, stirring.

Pour the eggs mixture over top of the fried ham/vegetables mixture.

Turn down the stove heat to low and cover with a lid for about 4-5 minutes.

Once the eggs are solid and cooked almost through, flip the entire circle and cook for one more minute.

Place the cheese on one side of the omelette and fold over the omelette into a half circle shape.

Let the cheese melt inside and garnish with some fresh parsley if desired. Serve hot.