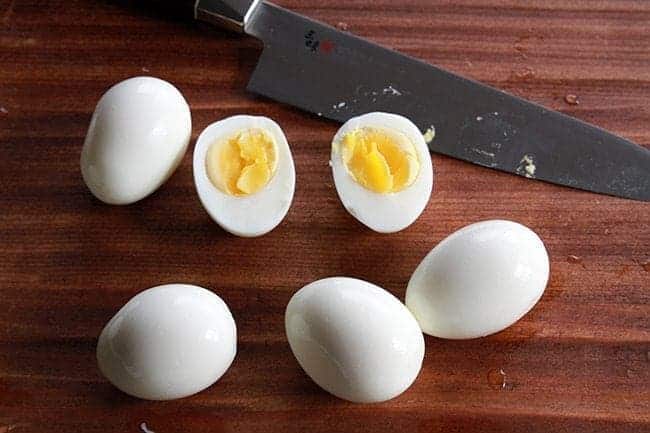 Confession time.
Peeling boiled eggs makes me mad.
Peeling eggs makes me so mad that my family usually runs away from the kitchen when it's time for me to tackle the task. I might have yelled once while peeling eggs, threw them back into the pot and walked out of the kitchen fuming, irrationally furious.
Fine, you caught me. The above statement is a lie. It's happened more than once. Peeling eggs and having them look like a badger chewed them and spit them out makes me irrationally mad. Ask Mike. He runs away and hides when it's time to peel eggs in our house. Either that or he gently takes the eggs out of my hands, steers me towards the couch and tells me to sit while he does it. (I still hate that they look like a badger chewed them but at least I didn't do it. Rational, right?)
I'm sure that you can understand how this is a problem being a deviled eggs lover. Oh, I love a good retro deviled egg and a recipe for my smoky bacon deviled eggs is coming right up this weekend after I post this how-to.
I've read a lot of forums, articles and posts on how to make perfect hard-boiled eggs. You are going to be the lucky recipient of hours of research on my part. I have combined pretty much everything I've ever read on how to make perfect hard-boiled eggs into ONE how to post for you all.
First things first.
Old eggs make for better boiled eggs, they peel better. I always try to buy a dozen eggs that aren't as fresh and tuck them away in my fridge to be used later for the specific purpose of boiling them.
How To Make Perfect Hard Boiled Eggs
Boiling Times for a slightly soft center :

Small eggs - 7 minutes
Medium eggs - 8-9 minutes,
large eggs - 10 minutes
extra large eggs - 12 minutes.

Add 2-3 minutes per time for harder centered eggs.
Instructions
Place your eggs in the bottom of a large pot and sprinkle with 1 tsp salt and 2 tbsp vinegar.Bring a kettle full of water to boiling,Place the pot on a heated stove element and pour the boiling water over the top.Stir the eggs gently while bringing the water to a boil again. This helps the yolk stay in the center and it works like a charm! No more yolks settling to one side!Bring to a boil. See cooking times for different sized eggs below.Remove from the heat and run cold water into the pot.Once the pot has cooled, removed the water. Swirl the eggs around the pot hard enough to crack their shells in several places.Fill with cold water again and leave for 5-10 minutes.Remove the shells (the water should have started to seep underneath the cracked shells and they should come off really easily.)If the eggs are still stubborn, peel under running water.Refrigerate until used.
Easy as pie!
Now, to show you it really does work, check out that cracked egg in the photo below, the very top egg. It was one of those invisible cracks that always show up when you boil the egg.
These are the cooked eggs in cold water after cooking. Notice how there is hardly any white seeping out of the egg? No explosion that usually accompanies those little cracks? The salt and the vinegar with the sudden hot water method all combined to seal up that crack licketly split. We all know that those eggs are usually a write off, (which means that we peel them and eat them, admit it, you do it too) but this one? That egg was used in my deviled eggs with no problem!
Look at all those beauties! No badger teeth marks, no yelling and no throwing a temper tantrum. These were new eggs as well – I wanted to test on the hardest eggs to peel, not the easiest – and they peeled up fabulously.
The technique of swirling them gave me almost 100% perfectly centered yolks, something that also makes me a little giddy. No more off centered yolks and ugly eggs! Huzzah!
Now I know that you are all going to ask me for the recipe above, as you should. I would be terribly disappointed in you all if you saw that picture of beautiful, swirly, decadent eggs and didn't pester me immediately. I will be posting that recipe first thing tomorrow morning for you to try out! It's a very classic base recipe for deviled eggs, something you all have been asking me for, with a little twist.
To end, let's get a little honest with each other, perhaps uncomfortably so.
Who else cannot stand peeling hardboiled eggs? I can't be the only one who hates badger chewed eggs…
Love you more than chocolate,
Karlynn
3