This post may contain affiliate links. See my privacy policy for details.
If there is one constant in American breakfast meals, it is the American pancake. Soft, ideally fluffy, and preferably drenched in maple syrup, this doughy but not doughy breakfast food is quintessential American breakfast food.
However, despite how common it is as a meal, there are so few people that really understand how to get it perfectly right. More exactly, it is the fluffy part that so many people get wrong. Instead of warm and fluffy pancakes that practically melt in your mouth, most pancakes seem to be moist lumps of dough, absorbing syrup like a sponge and sitting there sadly on your plate.
How do you go about making your pancakes fluffy? What is the secret?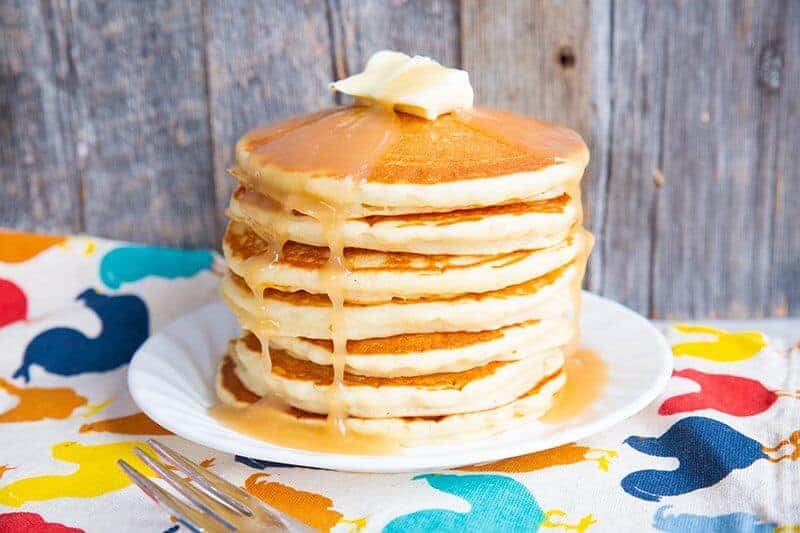 What Makes Pancakes Fluffy?
To be able to make fluffy pancakes, we first need to understand what it is in the pancake that creates that fluffy texture. After all, it isn't magic – there is plenty of interesting and unique food chemistry going on behind the scenes that result in that delicious fluffy texture.
The key component of the texture of fluffiness in food is gluten. Gluten is a protein found within wheat flour that is the primary reason we use flour as the base for all kinds of bread and doughs.
While you have likely heard all kinds of terrible things about gluten, thanks to the rise of apparent gluten intolerance in people with celiac diseases and the like, gluten is actually super simple.
It is a long chain of protein that, when heated and mixed with water, helps transform what you are making into a more stable version of itself.
The best way to think of it is like a collection of segments of chain that really, really want to connect together. However, when the gluten is dry and unmixed, the strands of gluten can't connect to each other and thus lie dormant.
However, once you add moisture, which is usually milk and eggs when making pancakes, everything changes.
The inclusion of liquid allows the gluten strands to unlock and begin forming bonds with each other. As the gluten strands interlock together, they form small groupings throughout the mixture, which naturally clump other ingredients inside them.
When you then later heat the mixture, the leavening agent you used, which is usually baking powder in the case of pancakes, but yeast if you were making bread, activate. The leavening produces carbon dioxide, which tries to rise out of the mixture to escape. However, the gluten strands effectively trap the bubbles within their little link of connected protein strands.
This happens thousands upon thousands of times within the mixture, which all add up to providing lift and create that fluffy texture. Instead of a solid mass of dough, you get to bite into a gentle mass of bubbles and light texture, which our tastes register as tasting fluffy.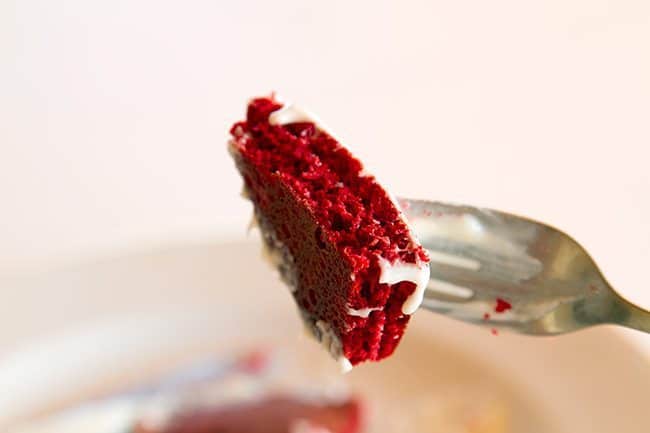 So Should I Just Keep Mixing My Pancake Batter?
Seeing as moisture and working the mixture together helps create more gluten bonds, it would seem to make sense that you want to keep mixing your pancakes, so as to make it even fluffier, right?
Well, before you stand there with an electric mixer for 20 minutes overworking your mixture, you might want to hold on.
It turns out that there is a bit of a sweet spot when it comes to pancakes. While you do want some of the gluten strands to develop and form together, you absolutely do not want all of them to do so.
If you keep working your dough, you will eventually find that the gluten strands form larger and larger bonds, eventually creating an incredibly tough, doughy texture. This is actually why you need bread for so long, as this kind of doughy texture is desirable in bread, but no in pancakes.
The sweet spot is to mix the dry and wet ingredients of your pancakes together until they are just combined, with a few streaks of flour remaining. As long as you do this, you shouldn't have too much gluten.
There is one little trick you can use, however, to make the fluffiest pancakes imaginable: egg whites.
The Real Secret: Egg Whites!
If you find that your pancakes simply aren't fluffy enough, you can use an age-old trick to help create more lift and fluffy texture in your pancakes by using egg whites.
In precisely the same way you do when you make meringue when you whisk egg whites at high speed for about 5-7 minutes, you trap air within the egg white mixture, all of which can be added to your pancakes.
You don't even need a special recipe to make this – simply take your very favorite pancake recipe and double the eggs needed.
Then, instead of just adding the eggs whole, separate the egg whites from the egg yolks. Then, whisk the egg whites in a high powered mixture into about halfway between soft and stiff peaks, ideally with a small amount of cream of tartar to help keep it stable. Failing that, just use a small pinch of sugar.
Then, follow your pancake recipe normally, but once you have mixed in the flour and finished combining it all, simply fold in your egg white mixture.
Make sure that you fold it in, not stir it in! You spent all that time creating delicate air bubbles within the egg whites, so don't be overzealous and ruin it by damaging it now.
Once it is all folded together, ideally with still a few streaks of flour remaining, you are ready to cook!

Pin this recipe to your BREAKFAST BOARD and Remember to FOLLOW ME ON PINTEREST!
Fluffy Pancakes Recipe
If you don't happen to have a favorite fluffy pancake recipe to hand, here is a simple and convenient one to use; remember, feel free to change the exact quantities as you like – you might prefer it wetter or drier than us!
Prep Time

10

minutes
Cook Time

10

minutes
Course

Breakfast
Cuisine

American
Servings

8

pancakes
Calories

127
Author
Ingredients
1

cup

of plain flour

not bread flour! Too much gluten

1

teaspoon

of baking powder

1

cup

of whole milk

plus 1 tbsp

1

teaspoon

of salt

2

large

eggs

separated into yolks and whites.

2

tablespoons

butter

melted in the microwave

1

tablespoon

white sugar
Instructions
Whisk together the dry ingredients in a bowl, then add in the milk and egg yolks and whisk until just combined before adding the butter and whisking until it disappears.

With the egg whites, mix on an electric mixture until the soft peaks form, adding in your small amount of sugar gradually, which helps it stay in shape. Adding a pinch of cream of tartar makes it even more stable!

Folk your egg white mixture into your pancake batter until combined, being as gentle as you can. Then, cook a ¼ cup size amount on a griddle brushed with butter until firm and browned on each side.
Nutrition Information
Calories:
127
kcal
,
Carbohydrates:
15
g
,
Protein:
4
g
,
Fat:
5
g
,
Saturated Fat:
3
g
,
Cholesterol:
63
mg
,
Sodium:
350
mg
,
Potassium:
127
mg
,
Fiber:
1
g
,
Sugar:
3
g
,
Vitamin A:
213
IU
,
Calcium:
66
mg
,
Iron:
1
mg
All calories and info are based on a third party calculator and are only an estimate. Actual nutritional info will vary with brands used, your measuring methods, portion sizes and more.
Made this recipe?
Share a photo of what you made on Instagram or Facebook and tag me @thekitchenmagpie or hashtag it #thekitchenmagpie.
Please rate this recipe in the comments below to help out your fellow cooks!
Learn to cook like the Kitchen Magpie