Chewy Chocolate Puffed Wheat Squares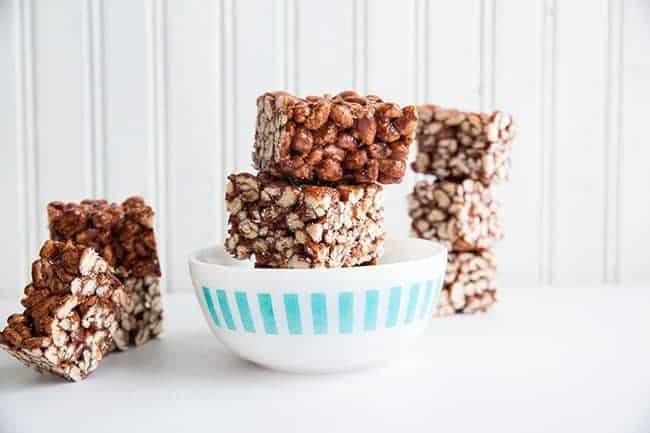 When is the last time that you had a decadent, chewy puffed wheat square?
Chewy Chocolate Puffed Wheat Squares

These CHEWY, CHOCOLATE PUFFED WHEAT SQUARES are seriously one of those desserts that reminds me of my childhood. They are so simple to make and are an amazingly delicious, chewy, chocolate snack. Try them and you'll love 'em!

FULL RECIPE: https://www.thekitchenmagpie.com/chewy-chocolate-puffed-wheat-squares/

If you like this video, please share it! Thanks!

Posted by The Kitchen Magpie on Tuesday, March 21, 2017
I just did, this afternoon, for the first time in years – oh yes, years – while making them for my son's Junior High Valentine's Dance while weeping tears over the fact that my son was old enough to start going to real dances. Now, true to the form of young boys, he went briefly to check it out and he and his friends peaced out early.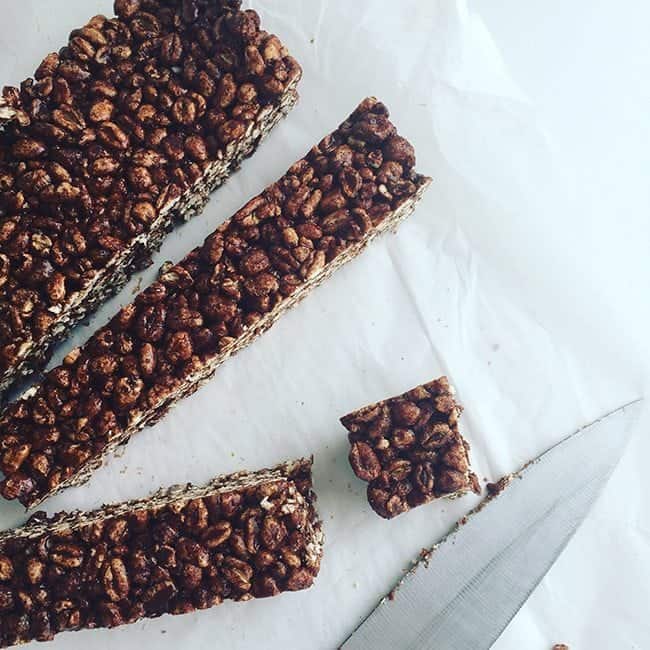 My words, not his. Peaced out is my generation. I still stay that I peace out. What do these young 'uns these days say? Do I even want to know?
What I do know is that it's bittersweet making my own children my favourite treat from my childhood. Puffed wheat square, for those of you that haven't had them – and according to my Facebook page there ARE a few of you, though I can hardly believe it – are pretty much like the Sugar Crisp cereal in a bar, with more chocolate and in my version, some marshmallows.
I know. Sacrilege.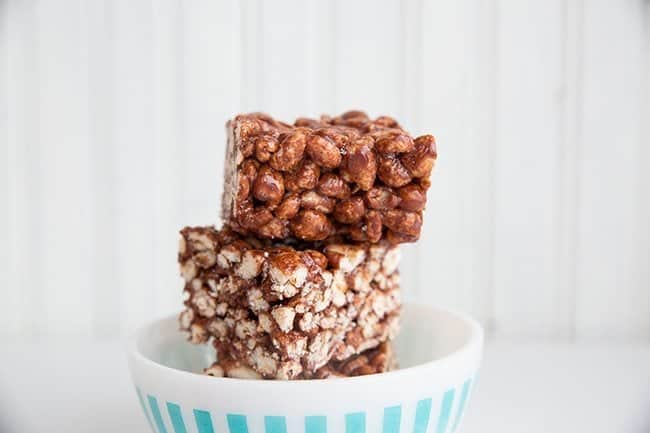 When I went to make the squares today, Mike looked at me and said incredulously " You seriously have never made puffed wheat squares the entire time your website has been up?"
It's true. I haven't made these in ages. This website has been up since 2009 and I can't believe that this is the first time I am getting these to you.
I really do hate dried out puffed wheat squares and while I am ok with using some corn syrup, most recipes call for a full cup. That my friends, is a super duper lot of corn syrup. I decided that my squares were going to be half and half, the best of all worlds. My puffed wheat squares would be a little more chewy like Rice Krispies and less crunchy that normal. If you really want, you can add in 2 cups of marshmallows and make these babies extra awesomely chewy.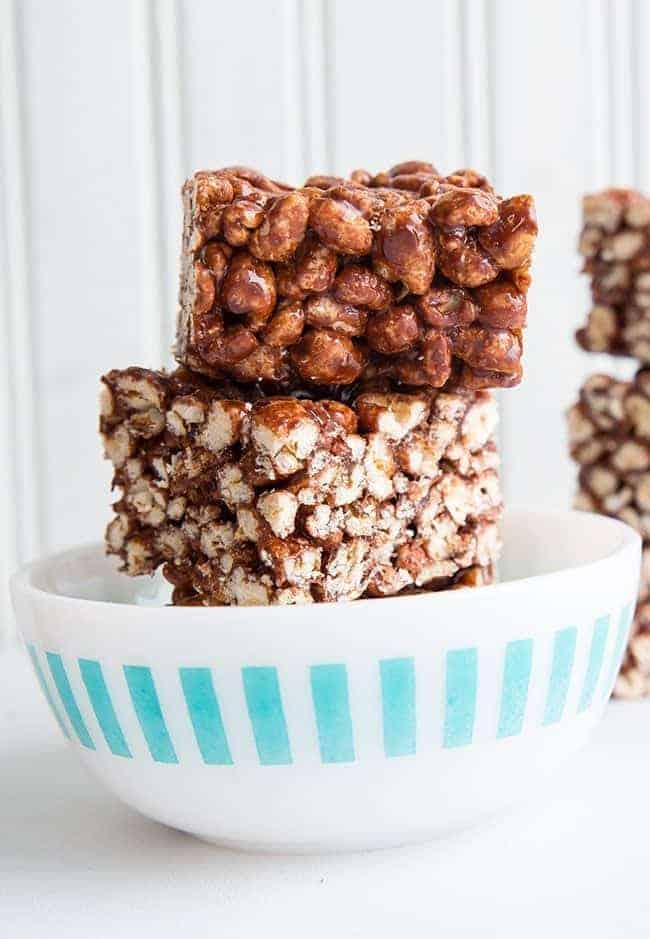 If you want the traditional taste of chocolate puffed wheat squares, then use 1 cup of corn syrup and omit the marshmallows. I have to admit, they are always a bit too dry for me with all corn syrup. I am picky. Maybe this is why I haven't eaten them in years?
It's most likely because, like some of you, I have simply forgotten and Chocolate Puffed Wheat Squares have fallen out of my rotation. The shouldn't have. They take mere minutes, are nut free and are so easy to make and to be honest, with my addition of marshmallows I am loving these as much – or maybe a little more- than Rice Krispie squares.
These won't be falling out of rotation anytime soon.
Happy baking everyone!
Love you more than chocolate,
Karlynn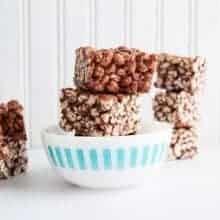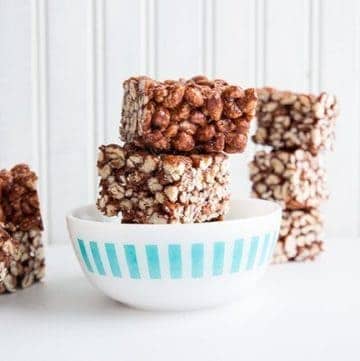 Chewy Chocolate Puffed Wheat Squares Recipe
Ingredients
1/2

cup

salted butter

1/2

cup

light corn syrup

1

cup

white sugar

1/4

cup

brown sugar

6

tbsp

. cocoa powder

1-2

cups

of miniature marshmallows more marshmallows = chewier

1

tsp

. vanilla

10

cups

of puffed wheat
Instructions
Place the puffed wheat in a very large bowl (I used my huge tupperware bowl)

Combine butter, corn syrup, sugars and cocoa powder in a medium saucepan.

Bring to a boil over medium-high heat, stirring. Let boil for two minutes then remove from heat and stir in the vanilla and marshmallows until the marshmallows are melted in completely.

Pour over puffed wheat and mix well.

Press firmly into a 9 x 13 pan lined with parchment paper.

Let sit for at least 30 minutes then cut into squares.
Nutrition Facts
Chewy Chocolate Puffed Wheat Squares Recipe
Amount Per Serving (24 g)
Calories 0
* Percent Daily Values are based on a 2000 calorie diet.
5