It's high time for another cereal bar recipe! This one is Mike's favorite and you would think it was mine as well, due to all the chocolate but I have to admit it, I'm a Golden Graham girl completely. My Oreo & PB Cup Golden Graham Cereal Bars are my absolute favorite, with these coming in a close second.
I used Krave chocolate cereal in these beauties for a delightful chocolate crunch. Then of course, I love to add in extra goodies, because let's face it, Oreo's and M&M's make everything better.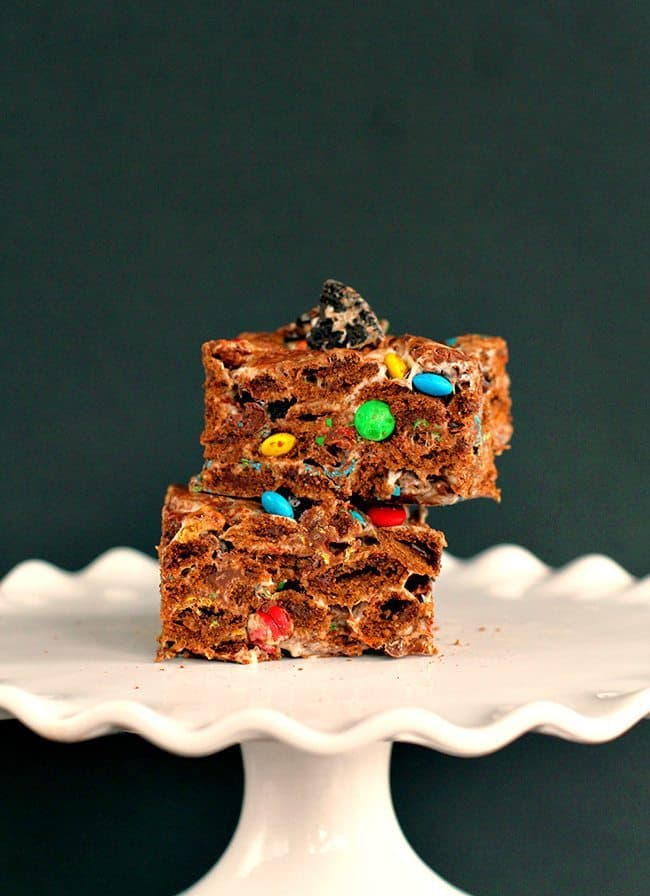 I might have been a little obsessed this summer with cereal bars.
I've made:
My Golden Graham Oreo & Peanut Butter Cup Bars. Oooh yah. Sooo good.
M&M S'mores Cinnamon Toast Crunch Bars. My second favorite cereal!
And my Rolo Cinnamon Toast Crunch Bars. Again. Caramel and cinnamon toast crunch? Wowza.
So you have four recipes to choose from, pick the one that you love the best, or heck, just play around with a new combination!
Happy Baking! (er, well microwaving?)
Love you more than chocolate,
Karlynn
Chocolate Oreo And M&M Cereal Bars
Decadent, chocolate cereal bars with Oreo cookies and M&M's! What a perfect picnic food!
8 cups of your favorite chocolate cereal
5 1/2 – 6 cups of miniature marshmallows
1 cup Butter extra for greasing pan
1/2 teaspoon Vanilla
1/2 cup of chopped Oreo's
1/2 cup of mini M&M's
In a large microwave safe bowl, heat the marshmallows and butter in the microwave, 30 seconds at a time until melted and smooth. (more marshmallows make a stickier bar, so use 5½ or 6 cups accordingly.)
Remove from the microwave and stir in the vanilla.
Let cool slightly to prevent the chocolate from melting too much and then stir in the cereal, Oreo's and the M&M's.
Press into the bottom of a well greased 9×13 pan.
Let set and then slice to serve!
1