This post may contain affiliate links. See my privacy policy for details.
Tired of dried turkey every year? Why not try something new this year that won't add too much kitchen prep but will make a huge difference? Make sure to try this turkey brining method for a juicy, moist turkey that will be the talk of the table.
Not sure What Savory Spice Is or where to find it, learn everything you need to know here! Also, make sure to learn How to Make Crock Pot Bone Broth for this recipe for a rich meaty taste!
Table of Contents
Turkey Brine
One of the most common complaints that people have when cooking a turkey is that it comes out of the oven too dry and rubbery. The main reason for this is that a turkey takes much longer to cook than other poultry causing the parts that cook the quickest, like the breast, to dry out.
There is no reason you have to suffer another holiday of dry turkey, though; bringing your turkey is a simple prep step that can make a world of difference to your cooked turkey.
Adding these few extra steps when prepping using this turkey brine will ensure a delicious, juicy turkey for the ultimate centerpiece to your festive meal.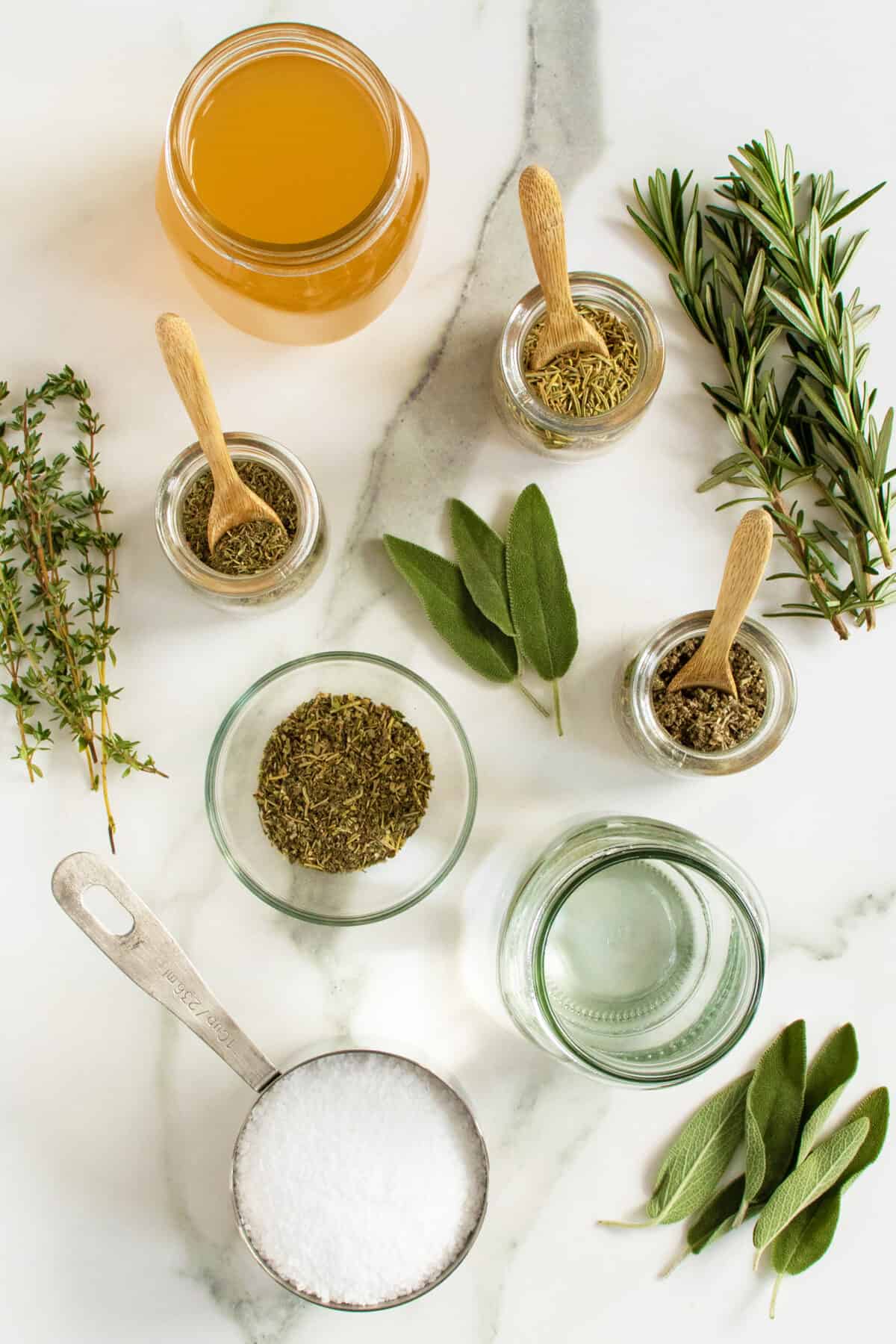 How Does Brining Turkey Improve It?
Brining is essential to prepping your turkey, but too many overlook it, thinking it won't make a noticeable difference. Instead, it is the best way to ensure a juicy, perfectly cooked and well seasoned turkey every time.
Different parts of the turkey cook at different rates. For example, the breast and wings cook much more quickly than the thighs.
Brining your turkey before cooking provides extra moisture, which is absorbed during the brining process. The moisture helps prevent the bird's fast-cooking parts from drying out and becoming rubbery so easily.
The salt within the brine also breaks down some of the proteins within the turkey, which also helps it to stay as tender and juicy as possible while cooking.
Can You Leave Your Turkey In Brine For More Or Less Time?
Prepping for a large festive feast takes a lot of planning, and it is always tempting to try and do as much in advance as possible. The busiest time is the 24 hours in the lead-up to your festivities, so you might be wondering if you can brine your turkey further in advance.
This brine method works best when done 24 hours in advance, as this is the optimal time for the turkey to absorb moisture and allow the salt to work its magic.
After 48 hours, however, the meat will absorb too much brine, making it far too salty. The proteins will also start to break down to such an extent that the meat will separate from the bone and take on a mushy texture, which is not ideal.
At the other end of the scale, could you brine and cook your turkey all on the same day? 24 hours is the optimal time, but even an hour of brining is better than no brine at all.
If you absolutely must brine your turkey on the same day as cooking, try using the deconstructed turkey cooking method. By breaking your turkey into pieces before brining, you are creating more surface area and increasing the rate at which it can absorb moisture.
What To Do If You Don't Have A Brining Bag?
During the holiday season, you can typically find brining bags designed especially for turkeys. While these bags are perfectly sized for larger birds, they also tend to come at a much higher price than regular food-grade bags. They are also a one-time-use item, which is not exactly ideal.
So, do you really have to spend the extra money on specialist turkey brining bags? Of course not; you probably already have several different things in your kitchen that will work just as well.
Any large Ziploc bag will work just as well as a brining bag. As long as the bag can be tightly sealed, is safe to place food in, and most importantly, can fit your entire turkey, it is good to use.
Another alternative is to use a large food container that either has a lid or you can place plastic wrap over it to create a seal.
The Best Ways To Roast Your Turkey
This turkey brining technique is the first step in cooking a juicy turkey, whether you are roasting the entire bird or planning to use a slightly different cooking method.
This easy turkey recipe is perfect when cooking for a large group, and you don't want to spend too much time worrying about your turkey. This method ensures that classic thanksgiving turkey that everyone loves!
Brining your turkey is the best way to ensure all the meat stays juicy. However, if you really want to make sure your turkey is as tender and juicy as possible, there is no better cooking method to use than this oven-roast turkey technique.
This method locks in all of the turkey juice for a super simple, juicy turkey that you will be proud to serve this festive season.
Everyone loves a roast turkey, but sometimes it can be fun to do something a little different. Why not try this deconstructed turkey recipe? You still get all of your favorite turkey parts to choose from, only with more risky skin to enjoy.
Looking for more delicious Marinade and Sauce recipes? Try these out:
Happy Cooking
Love,
Karlynn

Pin This Recipe To Your Dinner & Turkey Recipe Boards and Remember to FOLLOW ME ON PINTEREST!
Turkey Brine
This turkey brining technique is the first step in cooking a juicy turkey, whether you are roasting the entire bird or planning to use a slightly different cooking method.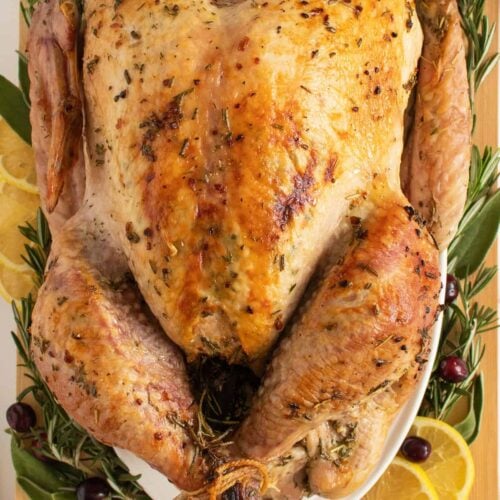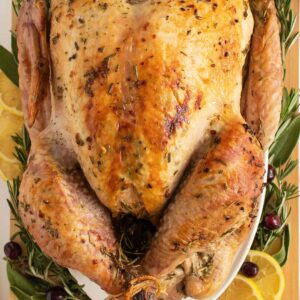 Prep Time

5

minutes
Cook Time

15

minutes
Course

marinades and sauces
Cuisine

American
Author
Ingredients
1

liter

turkey broth

1

cup

kosher salt

1½

Tablespoons

dried rosemary

(crushed or chopped)

1

Tablespoon

dried sage

1

Tablespoon

dried thyme

1

Tablespoon

dried savory

16

cups

ice water
Instructions
In a large pot, Add the turkey broth, sea salt, rosemary, sage, thyme, and savory.

Bring it to a boil, stirring often to be sure salt is completely dissolved, about 15 minutes. Remove it from the heat, and let cool to room temperature.

When the herb brine mixture is cool, stir in the ice water.

Dry your turkey. Make sure you have removed any innards if your turkey comes with them.

Place the turkey into a brining bag breast side down. Pour in the brine. Make sure that the cavity gets filled as well. You can place the turkey in the brining bag in a roaster to make this easier to move. Place the turkey in the refrigerator overnight.

Remove the turkey from the fridge and drain off all the brine. Pat the turkey dry with paper towels.

Cook the turkey with your favorite roasting method.
Recipe Notes
Brined turkeys usually cook 20 to 30 minutes faster so watch the internal temperature of your turkey.

All calories and info are based on a third party calculator and are only an estimate. Actual nutritional info will vary with brands used, your measuring methods, portion sizes and more.
Made this recipe?
Share a photo of what you made on Instagram or Facebook and tag me @thekitchenmagpie or hashtag it #thekitchenmagpie.
Please rate this recipe in the comments below to help out your fellow cooks!
Learn to cook like the Kitchen Magpie