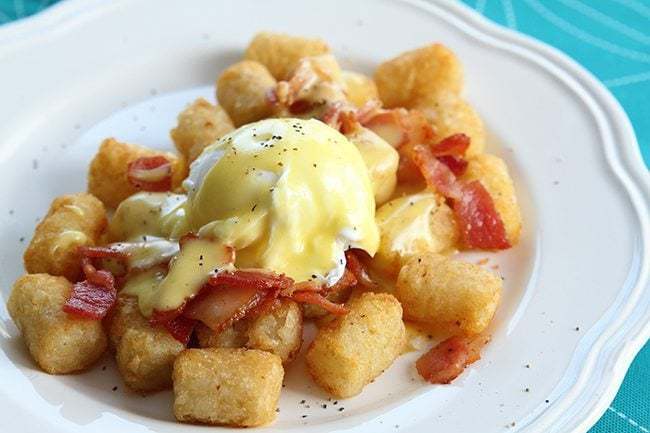 Ever since I saw Phil from Baconhound's recipe for Tater Tots Eggs Benny, I knew that I had to try it. I'm sure you know by now that we are a Tater Tot loving family, my Tater Tots Shepherd's Pie can attest to that fact.
You need to make this for Christmas morning. Easter morning. Birthday's. You name it, it's a special occasion food.
This is food evil in its purest, completely bad for you form. Butter. Bacon. Egg Yolks. Tater Tots.
Please don't eat this all the time, ok? Maybe once a month?
I hesitate to share this recipe with you, as it has now ruined me for any other Eggs Benedict ever again. English muffins can't compare to a pile of crispy, starchy Tater Tots and when you top them with an egg and Hollandaise?
World. Changed.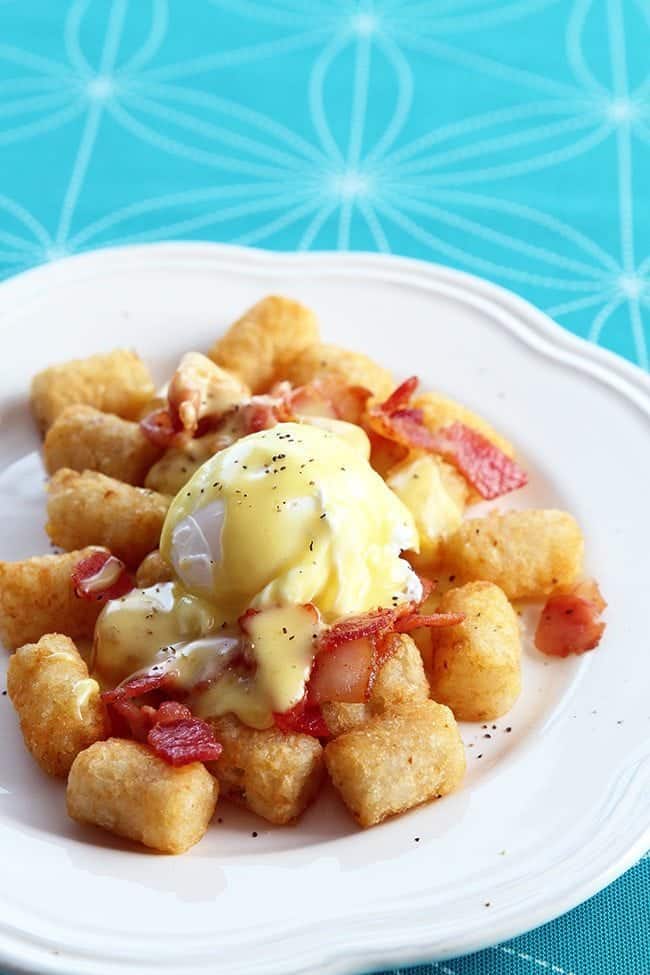 It makes for one heckuva great bunch. We had Phil and his wife over for a Sunday brunch and I made these, with some Quickie Cinnamon buns, to eat. It was the perfect excuse to try his recipe out.
And blame him if brunch sucked. 😉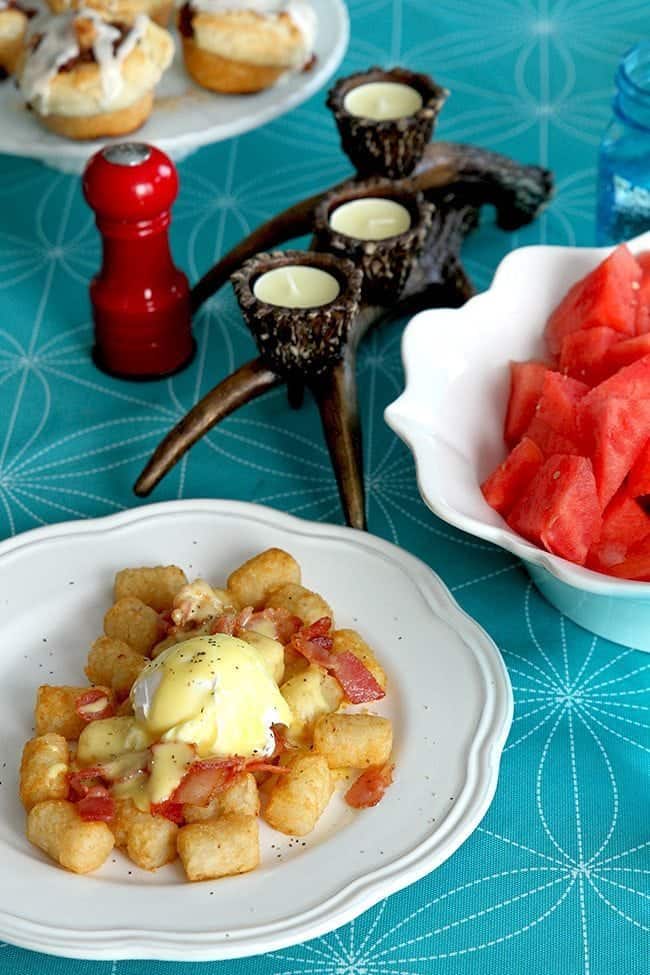 Brunch didn't suck. While I did switch out his Hollandaise sauce for mine in this recipe (his has one more egg yolk  and I prefer hot sauce, so choose your poison) it's pretty much the same thing.
Pretty much dang delicious, that's what.
You really do have to give this one a whirl. Let me know what you think if you do!
Love,
Karlynn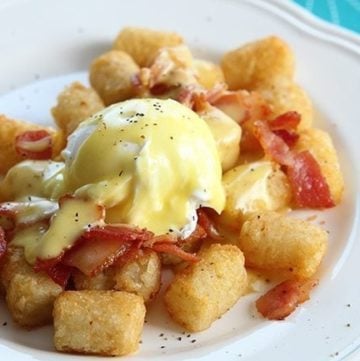 Tater Tot Eggs Benedict
Eggs Benedict done on Tater Tots!
Ingredients
1/2

bag of frozen tater tots

1

lb

bacon- diced

4

eggs

1

tbsp

vinegar

Hollandaise:

3

egg yolks

1/8

tsp

salt

1-2

Tbsp

lemon juice

1/2

cup

melted butter

hot sauce of your choice
Instructions
Bake the tater tots on a baking sheet according to package directions.

Fry the diced bacon until cooked, drain and set aside.

Place the egg yolks and lemon juice in a small double boiler pot. If you prefer less lemony sauce, only use 1 tbsp.

Whisk over the hot water until the egg yolks become glossy.

Whisk in the butter slowly, a little bit at a time, until it's thoroughly incorporated. Keep whisking or the sauce will break.

Once the butter is added, whisk in the hot sauce and cook a minute or two more, whisking the entire time.

To poach your eggs, use a deep frying pan filled with water or a small pot. Add in the vinegar and bring to a boil.

Add some water to your already hot pot to bring it up to about half full. Once the water boils, break the eggs into it.

Cook for 2-3 minutes then remove the eggs with a slotted spoon and drain.

Divide equal amounts of bacon and tater tots between four plates.

Top with a poached egg and Hollandaise.

Serve and enjoy!
Nutrition Facts
Tater Tot Eggs Benedict
Amount Per Serving (4 g)
Calories 0
* Percent Daily Values are based on a 2000 calorie diet.
0