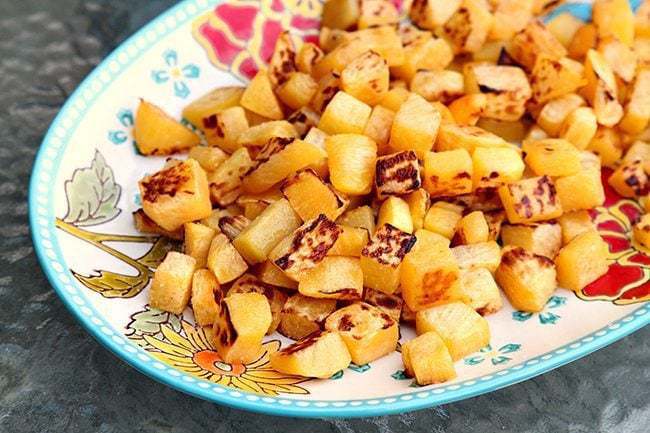 Am I the only one who always forgets about turnips? I honestly walk by them in the grocery store about every 19 trips out of 20, then all of a sudden I have this immense craving for them.
Perhaps it's because it's fall, perhaps it's because it's chilly, but I was craving turnips again the other day while grocery shopping. I brought one home where of course, it sat for a few days.
I then panicked, like I usually do, and rushed to use it up the other night. I wanted to try something a little nicer than steaming it – which is my usual method- and decided to take the time to chop the turnip up all nicely and then roast it.
These aren't fancy, they aren't all jazzed up with crazy flavors, they are simple, delicious turnips. They're easy and fast to make.
They're also what needs to be on your plate for dinner this fall!
Happy Sunday darlin's!
Love,
Karlynn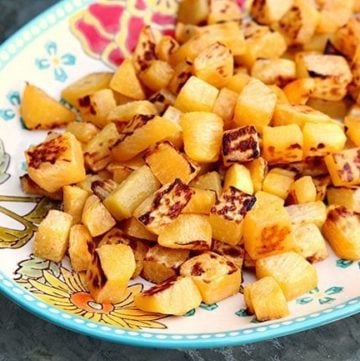 Sea Salt & Olive Oil Roasted Turnips
Delicious roasted turnips with sea salt and olive oil.
Ingredients
one large turnip

2

tbsp

olive oil

1-2

tsp

sea salt
Instructions
Pre-heat oven to 400 degrees.

Peel and cut the turnip into half inch cubes. Toss with salt and olive oil.

Place on a large baking sheet in a single layer and roast for 25-30 minutes, until fork tender.

Serve and enjoy!
Nutrition Facts
Sea Salt & Olive Oil Roasted Turnips
Amount Per Serving (4 g)
Calories 0
* Percent Daily Values are based on a 2000 calorie diet.
5