My new One Pot Rich & Creamy Ground Beef Stroganoff & Noodles made my dinnertime easier and it's going to do the same for you! You guys, my entire family ate this! Sure, my daughter picked out the mushrooms ( that's more for me then!) but she ate an entire bowl of this while telling me how much she loved it. This is a sure-fire family friendly, kid-pleasing ground beef stroganoff recipe!
If you are looking for another ground beef and noodles recipe, try my Sour Cream Ground Beef Noodle Casserole!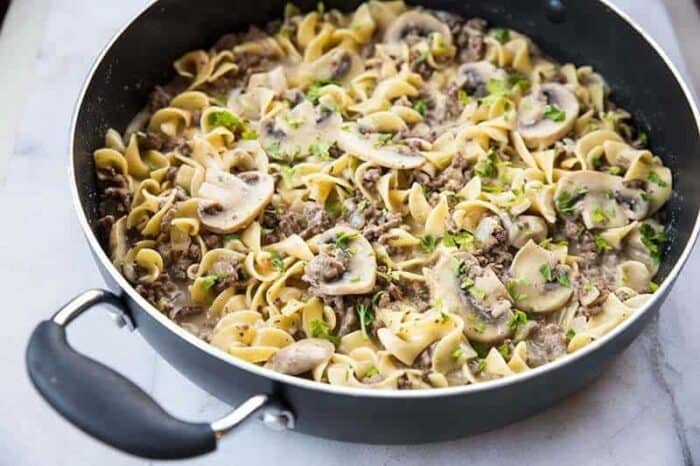 One Pot Ground Beef Stroganoff
I have been trying to make a beef stroganoff that Mr Magpie will eat for years. YEARS, you guys. He doesn't like it. I have made it before and it never hit the website because he didn't like it. I vowed that I was going to come up with a ground beef stroganoff that he loved. I also wanted to turn beef stroganoff into a one pot or a one skillet meal. Making the ground beef stroganoff all in one pot and cooking the pasta IN the broth along with the ground beef infuses the noodles with some serious flavour – this is the best stroganoff that I've eaten. Not only that, the starches from the pasta thickens up the sauce, meaning that there is no need for a flour thickener at all at the end. Trust me when I say that making ground beef stroganoff in one skillet is going to change how you eat it from now on.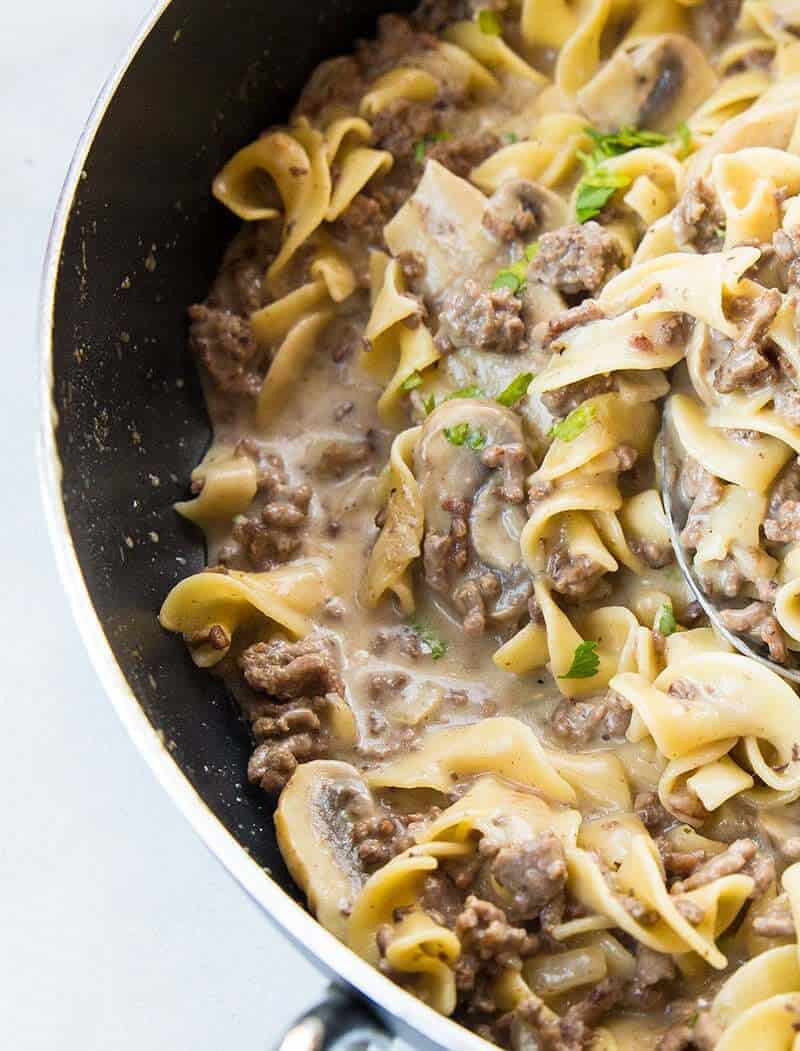 How to Make Homemade Stroganoff With a Simple Sauce
This beef stroganoff doesn't use canned mushroom soup, there is no reason to do so (and I love mushroom soup, so you have to trust me on this one!). The basic ingredients for a beef stroganoff are:
Beef
Onion
Egg Noodles
Sour Cream
Beef Broth
Stroganoff is a classic Russian dish that started out very simply, it was fried beef that was served in smetana ( sour cream.) That's it. We have turned it into a much more indulgent dish over the years, with flavours and additions galore- including the pasta.
Beef Stroganoff Recipe Video
How to Prevent Beef Stroganoff From Curdling
The best part about this ground beef stroganoff being in one pot? No curdling at all! This didn't even come close to curdling at the end and it's because of the method and the added starches in the gravy thanks to the pasta. It was completely by accident but I realized that because we are adding all that starch, it helps to prevent the sour cream from curdling. In a normal recipe you simply mix flour into your sour cream, with this recipe you already have starches in the hot gravy to help you out.
The flavour secret that makes this ground beef stroganoff amazing? Cream cheese! Yes, I don't only use sour cream, I added in some cream cheese for extra flavour and creaminess. I also think this is why Mr Magpie loved this version, the tang was subdued.
Can You Cook the Noodles Ahead of Time?
I've had a lot of questions about this and yes, you can precook the noodles ahead of time and add them in. IF you want to do this, cook them to al dente, so that they are still slightly hard. Then follow the recipe instructions for cooking them in the skillet. You want to still have some of the starches left in the noodles, so not fully cooking them helps.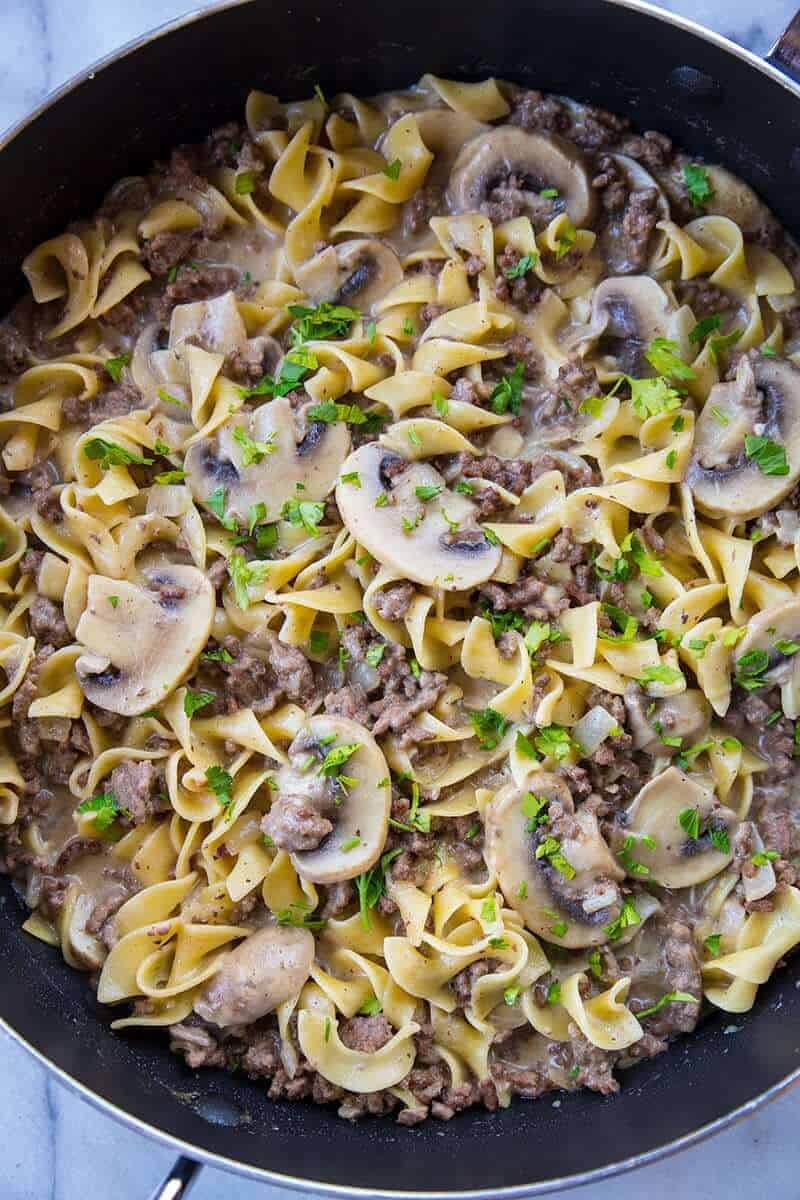 Ground Beef Stroganoff Recipe Tips & Tricks
Always make sure that your onions are cooked before you add anything else to the skillet. Onions are notorious for not cooking once sauces are added. You can even cook them to the point of slight canalization for some extra flavour. This is why I cook the ground beef and onions at the same time, you need the long cooking time for the onions.
You can substitute in ground pork or turkey if you want, but the true depth of flavour in this stroganoff is from the fried ground beef itself. You can feel free to try the other ground meats in it however.
If your broth evaporates before your noodles are cooked, simply add in a 1/2 cup more at a time until it's cooked. I can't control how fast it's evaporating from your skillet (temperature you are cooking at, your lid fitting tightly, all out of my control!) so remember that you need to be flexible when it comes to this part.
Fresh mushrooms are amazing in this recipe, but feel free to used drained canned mushrooms.
You can use beef strips in this recipe as well instead of the ground beef. Simply dredge them in flour and follow the directions.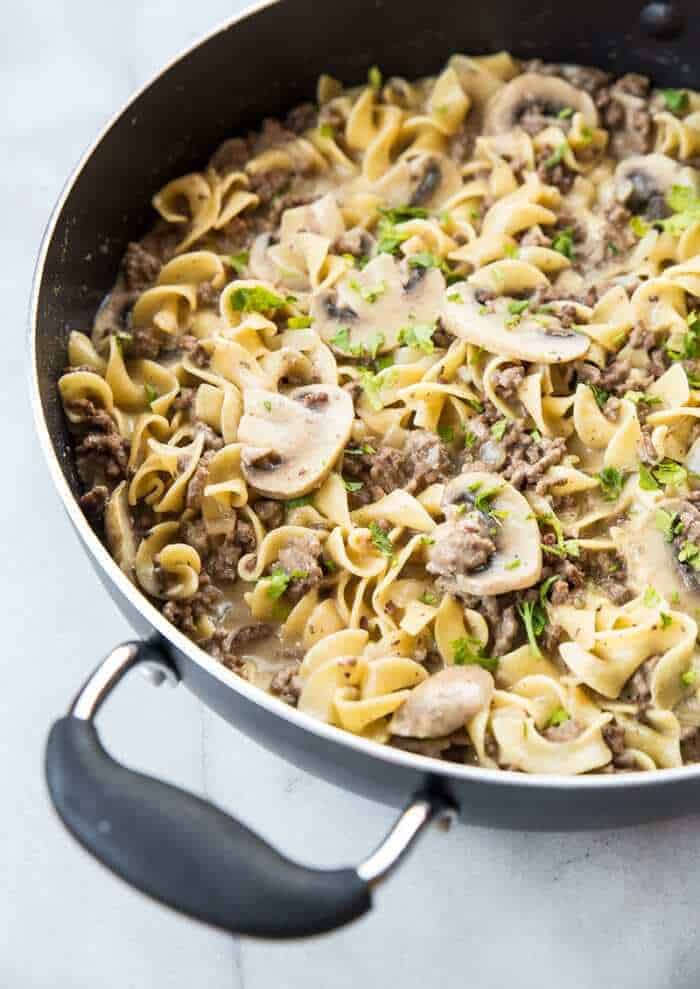 Make sure to save this recipe for when you need a great, easy ground beef dinner. This is going into the permanent rotation for comfort food! If you have slightly pickier eaters, I would start with the amount of sour cream that I used in this recipe. However, if you like a really tangy stroganoff, make sure to add more sour cream to taste.
More Great Ground Beef Recipes
Happy Cooking! If you have any questions leave them in the comments below, and if you loved the recipe, please leave a star review!
Love,
Karlynn
Pin This Recipe To Your Dinner/Supper Recipes Board and Remember to FOLLOW ME ON PINTEREST!
One Pot Rich & Creamy Ground Beef Stroganoff & Noodles
This one pot rich & creamy ground beef stroganoff has a secret ingredient that makes this the BEST stroganoff ever!
Keyword:
ground beef strogranoff, stroganoff, stroganoff recipe
Ingredients
1

lb

lean ground beef

1

teaspoon

salt

1/2

teaspoon

ground black pepper

1

large

white onion

diced

1

cup

sliced white mushrooms

3

cloves

garlic

minced

4

cups

beef broth

1

tablespoon

Worcestershire sauce

4

cups

egg noodles

1/4

cup

sour cream

1/ 4

cup

cream cream cheese

softened
Instructions
Place the ground beef in a large skillet, with the salt and pepper, then add in the onion. Cook and stir until the onion is soft and translucent and the beef has browned. Stir in the mushrooms, cook and stir until the mushrooms are tender, about 10 more minutes. Add in the garlic, fry for two more minutes, then drain any remaining grease from the skillet safely.

Stir in the beef broth and Worcestershire sauce. Add in the egg noodles and stir to submerge completely in the mixture. Bring to a boil, stirring constantly, then reduce heat to medium low. Cover and simmer until the noodles are cooked, around 20 minutes. If needed, add more beef broth to cook the noodles completely if your liquid evaporates faster than the recipe. Let simmer until you have the amount of gravy you like - we like a lot!

Once the noodles are cooked, stir in the sour cream, and cream cheese until combined into the mixture completely. Serve garnished with fresh parsley.
Recipe Video
Recipe Notes
Adjust the sour cream and cream cheese to your liking. The way the recipe is, it's a nice, creamy yet not too tangy sauce. If you like it really tangy, add more sour cream or cream cheese.
Nutrition Facts
One Pot Rich & Creamy Ground Beef Stroganoff & Noodles
Amount Per Serving
Calories 373
Calories from Fat 90
% Daily Value*
Total Fat 10g 15%
Cholesterol 109mg 36%
Sodium 1613mg 67%
Potassium 809mg 23%
Total Carbohydrates 33g 11%
Protein 34g 68%
* Percent Daily Values are based on a 2000 calorie diet.
275