So… I totally fed cake to my kids on Monday morning.
* ducks as the Super Parents start throwing things at me *
Now, what's really funny about this is that I totally contradicted myself. Or lied? Did I lie?
I posted a while back, perhaps two years ago on my Homemade Funfetti Pancakes recipe that
There are few truths in this world that I can truly say I will stick to resolutely, but this recipe definitely covers one of them.

I will never feed my children cake batter in the morning and then send them off to school.
I remember almost everything I write but I also admit loudly, freely and unashamed, that I contradict myself all the time.
It's ok, you know, to contradict yourself. Your opinion changes so very much from year to year and it's very hard when you lead a public life like mine and write everything on the internet for everyone to see, all the time. I'm totally flawed and I like it that way.
Sure, I could have erased that part of my post, but then I couldn't have had all this joy making fun of myself, now could I? Just keepin' it real. I don't erase my past contradictions, mainly because I suspect my website would be empty…
(make sure to check out these babies, they are SO amazing!)
Listen. We were back to homeschooling after two weeks off and those two weeks included Disneyland. Ugh, okay? There's just no explaining how bad it was. Not only that, Mike took off to Salt Lake City for the annual Adobe Summit that he always covers as media and I am stuck with all my work, homeschooling both kids, trying to write my cookbook, start packing to head home to Alberta (NO! NO! You can't make me come home!) and…sigh.
Let's face it. It's all about trying to keep my head above the water this week. Mr K is a week behind in homeschool, which means that I am trying to just get him to this week, never mind tackling the work that this week brings with it. That is the one thing I am hating about homeschool is that we aren't setting the pace ourselves. That's a rant for another day, but I'm pretty sure that we are going to do parent-led next year. I need to set my pace, because the teacher led pace is not cutting it for me.
So all the above "poor me" brings me full circle back to the fact that I fed my kids cake for breakfast. And my sister-in-law. And myself. We are all guilty.
It also brings us back to me asking, did I really lie? I "technically" sent the kids to school. Homeschool. So if you take that side of it, yes, I lied and contradicted myself.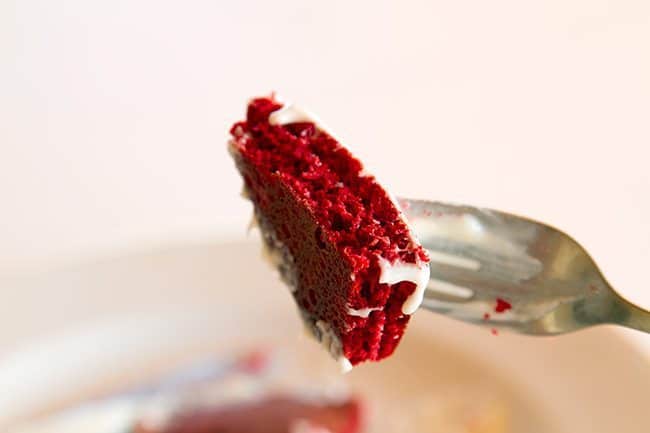 But Holy Dinah you guys, I NEEDED CAKE!
Is there a stressed out mom clause when it comes to contradicting yourself? I mean, just LOOK at these pancakes! Gah! They were little cakes! Look at that crumb! And icing!
You guys, they were so good. You can sub in any regular boxed cake mix as well, whatever is your favorite.
So there you have it. I've been caught lying and contradicting myself.
It is, truthfully, a very overwhelming week. Mike and I are heading back to California to work mid next week (I know, it's hard) but in fact this is going to be hours upon hours of work for both him and I for his website. (and then I still have to keep up on my work)
We have a lot of amazing travel coming up, combined with a major workload that comes with it. I try not to complain because !TRAVEL! but there does come a point where working for ourselves and trying to do it all catches up with us…and that point might have been yesterday when I ate cake for breakfast hahah!
All I really need to know is that if we can invent a Stressed Mom Clause that works like a get out of jail free card. Does that sound good? Let's do this.
Do I get out of jail free?
Love you more than cake for breakfast,
KArlynn

Red Velvet Cake Batter Pancakes
Cake batter pancakes that will work with any cake mix you choose. Perfect for kids birthday parties or Monday mornings. Definitely the best thing for a Monday morning.
Ingredients
one package of red velvet cake mix

1/2

cup

all purpose flour

1 1/2

cups

milk

2

eggs

2

tbsp

oil

oil for greasing the pan

Cream Cheese Icing

1/2

package of cream cheese

1/4

cup

of butter

1

cup

of icing sugar

1/2

tsp

vanilla if wanted

2-3

tbsp

cream or milk
Instructions
Combine all ingredients into a large bowl, mixing until all the lumps disappear. If the batter is too thick, add more milk. The batter should be just spreadable, unlike normal pancake batter, and not runny.

Heat a griddle to a medium high temp.

Using a 1/4 cup scoop, measure out enough pancakes to fill the griddle.

Cook until browned on the bottom slightly and the edges are cooked. Flip and cook until the other side is done.

Combine the cream cheese icing ingredients together using beaters until creamy. Add more milk or cream until desired thickness is achieved.

Serve with cream cheese icing or syrup!
Nutrition Facts
Red Velvet Cake Batter Pancakes
Amount Per Serving (14 -16 pancakes)
Calories 0
* Percent Daily Values are based on a 2000 calorie diet.
0