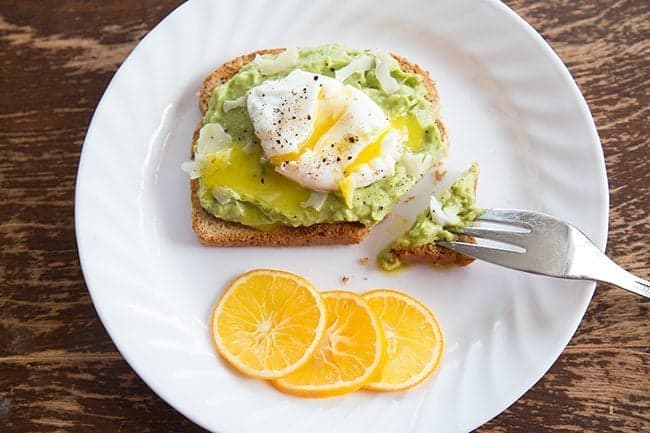 I know that I have an avocado addiction. I admit it. What is WITH them? Why can I eat them daily, hourly, minutely? (that's right, I make up my own language, it's my blog and I can make up words if I want to.)
They are my favourite food group.
Now, you all saw this week that I love to bake them into a Chocolate Avocado Bundt Cake, but the main reason that I keep them around (and the reason I have so many on any given day to use in that chocolate cake when they are all ripe at the same time) is that I love them on toast with an egg on top. Easy, fast and seriously delicious.
Meyer lemon season is upon us ( usually from November to March, but here in Edmonton you get them when you see them) so I wanted to use these beauties while they were readily available. You can see how they look like an orange when sliced up and that's because they are thought to be a cross between a mandarin orange and our normal lemons. You can absolutely see the traits of both in them, the bright orange colour yet the tang of the conventional lemon.
The zest from Meyer lemons is what it's allll about. The juice inside is still tart, but the zest is where the magic is. You can taste orange and lemon in the zest, while the juice is perhaps slightly sweeter than a normal lemon. The flavour inside can depend on so many factors, so it's better to rely on the zest for flavour, rather than the juice. I find that Meyer lemons are not as dependable as lemons when you're looking for flavour in the juice.
Now, I am also always asked how I get my eggs so perfect, every time I post a photo of these breakfast goal bowls on Instagram.
I use an egg poacher, I don't know how I lived without one! I bought it for myself right before Christmas. It HAS to be one of the ones shown below that has an insert in a pan that you fill with water. These are AMAZING! Do NOT get the little cups that float around in water.
Products from Amazon.com
‹
›
This is a truly delightful way to start your day as it's a really simple recipe and takes mere minutes to whip up in the morning. The citrus is so fresh and bright and cuts the richness of the avocado perfectly. The Parmesan cheese is an added taste bonus; you might never leave it off of your avocado again!
Happy cooking!
Love you more than avocados,
Karlynn

Meyer Lemon Parmesan Avocado Toast & Egg
Ingredients
2

eggs

poached

2

slices

grainy bread

1

large avocado

1

tsp

fresh lemon juice

this recipe uses a Meyer Lemon

1

tsp

Meyer lemon zest

salt and pepper

to taste

2

tbsp

Parmesan cheese
Instructions
Start your eggs poaching.

Scoop out the insides of the avocado into a bowl. Mash together with lemon juice and salt and pepper.

Toast the bread slices.

Divide the avocado between the two slices of bread. Divide the Parmesan cheese between the two slices, sprinkling on top of the avocado.

Remove the eggs from the poacher when done to your desired consistency and place one on top of each toast slice.

Salt and pepper the egg to taste and enjoy! Garnish with slices of the Meyer lemon ( and eat if you enjoy them! )
Nutrition Facts
Meyer Lemon Parmesan Avocado Toast & Egg
Amount Per Serving (2 g)
Calories 0
* Percent Daily Values are based on a 2000 calorie diet.
0