This may come as a shock to some of you but when I'm not eating out at a restaurant or on the road, I tend to eat vegetables and protein for breakfast religiously. I've never really been a toast person ( unless it's covered in eggs or avocado's) and smoothies have never been my go-to. Yes, I know that smoothie bowls have been allllll the rage, but to be honest the only time I make smoothies is when I make them for the kids. I believe in protein and vegetables to start the day and skip the sugary fruit.
We all know about how we need to get our 5-10 servings of fruits and vegetables in per day, but did you know that 5 servings of vegetables is only around 2 1/2 cups of vegetables? That's it. Most dietitians say that 1/2 cup is a serving. Fruit is easy, so easy that really, who cares. I mean let's face it, we sweet tooth's have NO problem eating our daily servings of fruit.
To be honest, I usually eat two boiled eggs with a side of cucumber every day for breakfast – and I love, LOVE eating cucumber for breakfast. I know, I am really weird. One of my goals for 2017 is to get a little more innovative with my breakfast and make vegetable breakfast bowls.
It also forces Mike to eat vegetables for breakfast as well. He's terrible at getting his daily quota of veggies and he freely admits it.
I'm aiming that my breakfast bowls are at least three servings of vegetables first thing in the morning. Smothered in egg.
Yum.
If you don't like eggs, you could top this with tofu if you like, but you lose that wonderful yolk that makes this so good. The vegetables are great on their own, but to make it breakfast, well, you just need those poached eggs on top.
I bought two egg poachers similar to the one below and I LOVE IT. ( you can click the photo to check it out)
Products from Amazon.com
‹
›
If you are going to get serious about eating vegetable breakfast bowls or are a poached egg lover, you need to get one of these. I can't believe that I waited this long to invest in them. It's used daily in my house.
Back to the vegetable breakfast bowls.
While I am going to get some fancier ones going on, with roasted this and that, this was my first one and was whipped up spur of the moment. I sautéed a red onion along with some Cajun seasoning – you can see my Cajun Onion recipe if you like because I wanted this dish to be onion heavy. Mike doesn't eat onions like I do and if you are looking for one of the healthiest things around that you should be eating MORE of, it's onions. It's recommended that you have some onion daily for health benefits that range from cancer prevention to heart health to anti-inflammatory properties. The Allium family is tops when it comes to digestive health as well.
Dudes, that's a lot of onions. Trust me, Mike complained the whole time about chewing them. Don't get me wrong, he LOVED this but he was squawking about the fact that he had to chew. He's a lazy morning chewer.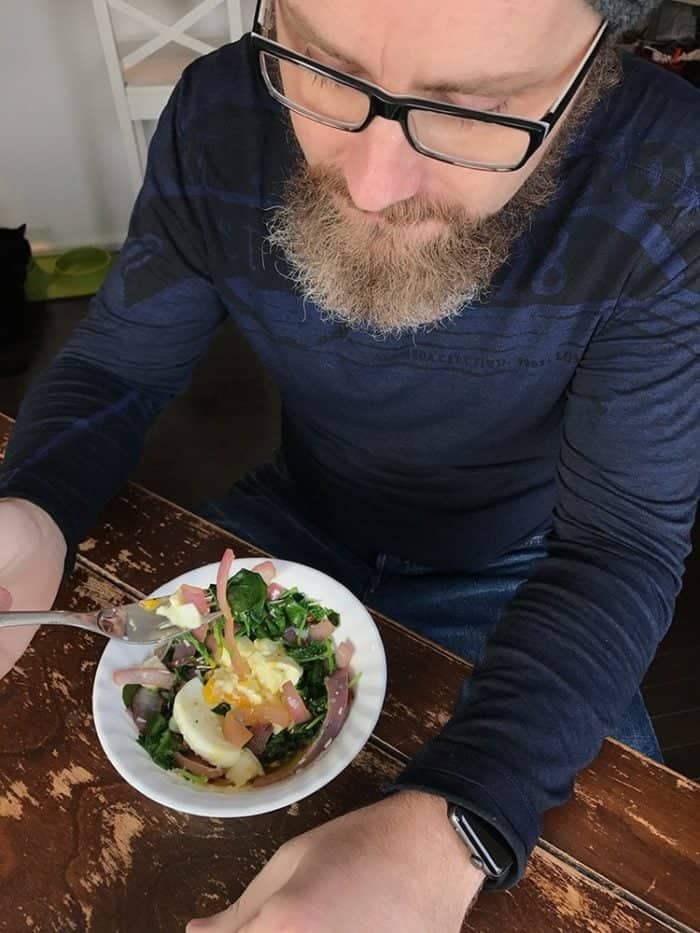 What I like about eating my vegetables in the morning is that it takes the pressure off of me for trying to get vegetables in the rest of the day and let's face it, getting in your vegetables in the morning is also a mental boost as well. It's like checking another thing off of your to-do list and I'm sure a lot of you are nodding your head in agreement. Fruit? No worries. Vegetables? You have to think about getting them in daily and plan how to do it.
A good vegetable breakfast bowl will help!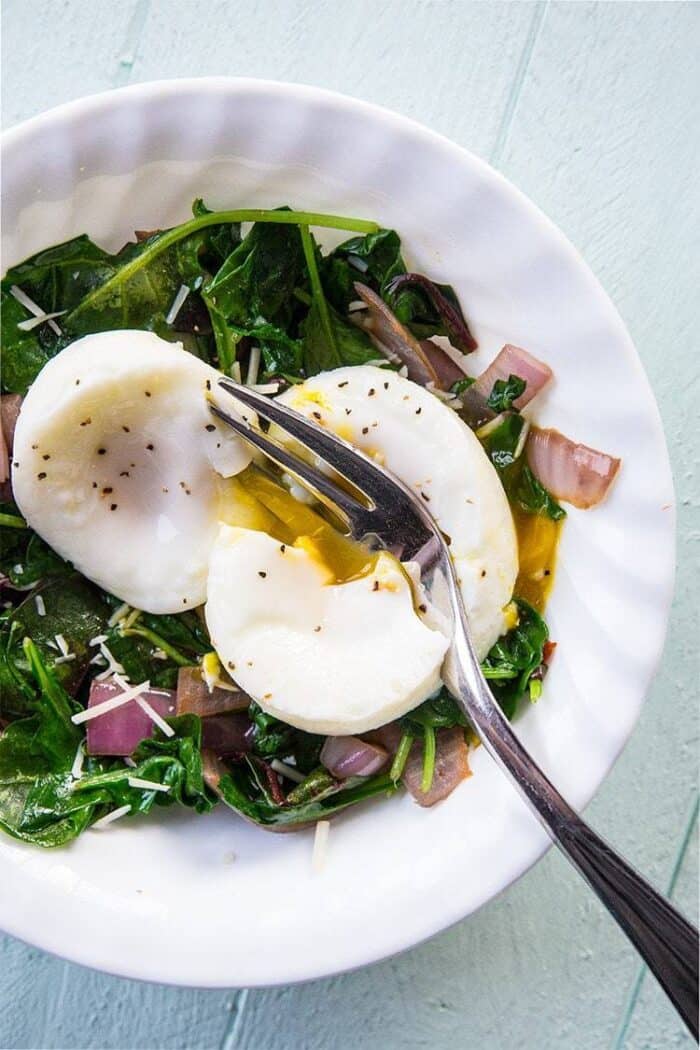 Now the ones coming up are going to have a lot of prep done beforehand, like roasting vegetables and keeping them in the fridge, but this one you can whip up no problem in the morning. You just fry it up, no roasting needed!
Now, I am also always asked how I get my eggs so perfect, every time I post a photo of these breakfast goal bowls on Instagram.
I use an egg poacher, I don't know how I lived without one! I use it almost daily! I bought it for myself right before Christmas. It HAS to be one of the ones shown below that has an insert in a pan that you fill with water. These are AMAZING! Do NOT get the little cups that float around in water.
Products from Amazon.com
‹
›
So who else loves a hit of vegetables in the morning? I know, it's not common but it should be, more and more!
Love you more than chocolate,
Karlynn

Mixed Greens & Cajun Onions Vegetable Breakfast Goal Bowl
Ingredients
1

medium red onion

diced

1

tbsp

olive oil

2

tsp

Cajun Seasoning

1 5

oz

package of Kale/Chard/Spinach greens

4

large eggs

poached to desired doneness

2

tbsp

Asiago/Parmesan Shredded Cheese Mix

to taste salt and pepper
Instructions
Heat the oil in a large

skillet

. Add the onions and the Cajun seasoning. Cook until soft.

Add the greens and cook until wilted.

Divide between two bowls.

Divide the cheese between the two bowls and place two poached eggs on top.

Salt and pepper to taste.
Nutrition Facts
Mixed Greens & Cajun Onions Vegetable Breakfast Goal Bowl
Amount Per Serving (2 g)
Calories 0
* Percent Daily Values are based on a 2000 calorie diet.
0