So here's a question for you all today: Did you know that you can make dumplings in your slowcooker or crockpot? I didn't until about 6 years ago myself and let me tell you, it changed my meal planning life! How amazing is it in the winter to come home to a hot crockpot full of soup, whip up some dumpling dough, set it on top and then go get everything ready for dinner while they cook on top for half an hour?
Crockpot dumplings turn a soup into a one-pot meal. You don't have to heat up any garlic bread or get buns to go with the soup. You have your starchy carb right on top of your soup, ready to go.
This post is a redo of an older one here on The Kitchen Magpie. When you've been blogging as long as I have, there's bound to be ugly, sad photos that have excellent recipes hiding among them. Recipes that NEED to be seen, actually. This is a trick that I learned many years ago and use every time I make a stew or soup that I want dumplings on top of.
The slowcooker dumplings themselves are pillowy little dough bites of heaven. Considering the fact that my daughter is a notoriously selective eater, the fact that she asks for these whenever I make a stew should tell you how delicious they are.
Now, these new photos aren't the best in the world, because well, crockpot dumplings aren't exactly the prettiest dish in the world. It's hard to photograph unattractive food.
Crockpot dumplings are pasty pale and white.
Crockpot dumplings don't have any colored sprinkles or cherries on top.
I know. I'm not doing a good job of selling you on these.
But do you want to know what crockpot dumplings ARE?
A lifesaver.
Delicious.
Easy.
And crockpot dumplings are absolutely, without a doubt something that you totally need to try on your next soup or stew this Fall!
Happy cooking everyone!
Love,
Karlynn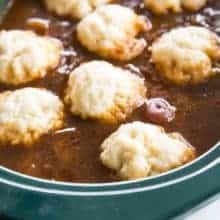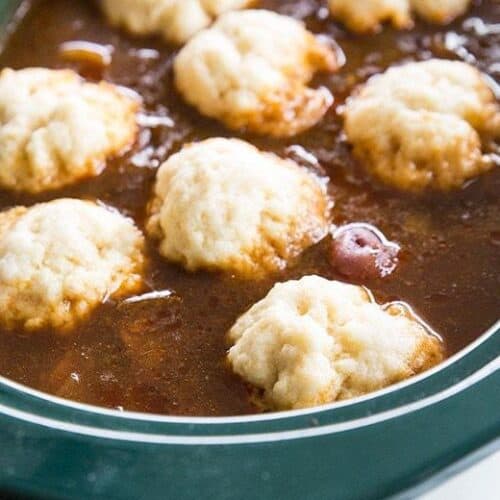 How to Make Slowcooker or
Crockpot
Dumplings
Ingredients
1

cup

of flour

2

tsp

of baking powder

1

tsp

of sugar

1/2

tsp

salt

1

tbsp

butter/margarine

1/2

cup

of milk
Instructions
Whisk all of your dry ingredients together.

Cut in the butter until it's small pea sized bits in the dry mixture.

Add your milk and mix well.

Drop by large, golf ball sized tablespoonful onto the top of your stew/soup concoction in the

crockpot

.
Nutrition Facts
How to Make Slowcooker or
Crockpot
Dumplings
Amount Per Serving (8 g)
Calories 0
* Percent Daily Values are based on a 2000 calorie diet.
130