This post may contain affiliate links. See my privacy policy for details.
I am going to share a delicious new muffin recipe with you tomorrow but before I do, I want to share with you my little tricks and tips on how to make perfect dome topped muffins!
There's nothing I like more than a batch of uniform, gorgeously browned dome topped muffins. There's something so satisfying about them, like I have my own professional bakery at home. Which in all honesty I swear it is some days, or at least the mess in my kitchen equates the amount a bakery generates!
First, you need a good recipe that you know raises perfectly. Try my chocolate raspberry muffins, this makes a perfect 12 muffins and raises beautifully into gorgeous muffins.
Spray a standard 12 muffin tin with cooking spray or use liners, but you get a better muffin without liners.
The main trick to making perfect muffins is using an ice cream scoop, like the one shown below. Just your average medium to heavy-duty scoop.
Scoop up the cookie dough and then most important, scrape the bottom of excess batter until it's fairly flat. You have to level the scoop!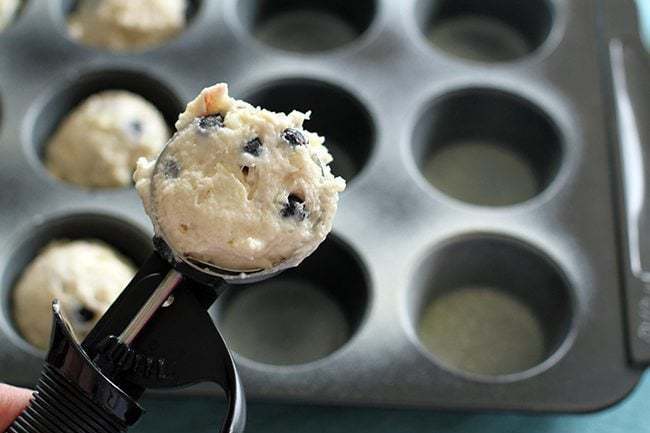 Turn it over and then plop it into the tin like so.
If your muffin mix is sticking simply spray the inside of the scoop with a bit of cooking spray!
Continue to fill the muffin tin.
Ah, little dome topped beauties waiting to be baked up!
The last and most important thing is to bake them at a fairly high temperature. I've learned that muffins do best at 375 degrees to 400 degrees, depending on the recipe, they bake up faster, higher and slightly crispy on the outside.
I love the muffins without liners, look at that gorgeous golden brown muffin! My favorite!
And there you have it! So simple and it really works!
Happy Baking everyone!
Love you more than chocolate,
Karlynn