This post may contain affiliate links. See my privacy policy for details.
French toast is one of those delicious, classic breakfast recipes that everyone needs to have in their repertoire. So long as you use the best bread you can find, and really make it rich and delicious, anyone can make an incredible French toast at home.
For a more precise French toast recipe, why not try making The Best French Toast ever? Or change it up a bit with some Peanut Butter & Jelly French Toast instead?
Table of Contents
How To Make French Toast
French toast is one of the most insanely delicious breakfast options there is, and it is also one of the simplest as well.
Made from nothing more than some stale bread, eggs, some kind of dairy, and a whole lot of sugar, French toast is the perfect sweet and filling breakfast that doesn't really require any prep to make.
So long as you can source some great quality bread and don't mind waiting for it to get a bit stale, you can enjoy some delicious French toast whenever you want.
What Kind Of Bread Should You Use?
French toast is, as the name would imply, principally a bread recipe, meaning that pretty much the entire dish is dependent on what kind of bread you use.
Traditionally, French toast would be made from yesterday's bread, which by the morning, has gone totally stale.
This staleness is critical for ensuring that it absorbs absolutely everything possible, saturating every fiber of the bread with your egg and cream mixture.
However, while getting some stale bread is never exactly difficult, seeing as all bread goes stale after a little while, you still need to decide just what kind of bread you are going to use, to begin with.
This recipe calls for some thick slices of Texas-style bread, which is actually just a measurement of its thickness, usually being around twice the thickness of other types of bread.
There are all kinds of bread to choose from, but for making French toast, you should try and stick to bread that doesn't have too much intense flavor on its own.
While a nice thick cut of brioche will definitely have the best texture, if you get something with too much taste, you might end up losing the flavor of the French toast soaking liquid, as well as the other sweet things you will probably pair with your French toast.
So for that reason, some simple, store-bought bread that has been cut really thick is usually the best choice for making French toast.
What Fat Should You Cook Your French Toast In?
French toast isn't just about getting the bread and soaking it in eggs and cream – you also need to fry it off, either in a frying pan or under the broiler, to get that tasty, crunchy surface area all over the bread.
The only way to achieve complete and total crispiness is by browning your French toast first in plenty of fat, so what kind of fat should you use?
Well, the most traditional choice would be butter and plenty of it.
So long as you don't crank the heat too high, butter leaves a ton of intense, browned, and almost savory flavor on your French toast, making for the perfect bite.
If you aren't a fan of the flavor of butter, however, you could always use some other fats instead.
For example, olive oil would add a grassy, ever so slightly bitter flavor to your French toast that could make for an even more interesting French toast experience.
You could also use coconut oil to help reinforce those sweet flavors, though keep in mind that it would make everything taste of coconuts.
Ultimately, you should just whatever fat is your favorite; just make sure to use absolutely loads of it, whatever you choose.
What Should You Top Your French Toast With?
The final step to enjoying the perfect plate of French toast is coating it in absolutely tons of delicious, sweet toppings.
Here are a few suggestions for some great toppings to pour over your French toast. Use one or any number of these to end up with restaurant-quality French toast all without leaving your kitchen!
– Maple Syrup
Maple syrup is the classic addition to anything sweet for breakfast. Not only is it perfectly delicious and caramel-like in its own right, but maple syrup perfectly complements anything even slightly sweet – plus, it just tastes like breakfast, you know?
– Blueberries or Strawberries
Some simply sliced fruit like blueberries or strawberries are the best addition to French toast. Alongside giving you a little bit of nutrition in the morning, the subtle sweetness of some fresh berries really works well with some good French toast.
– Icing Sugar
Perhaps the easiest way to add a bit of sugar and extra sweetness would be a fine dusting of icing sugar all over the top of your French toast.
Make sure to spread it out so that it doesn't clump too much, and can enjoy a sweet, lightly textured coating on your homemade French toast.
Looking for more great How To Guides? Try these out:
• How to Make Toast in the Oven
Happy Cooking
Love,
Karlynn

Pin This Recipe To Your Breakfast Boards and Remember to FOLLOW ME ON PINTEREST!
Thanks to ads on this website, readers of The Kitchen Magpie are now sponsoring 2 families a month through the Edmonton Food Bank. Learn how you can help here.
Learn to cook like the Kitchen Magpie
Subscribe to The Kitchen Magpie on YouTube
One click and you'll get notified of new videos added to our YouTube account!
Subscribe on

YouTube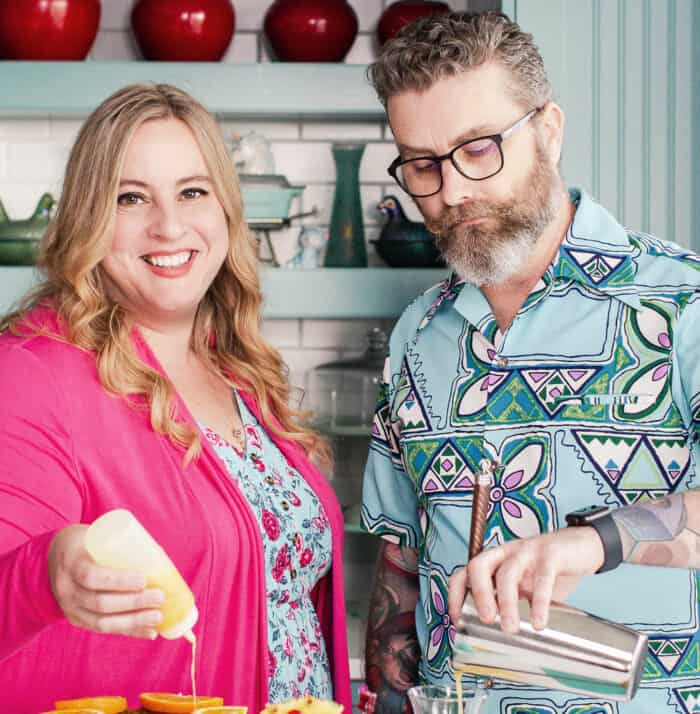 How To Make French Toast
An easy way to make simple french toast for a great breakfast.
Prep Time

5

minutes
Course

Breakfast
Cuisine

American
Servings

4
Author
Ingredients
4

slices

Texas style bread

(thick sliced)

3

eggs

1

Tablespoon

cream half and half

1

teaspoon

vanilla extract

1

teaspoon

cinnamon ground
Instructions
Combine the ingredients (except the bread) in a bowl and whisk.

Dip each slice into the mixture and coat thoroughly.

Place on a oiled griddle or frying pan over medium heat and brown on each side making sure the inside of the bread is cooked all the way through.

Dust with icing sugar and blueberries (if desired) and serve with syrup.