This post may contain affiliate links. See my privacy policy for details.
So many great recipes out there call for buttermilk, but it isn't always attainable. If you live somewhere where you can't easily find buttermilk for sale, why not learn how to make your own?
Why not use this homemade buttermilk to make some tasty Buttermilk Biscuits? Or some satisfying Garlic and Herb Marinated Buttermilk Chicken instead?
Table of Contents
How To Make Buttermilk
Buttermilk is something usually thought of as belonging to North American food culture, but is actually probably one of the oldest fermented drinks there is.
Buttermilk is typically just the liquid that has been left behind after churning butter, but modern buttermilk is a uniquely funky, acidic dairy drink that can add a ton of flavor to all kinds of recipes.
While a lot of stores will keep buttermilk in stock, there are just some places where you can't get it, no matter how hard you try and look.
For those that find themselves bereft of buttermilk, here's how to easily and simply make your very own?
Just What Is Buttermilk?
Buttermilk is really two different things masquerading as one product.
In the traditional sense, buttermilk is the liquid that has been left over after churning butter from cultured cream.
After removing the coagulated butterfats from the cream, which would then be removed, washed, and salted to turn it into butter, the leftover liquid would have been left, probably for a long longer than was really safe.
In an ensuring natural process, lactic acid-producing bacteria would then begin to ferment this leftover cream, thickening and flavoring it and turning it into buttermilk.
Modern buttermilk, however, is a bit different, as it is usually produced in a safe and controlled environment. Lactic acid-producing bacteria are typically added to milk and it is encouraged to grow and ferment the milk, and then pasteurize it once the desired level of acidity has been reached.
While the buttermilks that you can find in supermarkets are perfectly delicious, there is nothing quite like a buttermilk made from scratch.
The Process Of Making Simple Buttermilk
Making a simple buttermilk at home is actually a surprisingly easy process, and is technically more along the lines of a cheater buttermilk than a traditionally cultured, churned cream.
It really is as simple as adding 1 tablespoon of vinegar or lemon juice to a cup of milk, stirring it, and letting it sit for around 10 minutes.
The highly acidic vinegar or lemon juice reacts with the milk solids and curdles it, changing up the texture and enhancing the flavor, while the acid changes the flavor of the milk itself to something much tastier.
If you find yourself without any kind of buttermilk to use for a recipe that needs it, this will work perfectly fine.
Does It Matter What Milk You Use?
If you were making completely homemade buttermilk, you would need to use only the finest real milk, with as little pasteurization or homogenization as you could manage, to ensure that it would culture properly.
For this simple method here, though, you really can use any kind of milk you want.
Since all that's happening is the milk solids are slightly curdling and the whole thing is becoming more acidic, you don't need any kind of special milk to still end up with buttermilk.
The only thing you might want to keep in mind is that buttermilk tends to be quite rich and fatty, so you will probably want to use whole milk, rather than regular milk, for this recipe, as otherwise, it might not taste just right.
Could You Make Buttermilk Entirely From Scratch?
While the above method will make a buttermilk that is perfectly usable in recipes, you could absolutely do it all from scratch if you wanted to.
This is really the kind of thing you would do if you happened to keep a cow around the farm, but if you also happened to have some unpasteurized, totally un-adulterated milk lying around, you could still do this.
To start, you want to leave the milk to culture for a little bit.
While you could absolutely just hope for the right kind of bacteria to find your milk, your best bet would be to introduce your own bacteria to get the process started.
Ironically, the best way to do this safely and securely is to use a little bit of already-prepared buttermilk, or even yogurt. So long as the packet says that it is made with an actual live, active culture, then you can just put a little bit of it inside of your milk and let it go.
After letting the culture develop for a while, up to around 24 hours in fact, you should then churn out the butter, either by shaking it really hard for absolutely ages or putting it into a butter churner.
After separating the butter, you would be left with some homemade buttermilk, ready to enjoy.
Of course, this makes the whole thing take absolutely ages, so you might be better off just using a bit of vinegar and some regular milk.
Looking for more great How To Guides? Try these out:
• How to Make a Cornstarch Slurry
• How To Make Perfect Dome Topped Muffins
• How To Make A Perfect Whipped Cream
Happy Cooking
Love,
Karlynn

PIN THIS RECIPE to your How To Boards and Remember to FOLLOW ME ON PINTEREST
Thanks to ads on this website, readers of The Kitchen Magpie are now sponsoring 2 families a month through the Edmonton Food Bank. Learn how you can help here.
Learn to cook like the Kitchen Magpie
Subscribe to The Kitchen Magpie on YouTube
One click and you'll get notified of new videos added to our YouTube account!
Subscribe on

YouTube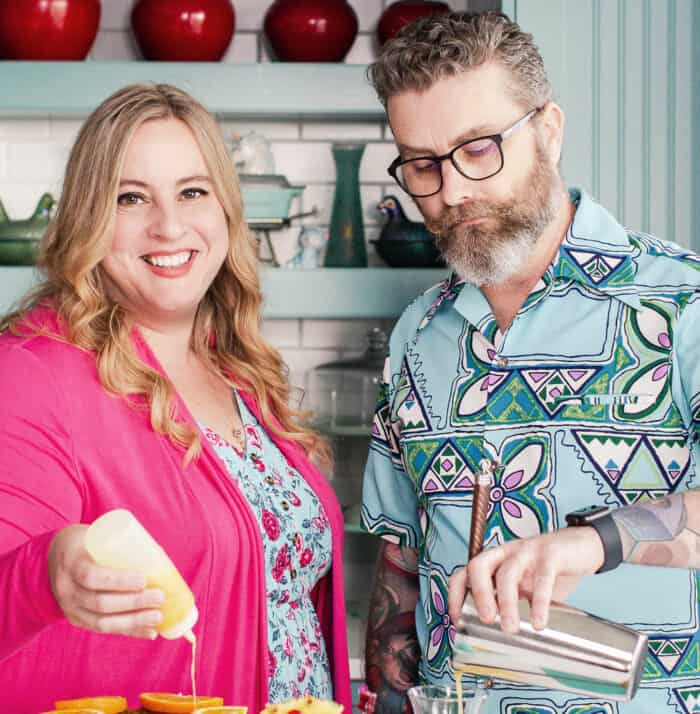 How to make buttermilk
Easy ways that you can make buttermilk, what is buttermilk and how to use it in recipes!
Course

Sauces
Cuisine

American
Author
Ingredients
1

Tablespoon

vinegar

(or lemon juice)

1

cup

milk

minus one tablepsoon
Instructions
Fill the measuring cup to the one cup mark with milk, then remove one tablespoon of milk.

Add the Tablespoon of vinegar or lemon juice into the milk stir.

Let the milk rest for about 5 or 10 minutes and use it as needed in your recipes. You may see some light curdling in the milk.