Flourless Chocolate Cake Recipe
I can't believe that it's taken me this long to get a flourless chocolate cake recipe up here. I adore a good, decadent flourless chocolate cake, just as much as I abhor an overbaked, dry flourless cake. Oh yes, those happen, and it's a sad, sad occasion indeed.
A flourless cake consists of eggs, butter, sugar and chocolate in its various forms. It's easy – almost scarily so- to make, as long as you don't overbake it. Don't worry, I won't let you do that, I'll hold your hand the entire way through.
Actually I lied, fend for yourself, I'm too busy eating cake to pay attention to much this week.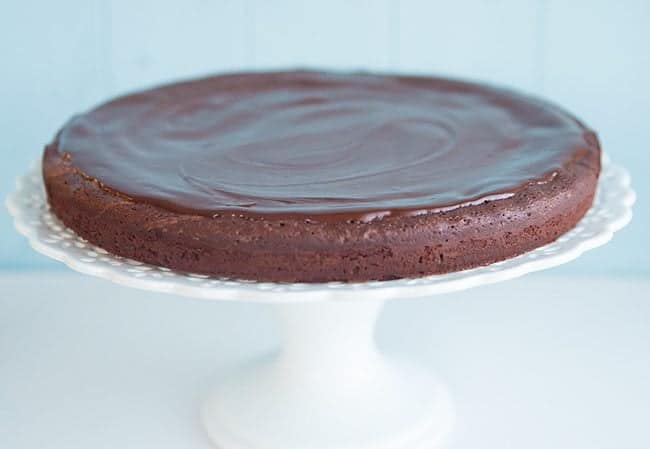 This is a large and in charge cake. It will last you forever and a day, simply because it is as rich as Bill Gates. You will think that you can handle a large piece, but I assure you…not a chance.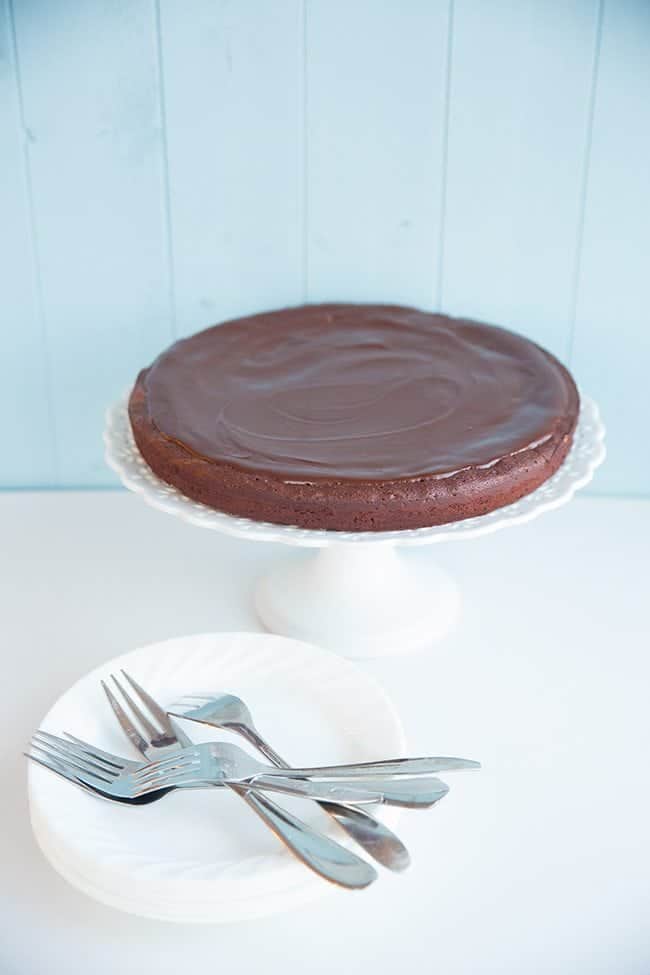 It's very unassuming, isn't it? You belly up to the bar table, swagger a little bit, tuck your thumbs into your (loosened) belt and say " give me a large piece, please".
And then you can't eat it. And you are a wee bit chagrined, because when's the last time you couldn't master a piece of chocolate cake? (or is this just me?)
Be ashamed not, this gloriousness of this flourless chocolate cake lies in the fact that it's SO rich that it will last you forever. Freeze it, tuck it under your pillow for a midnight snack, it matters not, because it will last you days upon days. And chocolate for days upon days is probably one of the best things in the world.
Happy Baking!
Karlynn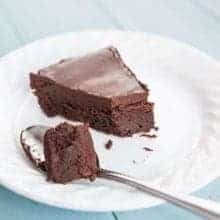 Flourless Chocolate Cake
Decadent, fudgy, gorgeous flourless chocolate cake is the perfect sweet ending to your meal.
Ingredients
8

ounces

bittersweet chocolate chopped into small pieces

NOT unsweetened

1

cup

of salted butter

1 1/2

cups

of white sugar

6

large eggs

1

cup

of unsweetened cocoa powder sifted to ensure there are no lumps

Chocolate Glaze Ingredients:

6

ounces

bittersweet chocolate

1/4

cup

salted butter
Instructions
Pre-heat your oven to 375 °F. Grease (with butter) a 10 inch springform pan, cutting out a parchment circle for the bottom as well as a liner.

Place chocolate and butter in the top bowl of a double boiler (or like me, a small pot inside a larger pot that has boiling water in it!) and melt together, stirring constantly, until smooth.

Remove the pot from the heat and whisk the sugar in for 2-3 minutes. The more you whisk at this point, the less chance that your cake will be grainy from the sugar.

Add in the eggs and beat in well, using the whisk. Whisk in the cocoa until smooth.

Pour the batter into the prepared pan. Cook in the oven for 22-25 minutes, until the middle is sightly jiggly when moved and the top of the cake has a slight crust. The less you cook it, the fudgier it will be! I found that 22 minutes was perfect for me, but your oven will make cooking times vary.

Cool in the pan for 5 minutes, then unhook the sides. Invert onto your serving stand/plate, remove the parchment paper carefully.
0