This Fast & Easy Greek Pasta Salad is going to be your new favourite! Loaded with vegetables, it's as much a vegetable salad as it is a pasta salad, which is how I like them!  It also uses artichoke hearts, which makes this the best Greek pasta salad out there! I have finally converted Mr Magpie over to loving artichoke hearts – by first putting them on a pizza hahaha! Now he wants them in everything!
I had a HUGE tub of Feta in the fridge that I have been slowly using up over the past couple of weeks. That's usually how I come up with a new recipe to share with you guys, I see something that I have to use up in my fridge, panic, and then think of what to make with it. The first thing I thought of was Feta Salad. The second thing I thought of was making into a pasta salad, to make all of my ingredients.
I also had a jar of marinated artichoke hearts in my fridge to use up as well, so that got tossed in there as well. I have actually converted Mr Magpie over to the dark side of loving artichoke hearts and it WAS by ordering them on a pizza from our favourite pizza place!
The marinated artichoke hearts were really good, but I only put in a small amount. Mike asked me to double the amount next time I make this Greek pasta salad, he loved them in it that much. Also : this is BEYOND delicious the next day! This recipe make a very large bowl, enough for 8-10 people to eat it as a meal, so be warned ahead of time!
I also confess that Kalamata olives are my least favourite olives of all, isn't that weird? Unless of course, they are stuffed with cream cheese and wrapped in bacon or some other delicacy, they are often my olive of last choice! So I used my very favourite olive of all, whole pitted black olives. So while traditional Greek pasta salad would have Kalamata olives, I used what I wanted instead.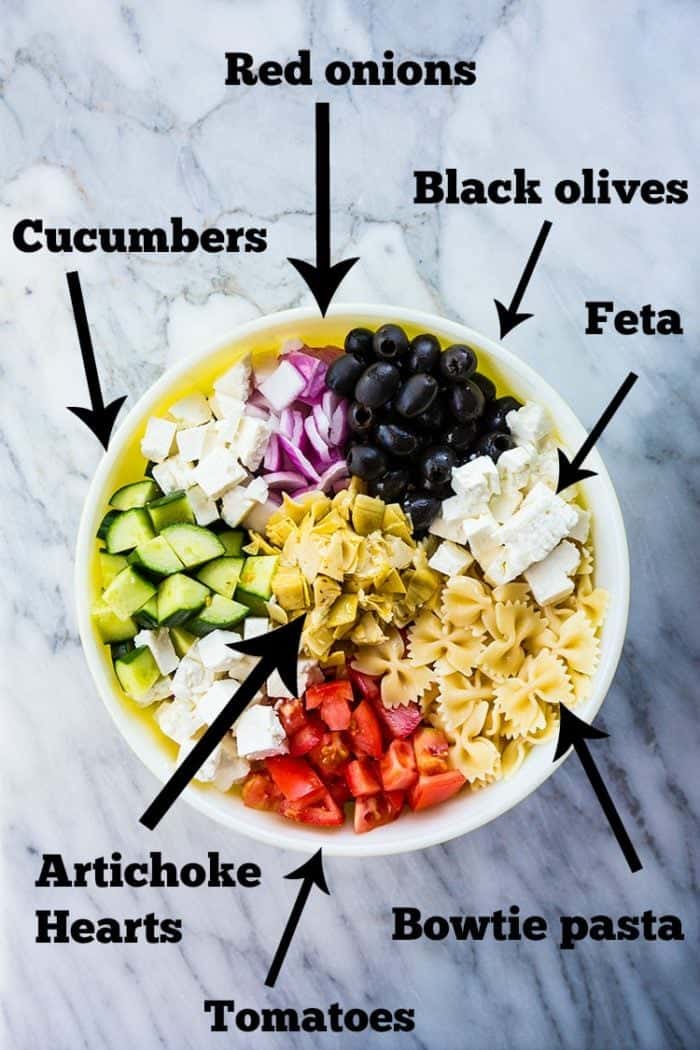 We ate this Greek pasta salad two days in a row : day one with smokies done on the BBQ and then day 2 with homemade hamburgers. It honestly was better the next day, so if you have time to make it the day before, go ahead and do that. The vegetables were still crisp and delicious and the main secret?
Drain your diced tomatoes in a colander.
Oh man, does this make a difference you guys when it comes to tomatoes in a salad. If you aren't afraid of a little salt, dice them, sprinkle them with a wee bit of salt and let them sit in a colander for a good 15 minutes, tossing them every so often to help get the juice out. This way you aren't left with a salad that has a puddle of tomato juice in the bottom of it. That juice is drained out before you even toss the ingredients together.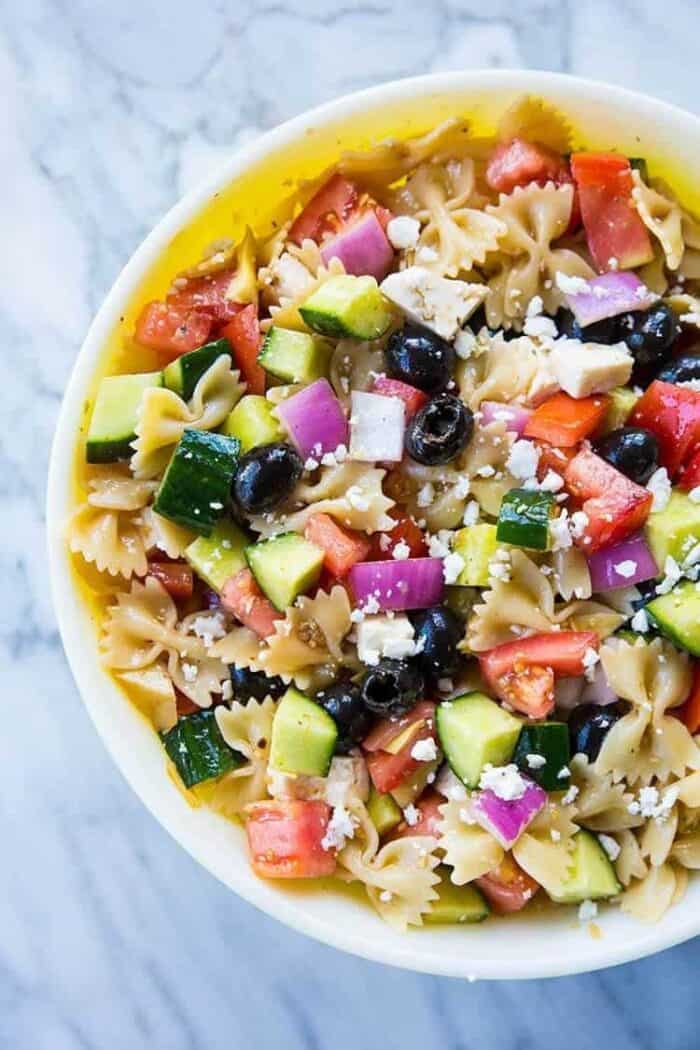 It works like a charm and allows you to make this salad the next day. The flavours blended together wonderfully by sitting overnight and nothing was soggy at all. It also helps to mellow out the bite of the red onions in this Greek pasta salad, which some people find too harsh. Try to buy large, juicy onions and you shouldn't have any that are too strong.
Happy cooking babes!
Love you more than chocolate,
Karlynn

Pin this recipe to your SALADS BOARD!
Fast & Easy Greek Pasta Salad
This Fast & Easy Greek Pasta Salad is going to be your new favourite! Loaded with vegetables, it's as much a vegetable salad as it is a pasta salad, which is how I like them!
Course: salads
Servings: 12 servings
Ingredients
Salad Ingredients
1 375 g box of bow tie pasta, cooked to al dente and cooled
1 large English cucumber washed and diced
2 large tomatoes washed, diced and juices drained in a colander for 15 minutes
1 cup of red onion diced into chunks
1 cup of black olives pitted ( kalmata are traditional)
1/2 cup marinated artichoke hearts diced
1- 1/2 cups of Feta cheese crumbled or diced
Greek Dressing
1/2 c. extra-virgin olive oil
6 tbsp. red wine vinegar
1 tbsp minced garlic
1-2 tbsp Greek Seasoning in the jar in stores
1/2 tsp salt
Instructions
Combine salad ingredients in a large serving bowl.

Whisk together the Greek dressing ingredients, then pour over the salad.

Stir or toss gently to cover the ingredients with the dressing.

Refrigerate for a couple of hours before serving to let the flavours blend together.
17