There is nothing better than these easy cinnamon buns with no yeast to start out your morning! They are so easy, my kids make them!
These are a perfect start to a Sunday morning at home with the family. Not only are these incredibly easy cinnamon buns compared to normal cinnamon buns, they are also very kid-friendly and there is nothing my kids love better than helping me out. You will notice on most of my Sunday posts there are little kids hands "helping" in most pictures, and I wouldn't have it any other way. That's the point to Sunday mornings! These were my mom's standby easy cinnamon buns when we were kids, I remember eating these at least once a week!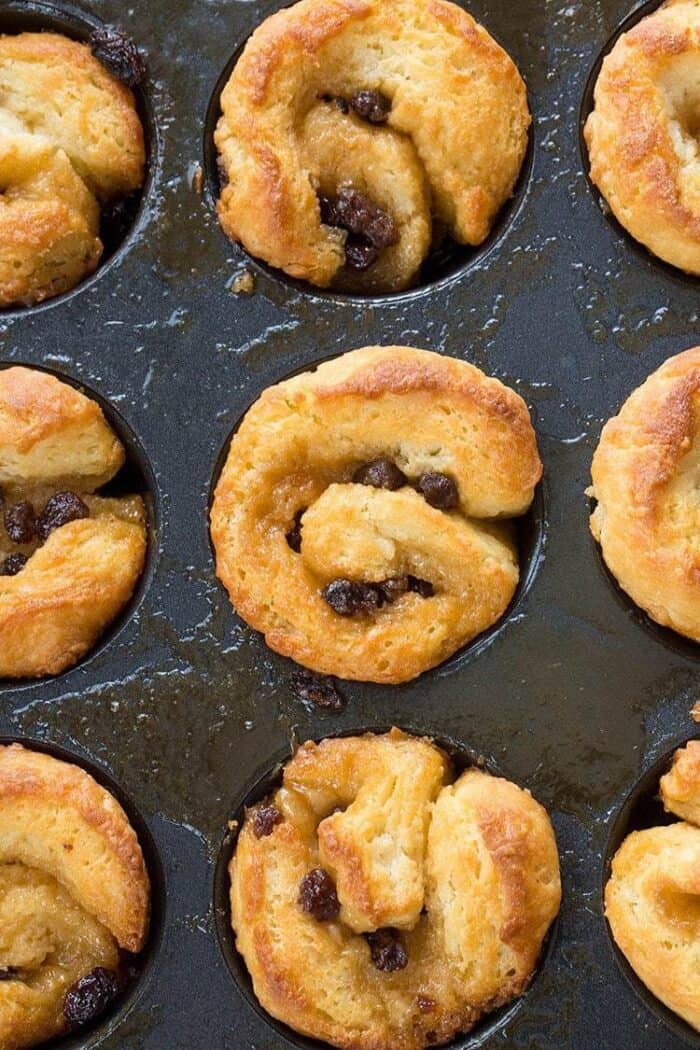 This is a no yeast, quick and easy cinnamon bun recipe that is sure to become your new go-to!
It's so fast you can even whip it up during the week!
So who has tried these babies out? What did you think?
Happy baking!
Love,
Karlynn

Print
Easy Cinnamon Buns Recipe
---
Author:

Prep Time:

10 min

Cook Time:

15 min

Total Time:

25 min

Yield:

12

Category:

breads
Description
Easy enough for kids to help out, these easy cinnamon buns are perfect for the weekend!
---
Ingredients
2 cups flour
3 Tbsp . sugar
1 1/2 tbs baking powder
1/4 cup cold butter or margarine
1 cup cold milk
Filling
1/3 cup butter
1 cup packed brown sugar
3 tsp . cinnamon
1/2 cup raisins
---
Instructions
Kick the tires and light the fires : preheat oven to 400 degrees please!

Take those 2 cups of flour and dump them into a mixing bowl, add in the baking powder and sugar.

Mix the dry ingredients together with a whisk.

Use a pastry blender ( or two knifes criss-crossing each other) and cut the butter in, until its in tiny little pieces throughout the mixture.

Make a well, and pour the milk into it.

Mix it until it forms a soft ball, then take the dough out and put it onto a floured surface.

Take your rolling pin, and roll it until its about 12 inches long, 5-6 inches wide and 1/3 inch thick.

Now its time to start the filling. Take the brown sugar,1/3 cup butter and cinnamon and combine.

Take a measured teaspoon and drop it into each muffin tin.

Take the remaining filling and spread it out over the dough.

Take your raisins and sprinkle them over the top.

Roll the dough up jelly roll style.

Mark off 12 rolls. Don't ignore me and start sawing away wildly, take a knife and mark them off.

Take a serrated knife and cut those marks that you listened to me and made.

Place them in the muffin tins, or enlist your help while you supervise.

Bake for 12-17 minutes.