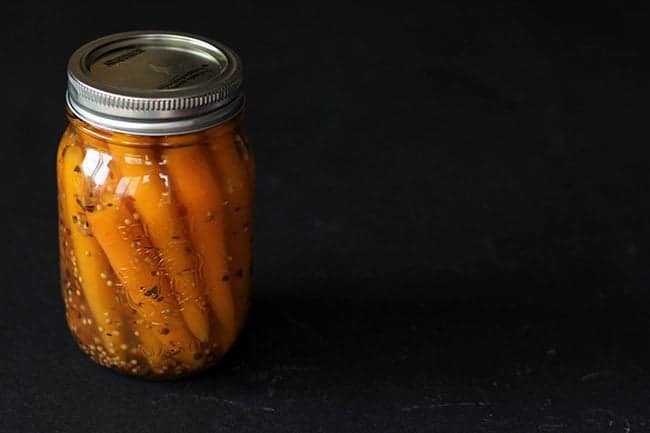 I know that I'm going to talk about a vegetable here and not my usual lusting after a dessert, but man do I ever love a good pickled carrot!
Yes, it's still me, I'm writing this post and no, I haven't lost my mind. I'm waxing poetic about a vegetable and to be honest the carrot is not one of my favorite ones.Carrots to me are only eaten for the nutritional benefits during the winter as the taste pales in comparison to the carrots pulled straight from the sun heated ground during the harvest time of year.
I eat them because they are a vehicle to get hummus or guacamole into my belly and not feel guilty about it. Indeed, those times that I eat 300 calories of hummus in one sitting, I'm most likely patting myself on the back that I ate carrots with it.
Pickled carrots are another kettle of fish entirely.Not just for fancy garnishes in restaurants nowadays, the pickled carrot has now found it's way to the canner's cupboard and local farmer's markets….and into my belly. Without 300 calories worth of hummus.
When I decided that I was going to make pickled carrots at home I knew that I wanted sweet and spicy ones, not spicy as in heat but spices that knock your socks off with flavor. Pickling spice is perfect for this very reason, the flavors match vegetables that are delightful when the sweet tang of a sugared brine is added to them.
Carrots are a great vegetable to match with a sugary brine, being on the sweeter side themselves – and I'm talking about those garden fresh carrots, not the supermarket variety.Those fresh garden beauties are the jewels that you want to preserve for the winter months.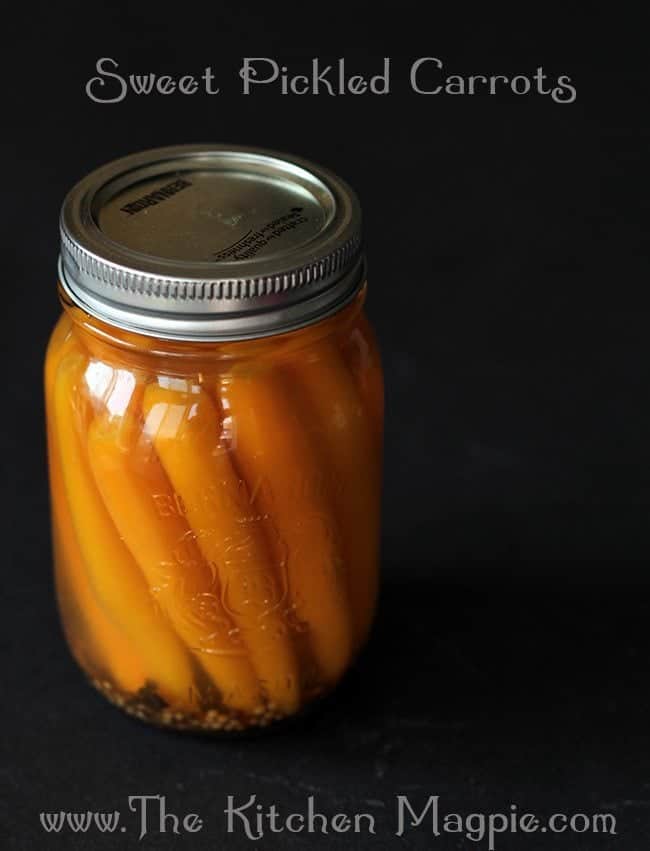 The recipe is taken straight from the National Centre for Home Food Preservation, as it's a non-acidic food that we are canning. Remember, do not change anything about the recipe, I have switched out the spices but do NOT change the vinegar ratio, process times or the steps!
Happy Canning everyone!
Love,
Karlynn
** Remember to join ZIPLIST to create your own online recipe box and then click SAVE on my recipe below to add it! I use my online recipe box ALL the time! **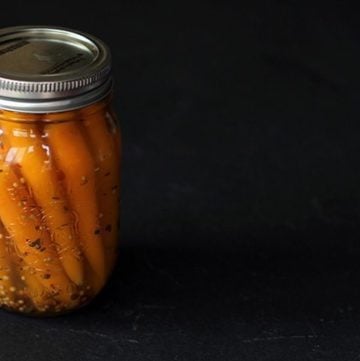 Canned Sweet Pickled Carrots
Delicious sweet and tangy pickled carrots!
Ingredients
8 1/2

cups

peeled garden fresh baby carrots

5 1/2

cups

white distilled vinegar 5%

1

cup

water

2

cups

sugar

2

tsp

canning salt

3

tbsp

pickling spice
Instructions
Wash and rinse pint canning jars; keep hot until ready to use. Prepare lids and bands according to manufacturer's directions.

Wash carrots well and peel, if necessary. Wash again after peeling.

Combine the vinegar, water, sugar and canning salt in an 8-quart Dutch oven or stockpot. Bring to a boil and boil gently 3 minutes.

Add carrots and bring back to a boil. Then reduce heat to a simmer and heat until the carrots are half-cooked (about 10 minutes).

Divide the pickling spice evenly between 4 jars and place in the bottom of each clean, hot pint jar. Fill hot jars with the hot carrots, leaving 1-inch headspace. Cover with hot pickling liquid, leaving a ½-inch headspace. Remove air bubbles and adjust headspace if needed.

Wipe rims of jars with a dampened, clean paper towel; adjust two-piece metal canning lids.

Process in a boiling water canner : 0 - 1,000 feet - process for 15 minutes, 1,001 - 6,000 feet process for 20 minutes, and above 6,000 feet process 25 minutes.

Let cool, undisturbed, 12 to 24 hours and check for seals.

Allow carrots to sit in processed jars for 3 to 5 days before consuming for best flavor development.
Nutrition Facts
Canned Sweet Pickled Carrots
Amount Per Serving (4 g)
Calories 557
% Daily Value*
Sodium 1389mg 58%
Potassium 691mg 20%
Total Carbohydrates 125g 42%
Protein 2g 4%
* Percent Daily Values are based on a 2000 calorie diet.
1