I'm pretty sure I've mentioned before that this whole canning business is hot, exhausting,sweaty work. Don't believe everything Pinterest or happy-go-lucky canners tell you, because sometimes, they just plain ol' lie to you.
In the midst of canning season, which starts as soon as strawberries are out in July and can last until oh, forever, sometimes I just want to cry when presented with another bag of fruit or vegetables. The week that Mike took the kids to Toronto and I had a quiet, blissful house to myself I canned like a crazy woman, indeed all the canning recipes that are new here on the site were created that week.
Now please don't get me wrong, I really do love canning. I love working with the fruit and vegetables and I love trying new recipes that I haven't attempted yet and challenging myself.
However sometimes I just want to throw something together without freaking water canning it. Yah, I said it. No steam fogging up my windows and adding to the heat of my kitchen on an August day, no fans going because I simply might pass out from the heat generated in my kitchen while canning and most importantly…. no mess.
Oh, refrigerator pickles how I love thee.
I took the recipe for the sweet pickled carrots and halved it, wanting to make only two jars of carrots since they won't be sealed up. These beauties will last 3-4 weeks in the refrigerator as they are loaded with vinegar for preserving purposes.
They will be eaten long before that, rest assured.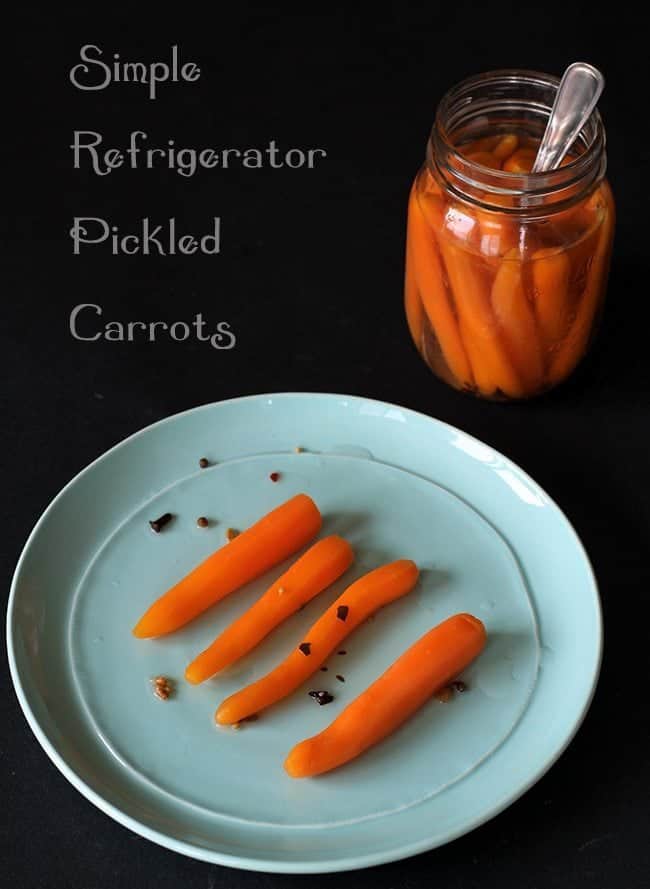 I love how simple these are. I love that you can make them the day before a party with no actual canning involved. I love that the taste is amazing, strong and spicy after only 24 hours.
I really, super love that there was no mess in my kitchen from these, no splashing water from a canning pot, no steam, no tongs, nothing of the sort.
I swear I'm skipping the traditional canning of carrots from now on and simply just making these whenever I get a craving for them. I know it's not the same as preserving something that is in season, but the ease of this recipe cannot be beat!
Happy Canning ! Or should I say, Happy Cheat Canning!
Love,
Karlynn
** Remember to join ZIPLIST to create your own online recipe box and then click SAVE on my recipe below to add it! I use my online recipe box ALL the time! **
Simple Refrigerator Sweet Pickled Carrots
Perfect refrigerator sweet pickled carrots, no canning required!
Ingredients
4

cups

peeled baby carrots

2 3/4

cups

white distilled vinegar 5%

1/2

cup

water

1

cup

sugar

1

tsp

coarse sea salt

1.5

tbsp

pickling spice

500

ml

canning jars x 2
Instructions
Prepare the two canning jars.

Peel the carrots, trim the tops and bottoms off.

Combine vinegar, water, spices and salt in a small saucepan and bring to a boil.

When the vinegar mixture comes to a boil, drop in the carrots and cook for 4-5 minutes. You want them slightly crunchy in the middle.

Remove the carrots and rinse under cold water to stop them from cooking any further.

Place the carrots into the jars, standing upright. Pour the brine over the carrots, leaving a 1/2 inch headspace. Tap the jars to remove any air bubbles, then wipe the rims and place the rings and lids on.

Let the jars rest until they are cool to the touch and then refrigerate. I waited until the next day to taste test them and they were ready, because we cooked them in the spicy brine which helped the pickling liquid penetrate the carrots faster.
Nutrition Facts
Simple Refrigerator Sweet Pickled Carrots
Amount Per Serving (2 g)
Calories 551
% Daily Value*
Sodium 1377mg 57%
Potassium 653mg 19%
Total Carbohydrates 124g 41%
Protein 1g 2%
* Percent Daily Values are based on a 2000 calorie diet.
5