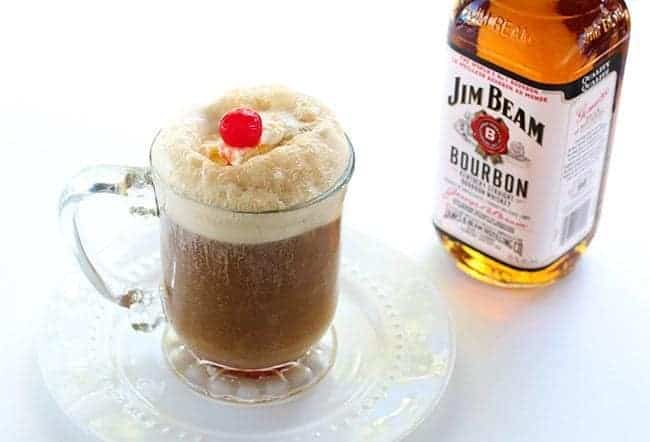 My love of bourbon took me on a twisted little path the other weekend while we were out at the lake.
A deep, dark, evil path that is sure to corrupt the purest of hearts. It lead me right into making root beer floats…with bourbon.
Ah..yah. Sorry about that. Now you are never, ever going to look at root beer floats the same way again. Now you will actually use that flask in your pocket for something other than taking little nips o' bourbon when the kids aren't looking.
Uuuh..just me? Awkward.
The really evil part is that you only need a few ingredients; bourbon, root beer and vanilla ice cream are the must-haves, while cherries and whipped cream are the nice-to-haves.
Far too easy.
I think this is the perfect summertime dessert.
Bourbon: Check.
Ice Cream: Check.
Sweet Tasting: Check.
Did I Mention Bourbon?: Check.
Decadently Evil: Checkity Check.
So, next time that sun is shining and you want something delicious and boozy for the backyard, I highly suggest you try these out!
Happy drinking! (I still don't think that sounds right somehow….)
Love,
Karlynn
Bourbon Root Beer Ice Cream Floats
Root beer floats were just made, oh, about 50 times better with the addition of bourbon.
Ingredients
8 oz root beer2 oz bourbonone scoop vanilla ice cream
Instructions
In a large glass, combine the root beer and bourbon.Top with one scoop of vanilla ice cream. Add whipped cream and a cherry, if desired,Stick a straw in it and enjoy!
Nutrition Facts
Bourbon Root Beer Ice Cream Floats
Amount Per Serving (1 g)
Calories 0
* Percent Daily Values are based on a 2000 calorie diet.
6