Hello spring, you lovely girl. I've missed you.
This pizza is so darn springy it makes me want to run around in the grass snow outside.
Yes, I said snow. Sigh. This is Alberta in the spring folks, so this past weekend we got snow. My poor boy was at Scout's camp all weekend in the river valley here in Edmonton and I fretted at home like the proverbial mother hen, worrying if he was going to be warm enough.
He was. He had fun. He was fine.
I'll stop my worried clucking now.
So ignoring the snow, it's still spring here in Edmonton and spring brings out the vegetable girl in me.
I wanted a pizza with asparagus something fierce the other day.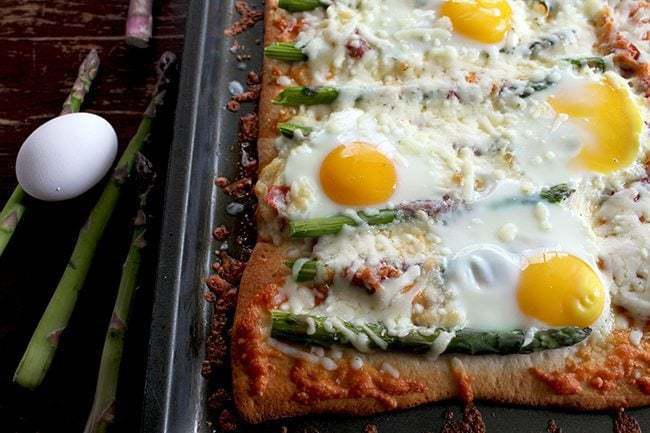 This pizza has no sauce, just lightly steamed asaparagus, capicollo, cheese and eggs.
Pancetta would work as well, but I had a package of gorgeous capicollo waiting for me. I adore capicollo,  the thin-as-a-breath-of-air slices almost melt on your tongue and were a fabulous salty addition to this pizza.
Depending on the dough you use, the cooking times will vary but you should pre-cook the dough leaving only 10 minutes for the eggs to cook. If you cook them just slightly, the egg yolks gives the pizza a creamy goodness that you need since we didn't use a pizza sauce. (which would wreck the flavor entirely.)
Happy cooking and Happy Spring everyone!
Love,
Karlynn
Asparagus, Capicollo & Egg Breakfast Pizza
Pizza for breakfast? Yes please! Asparagus, capicollo and eggs top this amazing pizza. Breakfast, lunch or dinner,this is one fabulous meal!
Ingredients
one pizza dough recipe or pre-made

14-16

asparagus ends trimmed and steamed for 4 minutes

6

eggs

slices

one package thinly sliced Capicollo around 18-20

2

cups

of pizza mozzarella add more to taste
Instructions
Pre-heat your oven to 450 degrees.(or follow directions on pre-made dough package)

Grease a baking sheet and set aside.

Roll the pizza dough out into a rectangle and place onto the baking sheet.

Pre-bake the pizza dough for 5 minutes.

Remove from the oven.

Place the asparagus spears on top of the dough, evenly spaced.

Add the capicollo, spacing it evenly on top of the pizza.

Sprinkle the cheese on top.

Crack the eggs onto the top of the pizza spacing as wanted.

Place the pizza in the oven and bake for another 10 minutes until the cheese is melted and the eggs are wobbly still.

Remove, cool slightly and serve!
Nutrition Facts
Asparagus, Capicollo & Egg Breakfast Pizza
Amount Per Serving (6 g)
Calories 0
* Percent Daily Values are based on a 2000 calorie diet.
0