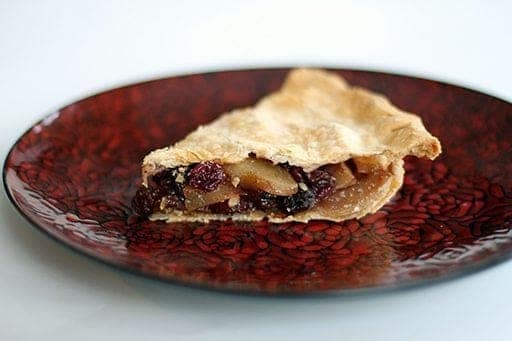 Winter fruit pie is exactly what it sounds like: a pie with winter fruit. No, not fruit that grows in the winter but fruit that can be stored and eaten in the winter or simply the old-fashioned method of preserving fruit, drying it out.
Apples and winter pears can be stored for months after harvest if done properly, giving us a taste of summer right in the middle of the winter doldrums when we need it the most. Cranberries also can be stored for weeks on end or dried, making them a perfect tart foil in this pie. I chose to use raisins instead of the traditional figs since I love a good raisin pie and it turned out fabulous.
The sweet caramel flavor of the brown sugar mixed with spices and vanilla added a layer to this pie that I find is missing in most winter fruit pies, you simply have to have those comforting winter spices in there!
The cranberries are a must; if you leave them out this pie will be too sweet. The tangy burst the little red devils give to this pie is needed to foil the sweetness that not only the sugar adds but the fruit as well. We are using very sweet fruit so it has to be balanced out with sour.
I do believe, my dears, that this is my last pie day! Next week will be a recap of the best recipes from all my trials and errors over the last year and so this is the last recipe I will be making for a Pie Day.
I'm not sure how I feel about that, to be honest. I'm exhilarated that I made it through an entire year of pies, making most of my Friday deadlines, I love that I featured some amazing bakers and their creations.
I'm very glad, however, to be taking off a commitment this year that did add to my incredibly busy schedule. I didn't realize how large and in charge the Culinary Arts Cook Off was going to be and it consumes my life from January to mid March. I'm glad that I don't have to make pies every week next year.
Of course, idle hands are the devil's work and I will of course be tackling new projects, but those are mainly "off-site" and though I may write about them, they won't be a regular series here on Magpie.
So next week will be a wrap up and then it's a sweet goodbye to Pie Day!
Love,
Where Did The Last Year Go?? Magpie
Winter Fruit Pie
A delicious pie that uses up winter fruit, a decadent taste for the cold weather months.
Keyword:
winter fruit pie
Ingredients
1

cup

raisins

6

cups

of sliced apples and pears sliced about 1/2 inch thick

1

cup

of cranberries

3/4

cup

brown sugar

1/2

Tbsp

cinnamon

1/3

tsp

vanilla

Pinch

of nutmeg cloves pinch of

1

Tbsp

butter

2 1/2

Tbsp

of cornstarch

pie crust for a 9 inch pie

top and bottom
Instructions
Prepare your pie crust and set aside.

Pre-heat your oven to 425 degrees.

Peel and slice the pears and apples. When using pears it is best to have ones that are firm, they will retain their shape in the pie and not turn to mush.In a large bowl, combine the raisins, cranberries and sliced fruit, sprinkle the vanilla over and stir.

Mix together the dry ingredients.

Toss the dry ingredients with the fruit, coating the fruit mixture completely.Scoop into the prepared bottom pie crust, mounding the fruit in the middle slightly.

Take the tablespoon of butter and dot over the top of the fruit.

Top the pie with the remaining crust, crimp the edges to seal and cut pie vents on the top.

Bake at 425 for 10 minutes on the bottom rack of your oven, making sure to cover the edges of your pie with a cover or tin foil.

This pie has to bake a long time and the edges WILL get too brown!

Turn the oven down to 350 degrees and bake the pie for another 50-60 minutes, removing the tinfoil for the last 20 minutes or so, and bake until the top is nicely browned and the filling is bubbling.

Remove from the oven and cool on a baking rack.
Nutrition Facts
Winter Fruit Pie
Amount Per Serving
Calories 272
Calories from Fat 18
% Daily Value*
Total Fat 2g 3%
Cholesterol 5mg 2%
Sodium 33mg 1%
Potassium 369mg 11%
Total Carbohydrates 66g 22%
Protein 1g 2%
* Percent Daily Values are based on a 2000 calorie diet.
1