Chocolate pumpkin pie has been on my To Bake list for a long, long time. It's always been in the back of my mind, each fall or Christmas, to bake up one and see what it really tastes like.
This year I was truly inspired because Eagle Brand came out with a condensed milk that's chocolate and I received some in my gift basket for the Safeway Cookie Challenge. It didn't really occur to me what I could do with it until I opened my pantry one morning and saw the can of chocolate condensed milk sitting beside a can of pumpkin.
Even I can't ignore a sign like that!
And so, my triple chocolate pumpkin pie was baked. And eaten.
And adored.
Oh, yum! If you like chocolate and pumpkin, this is your pie.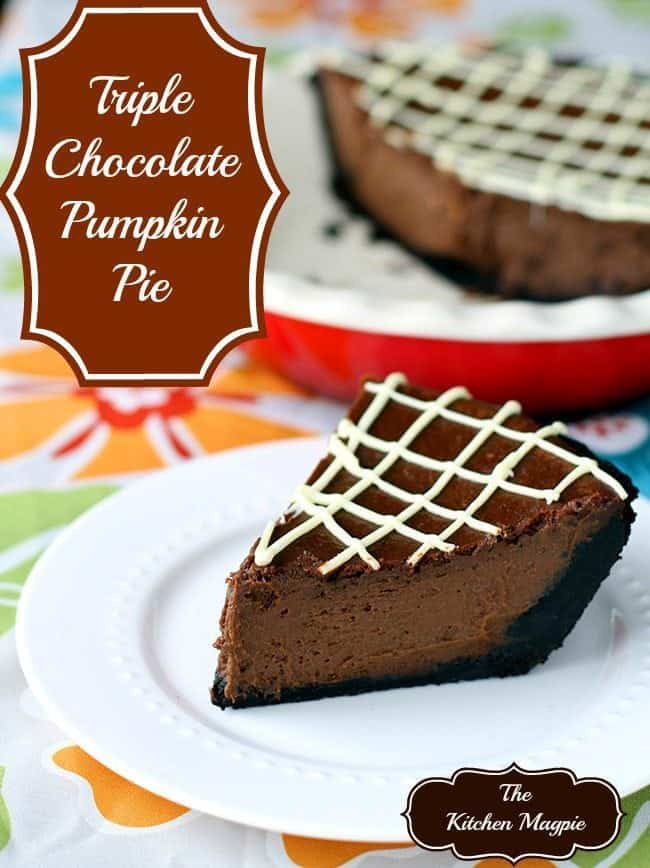 So, I have a few pet peeves when it comes to graham crust pies. I hate when they fall apart. To solve this, I made a super-duper thick crust on this bad boy.  Where the crust needs to be thick is the side crust, as shown in the picture below.
Look at that thickness. Let me tell you, each piece of pie didn't even DARE think about falling apart. Each slice was perfect, just like below, which for a graham crust pie is nigh impossible.
You will need a 9 1/2 inch deep dish pie plate and I mean deep dish. This is a large, in charge pie and you will barely be able to use all the filling, but it does fit perfectly. A 10 inch pie plate would work as well, but then your crust won't be as thick.
See how I've built up the sides below? Don't be shy, make them thick and your pie will not fall apart.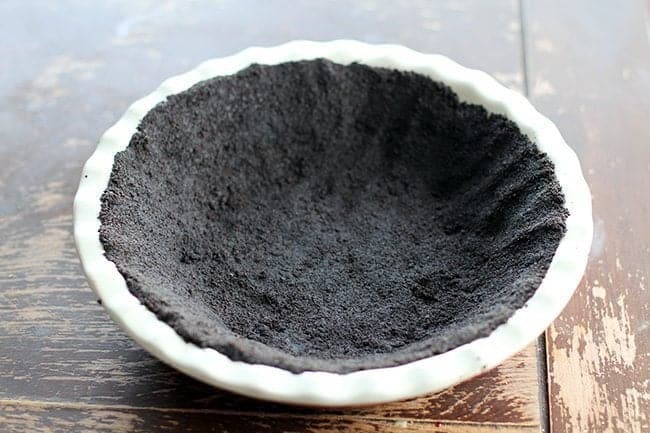 Oh, and that creamy pumpkin, chocolate interior? Take a gander at the beauty.
To die for, my friends. Add in that white chocolate on top and you have one seriously gorgeous, tasty pie for your dessert.
 Oh, I do hope you try this one and let me know what you think! You DO have to love chocolate and pumpkin together, so if you are not a fan then you won't like it, that's for sure. You can taste both of them together, which in my books makes this super amazing!
Happy Baking everyone!
Love,
Karlynn
Print
Triple Chocolate Pumpkin Pie
---
Author:

Prep Time:

15 min

Cook Time:

6 min

Total Time:

21 min

Category:

pie
Description
Decadent triple chocolate pumpkin pie.Change up your holiday table with this new version of a classic!
---
Ingredients
Crust Ingredients:
2 1/4 cups finely ground chocolate cookie crumbs
1/4 cup melted butter
2 tablespoons granulated sugar
Filling Ingredients
3 ounces semisweet chocolate chopped
1/4 cup of butter
2 cups of solid-pack canned pumpkin
1 ml can of Eagle Brand Chocolate Condensed Milk 300, called "Sauce" on the can
3/4 cup packed light-brown sugar
3 large eggs
1 tablespoon cornstarch
1 teaspoon pure vanilla extract
1 teaspoon ground cinnamon
1 teaspoon ground ginger
1/2 teaspoon ground nutmeg
1/4 teaspoon ground cloves
Topping:
1 ounce white chocolate chips melted
---
Instructions
To make the crust:

Preheat oven to 350 degrees.Mix chocolate cookie crumbs, butter and sugar together in a bowl.

Firmly press mixture onto the bottom and up sides of a deep dish, 9 1/2-inch pie dish. Make the sides thicker than the bottom to ensure a clean slice.

Bake the crust for 10 minutes then remove from the oven.

Reduce the oven temperature to 325 degrees.

In a microwave safe dish, melt the butter and chocolate together, then stir until smooth.

Mix pumpkin,chocolate condensed milk, brown sugar, eggs, cornstarch, vanilla, salt, cinnamon, ginger, nutmeg and cloves together in a large bowl. Whisk the chocolate/butter mixture into the pumpkin, combining completely.

Pour pumpkin mixture into crust. Bake on the centre rack in the oven until the middle of the pie is set but still a bit wobbly, around 60 minutes (start checking around 50 minutes).

Remove from the oven and cool on a pie rack,

Cool for a a couple of hours to let it set and you can also chill it overnight.

Before you serve it, melt the white chocolate in the microwave and then drizzle over the top. Let the chocolate set (around 2 minutes on a cold pie then slice and serve!

(We ate the pie warm two hours later and it was delicious AND held together fine!)