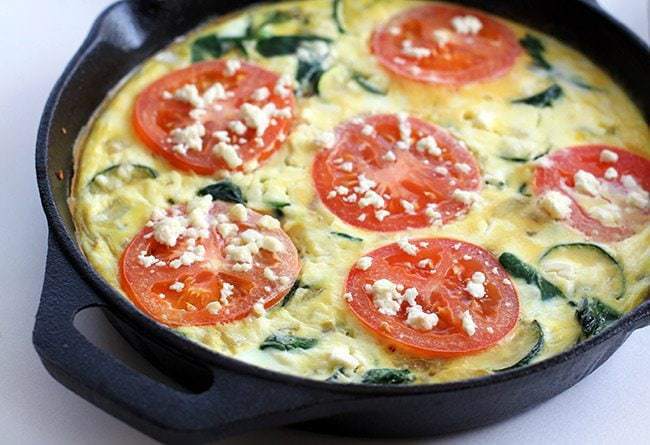 Don't you love how I go from my Banana Waffles With Nutella Sauce to a healthy Tomato, Spinach & Feta Frittata?  That's just how you gotta roll.
When I am not eating oatmeal every morning during the week, I also indulge in a frittata. I've already mentioned how I pop it into the oven then go and wake the kids up in the mornings. By the time my slow pokes are ready, so is the frittata for a very healthy start to our mornings.
Because lordy, I get tired of oatmeal. However, while people might think I eat crazy, decadent things all week long, the sad truth is that it has to be oatmeal or protein in the mornings, a salad or sandwich for lunch (if we haven't gone out for lunch) and then dinner that I try to make as healthy as possible most nights.  All the delicious baked goods on my website usually end up in the volunteer room at school or donated to unsuspecting victims friends.
I also have to make up for all the eating out we do while travelling and all the food events I go to.  And let's be honest, I'm not giving up wine or drinking anytime soon, so THAT'S not being cut out.  😉
So these are the reality of my mornings. Protein and veggies.
It's a damn fine start to your day.
(and omg, it's better than oatmeal)
This one is a family favorite. I don't know if it's because of the amazing tomatoes on top or the salty goodness of the feta (for me, it's surely that salty goodness) but I can eat this all week long.
I love this frittata so much that I forgive it for being healthy, and that takes something.
Feel free as usual to play around with the amount of eggs and white, I always try to use some egg whites instead mixed with whole eggs. You can use egg replacer just fine, I actually have used ALL egg whites and it still tastes great! That's thanks to the garlic, onion and salty, salty feta!
Mmm, salty feta.
Happy Cooking everyone!
I definitely love you more than oatmeal.
Karlynn
Tomato, Spinach & Feta Fritatta
Ingredients
1

tbsp

olive oil2 1/2 cups of spinach1/2 small white onion chopped1 clove fresh garlic minced1 large tomato washed and sliced into circles1/4 cup feta cheese5 eggs3 egg whites
Instructions
Kick the tires and light the fires to 350 degrees.In a 10 inch cast iron pan, sautee the first four ingredients until the onions are translucent and the spinach is wilted.In a small bowl, whisk the eggs and egg whites.Pour over the vegetables in the skillet, stirring if needed to disperse the vegetables evenly.Place the tomato slices on top. Sprinkle with the feta cheese.Place in the 350 degree oven and bake for 15-18 minutes, until the egg is fully cooked in the middle of the skillet.Remove from the oven and serve, using salt and pepper to taste.
Nutrition Facts
Tomato, Spinach & Feta Fritatta
Amount Per Serving (4 g)
Calories 0
* Percent Daily Values are based on a 2000 calorie diet.
12