I might have lost a few of you when I titled this The Famous Chocolate Wafer Icebox Cake, however I am sure that once you saw the photo, 99% of you knew exactly what this recipe is.
It's that whipped cream and Nabisco Famous chocolate wafer cookie roll, log or cake that ALL of our moms and Grandma's made. Everyone has their own name for this cake. We called it the whipped cream log. Mike's family called it a Yule Log and only ate it at Christmas.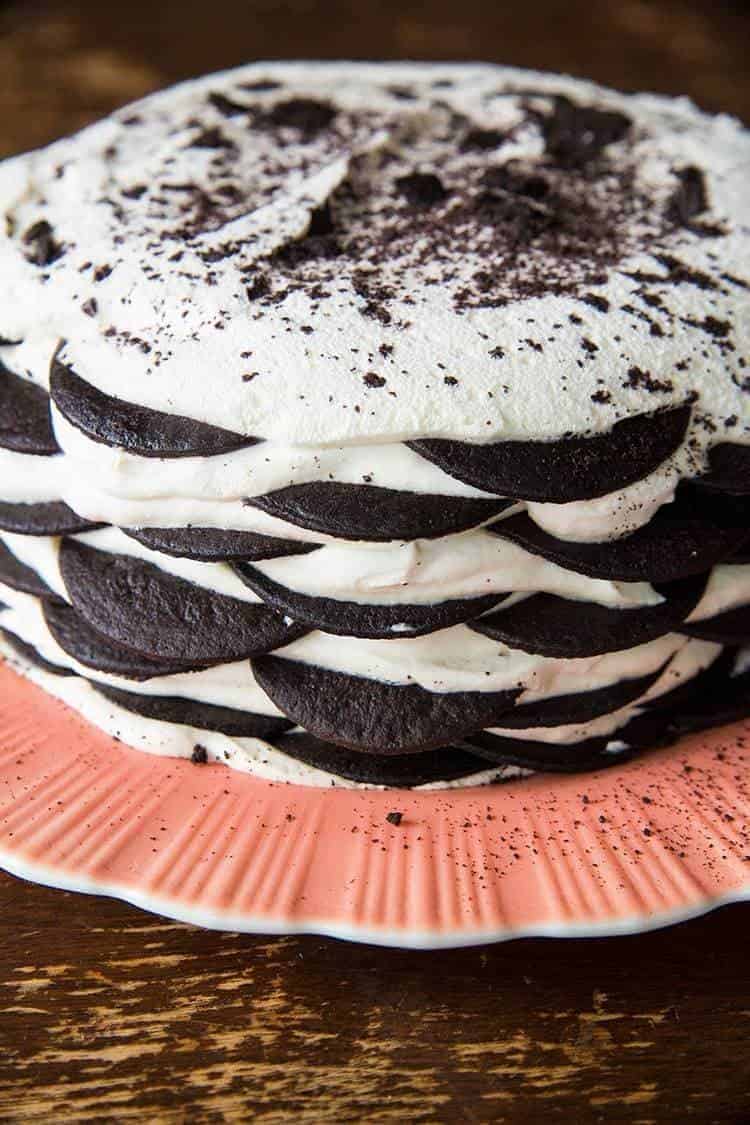 MY LATEST VIDEOS
No matter the name, everyone LOVES this cake.
It's one of my fondest childhood food memories. My mom would make this in a log shape – and usually cobble together two boxes- and we would impatiently wait until the next day.
You simply must leave it in the fridge overnight for the best results.

The secret is the length of time you let it sit in the fridge. This whipped cream and chocolate wafer cake WILL slice beautifully if you let it sit overnight until the next evening. The cookies and the whipped cream soften up together and form a cohesive cake.
Magic, I tell ya!
Now I know that a lot of people use Cool Whip in this – and the taste is completely different. It's still good – and to be honest, way less fat and calories if you use the Light Cool Whip and if you want to, go right ahead.  It's your cake!
Now apparently Magnolia bakery in New York popularized the round version of The Famous Chocolate Wafer Icebox Cake around 5 or 6 years ago, but it's the same cake that our Grandma's have been making all these years. People were paying a hefty price for it as well!
Let's be honest though ; they didn't invent this cake, but popularized it enough that those wafers can be found easier now in the States. I find mine at Safeway or Sobeys! ( I know you are going to ask !)
So the deal is:
You can make this refrigerator cake in tiny stacks in trifle cups.
You can make it in freestanding stacks.
You can make this in a big round cake like I did.
You can make logs that are straight and logs that are in an "s" shape like my Mom did.
Babes, it's STILL the original Nabisco The Famous Chocolate Wafer Icebox Cake, no matter how you stack it!
Love you more than this cake ( but barely….oh so barely….),
Karlynn

The Famous Chocolate Wafer Icebox Cake
Ingredients
3 boxes of Nabisco Famous Chocolate Wafers
4 cups of whipping cream
3 tbsp sugar or to taste, I don't like mine too sweet
1 tsp vanilla extract
Instructions
Combine the whipping cream, sugar and vanilla in a large bowl. Beat until light and fluffy.

On a large serving platter, swirl a couple of tablespoons of whipped cream onto the plate. This will hold the bottom cookies in place.

Place 8 wafers in a circle on the plate, leaving room to place 4 on top to make a solid layer. ( see the how-to video!)

Top with whipped cream.

Repeat for another 10-11 layers.

Finish with whipped cream on top, then sprinkle with leftover broken cookies. There are always broken cookies.

Wrap lightly with plastic wrap and refrigerate overnight until the next evening.

Remove and slice carefully to serve!
40