This Strawberry Pretzel Salad / Dessert came about from my baking with strawberry jello – I don't bake with strawberry Jello often, but when I do, it's because I'm throwing a 70's theme party! What else would fit in other than a dessert with Jello? It was a must!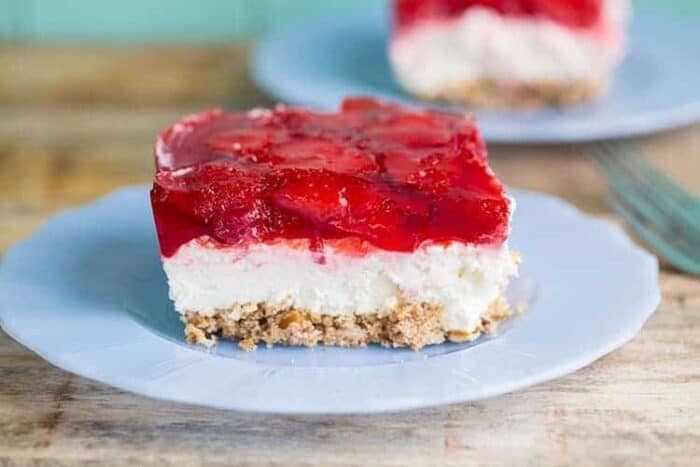 Strawberry Pretzel Salad, a Summertime Classic
Now, when I made this dessert, it was a winter 1970's theme party. A Rhinestone Cowboy theme party, to be exact. So really, when it comes down to the 70's, baby, you gotta have jello – and the strawberry pretzel dessert salad is one of those quintessential wiggly, wobbly desserts of that era that had to grace the table.
Granted, it couldn't hold a candle to my brother's shirt that he thrifted from Value Village.
Not only is this Strawberry Pretzel Salad dessert pretty, it's delicious as all-get-out. There is a reason that this is one of the desserts that are picnic perfect!
It has the salty pretzels.
It has the sweet, sweet strawberries and the strawberry jello.
And then helllllloooo Dolly, it has a cream cheese middle layer.
It holds up when you slice it, which actually is fairly rare for a dessert slice. They always seem to fall apart!
It was absolutely perfect for a party in Edmonton, Alberta in the middle of February. It was light, cheery and reminded us that SUMMER IS COMING.We don't talk about winter coming because WINTER IS ALWAYS HERE, so why state the obvious?
This classic dessert should be your go-to this summer. Everyone knows about strawberry pretzel salad or strawberry pretzel dessert or slice or whatever it's called. I don't quite understand why it's called a strawberry pretzel SALAD, because well, that looks like a dessert to me but I am guessing it's all the 70's fault.
Or the 1960's? Is that when they called everything with jello in in a "salad"? Earlier even?
Now this spring-like, summery strawberry pretzel dessert wasn't alone (it's up there in the righthand corner.) Oh no, there were three birthdays that we were also celebrating that evening. Those two cakes down there are two AMAZING CAKES THAT I HAVE TO REDO BECAUSE MY FRIENDS ARE SUGAR ADDICTS AND ATE IT ALL! Sorry to yell there. I got a little carried away. There was nothing left but crumbs to photograph the next day and I don't want to give away what they are yet. Trust me when I say that these two babies are going to be baked up ASAP for you all!

The birthday girl and guy, Nicole from The Spirited Thrifter and her husband Duane. Duane's actual birthday was that night while Nicole was born on Valentine's Day, so we combined the two. My friend Karen that was unable to come still had a cake care package sent home for her! This Rhinestone Cowboy attire was complete foreshadowing as these two are leaving us here in Edmonton and moving to Houston! I'll be buying my place tickets soon to go visit!

These two were trouble all night long. Pretty sure that when Twyla and I take a girls trip to Houston to see Nicole, we'll need bail money. Should I start the Go Fund me now or wait a while?
Twyla made up this album cover from a photo taken during their cocktail party shenanigans and it's pretty much the best thing I've seen.
I realize writing this up that I took SO FEW photos this last cocktail party and will totally rectify it the next time. Some other posts you should check out:How to Throw a Mad Men Party, Watergate Salad
And back to the dessert, who has tried this jiggly deliciousness from the mid-century? What are your thoughts?
Happy Baking everyone!
Love,
Karlynn

Pin this recipe to your Desserts Board and Remember to FOLLOW ME ON PINTEREST!
Strawberry Pretzel Salad
This Strawberry Pretzel Salad is the perfect party dessert! Not only is it delicious during strawberry season, it's a treat any time of the year!
Keyword:
Strawberry Pretzel Salad
Ingredients
1 1/2

cups

crushed pretzels

really crush them well

1/4

cup

granulated sugar

3/4

cup

butter

melted

1

cup

white sugar

2

8 ounce packages cream cheese

1

8 ounce container frozen whipped topping, thawed

1

6 ounce package strawberry flavored Jell-O®

2

cups

boiling water

1

16 ounce package frozen strawberries
Instructions
Preheat oven to 350 degrees F .

Combine the pretzels, the white sugar and melted butter until they are combined thoroughly.

Press into the bottom of a

9x13

inch pan.

Bake in the oven for 10 minutes, or until it's lightly toasted.

Set the pan aside to cool completely.

Beat the sugar and cream cheese until smooth. Fold in the whipped topping and then spread evenly over the cooled crust.

Make sure that the cream cheese reaches all the edges and seals it up, or you will have a soggy crust! Form a barrier with this layer between the crust and the jello.

Refrigerate until set, about 30-40 minutes.

Stir together the jello mix and boiling water in a bowl.

Mix in the frozen strawberries and then stir until thawed. Pour over the cream cheese layer and then refrigerate for 2-3 hours. You need this to be firm and set!
Nutrition Facts
Strawberry Pretzel Salad
Amount Per Serving
Calories 221
Calories from Fat 99
% Daily Value*
Total Fat 11g 17%
Cholesterol 30mg 10%
Sodium 229mg 10%
Potassium 17mg 0%
Total Carbohydrates 28g 9%
Protein 1g 2%
* Percent Daily Values are based on a 2000 calorie diet.
100