This post may contain affiliate links. See my privacy policy for details.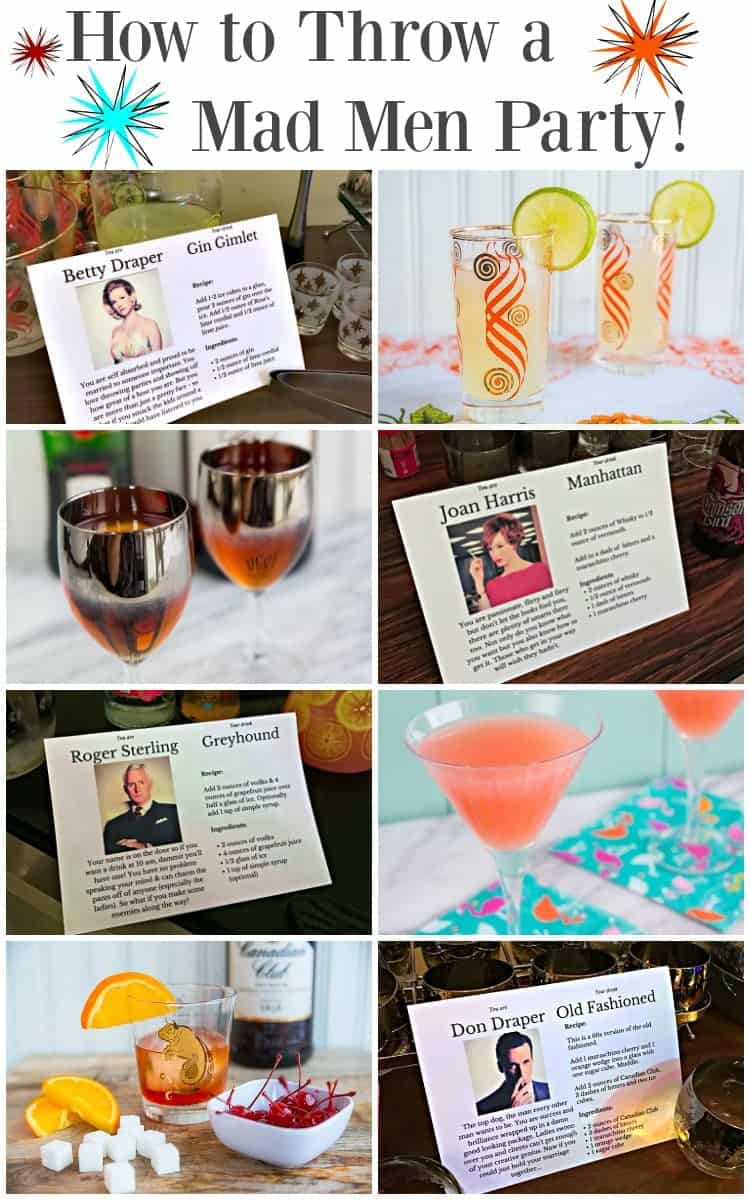 I'm pretty much making it my goal to bring back the home cocktail party. Mr Magpie and I have always been cocktail lovers and enjoy the cocktail scene here in Edmonton immensely. However with the rising costs of cocktails ( $15 per cocktail is the new norm now and to be honest there are maybe 3 cocktails I can name that are actually worth that price point.) Mike and I started thinking about revamping our house to facilitate throwing parties. And revamp we did! Our bonus room upstairs in our house ( the room that is built over the garage in new houses) has been turned into a 1960's/70's bar. I will be writing on that after the holidays in more detail!
Throwing a Made Men themed party was the most fun I've ever had throwing a party. Period. The drinks, the food and the fun that my guests had dressing up, it seriously can't be beat. It helps that I am also so seriously vintage obsessed; but I would bet money that if you threw a Mad Men party, you'd be surprised at how excited your guests are to have the chance to dress up in the styles of the 1960's/1970's.
I was surprised, to be honest. You'd think that in this day and age that themed dress up parties are passé.
Newp.
Nicole from The Spirited Thrifter ( in yellow) had her dress thrifted within days. I must say that she completely lucked out on that Betty Draper dress (with pockets, Nicole's favourite!) but you give that woman a thrifting mission and she will accept it. She was texting me within three days about that dress.
She also drank Betty's favourite drink – Gimlet's- and rocked her sour puss face perfectly. All that was needed was a cigarette and some spanking of children (didn't matter whose kid it was to Betty Draper, she'd slap anyone.)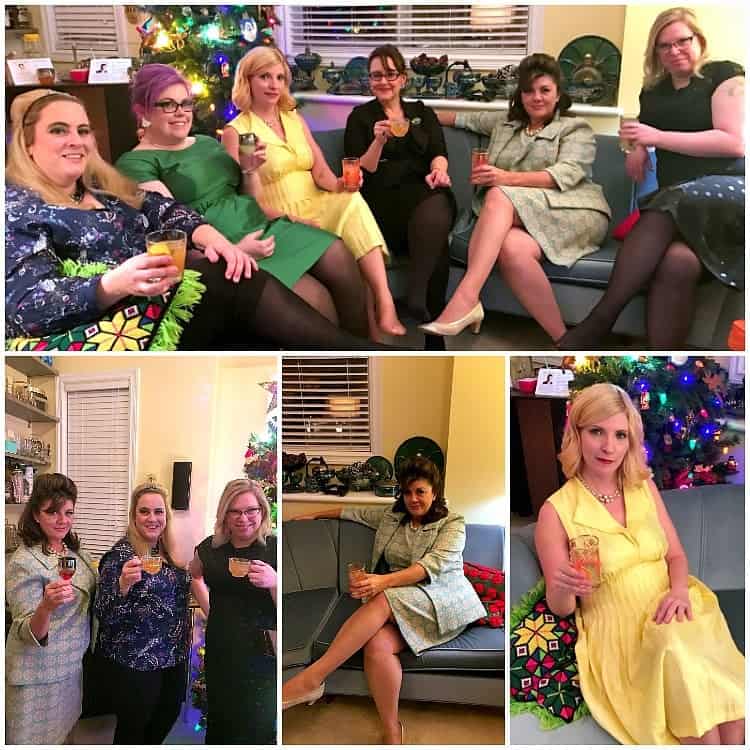 Twyla from Weird, Wild & Wonderful ( middle frame in the blue suit) found the most amazing turquoise "Jackie O" suit in Vancouver on her travels shortly before the bash. Match that with that perfect 1960's coiffure and we had a politician's wife in the room, no word of a lie. All she needed was a pillbox hat- but then again, we wouldn't have seen that up-do.
For me, it was ALL about the hair! I grabbed a pair of black capri's and wore them over black nylons with a paisley print shirt, but my hair took the longest. Oh, and the fake eyelashes – my first time ever wearing them! I was rather proud that I managed to get them on. Note to self: putting on fake eyelashes for the very first time 20 minutes before your guests arrive is really stressful.
I took some bathroom selfies right before my guests arrived because I knew I would be too busy later to capture how big my hair was! I also didn't even think to pick up a hair bump, that's all backcombing and hair teasing powder (which works amazing, by the way.) I'll be ordering a hair bump for the next party, for sure!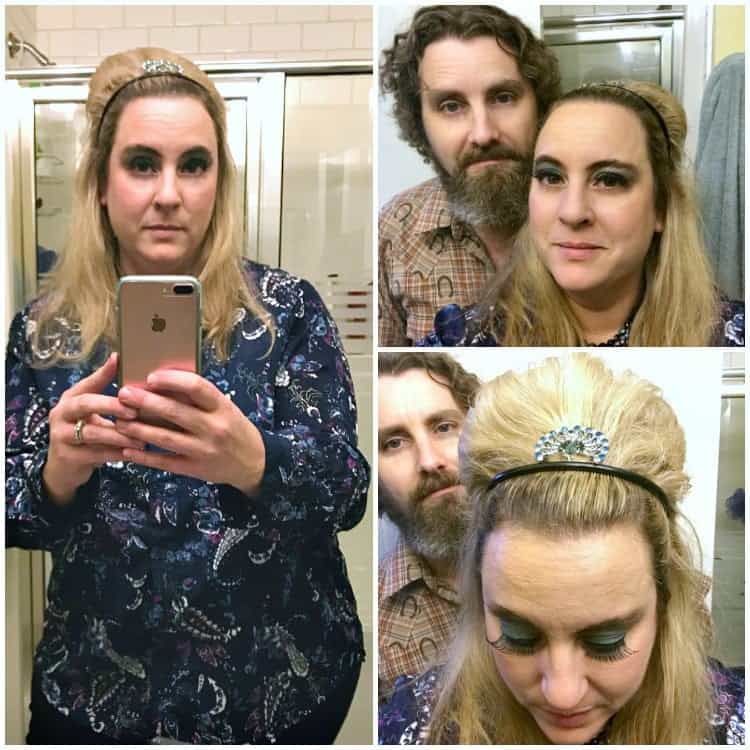 Mike rocked his Stan from Mad Men look perfectly. The beard, the hair, the leather jacket and shirt……perfect.
Sadly I didn't get any photos of the other men, but there was a lot of suits and skinny ties! It was rather nice to throw a party where the women dressed up and the men all looked dapper in suits, I must admit. That happens SO rarely anymore, we just don't dress up for home cocktail parties.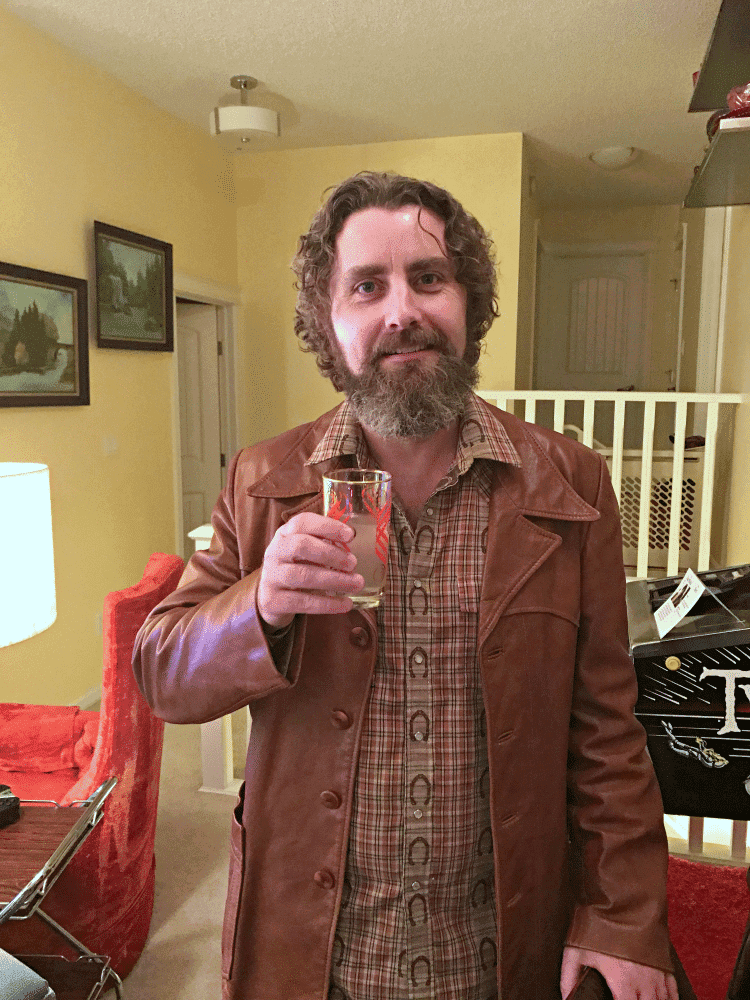 Next : the food!
Oh, the food from that era is my favourite and let me tell you : this table was loaded to the brim with food and I had barely anything left by the end of the night! Deviled eggs, homemade classic nuts and bolts, whipped shortbread, ambrosia salad, Betty Crocker Candy Cane Cookies, jello fruit salad, shrimp cocktail…everything was SO delicious!
The main course was Chicken a la King kept hot in my InstantPot with puff pastry shells to serve it over – and it was freaking fantastic. It's been years since I've had Chicken a la King and my son took the very small amount of leftovers to school three times in a row the next week, so I'd say that it was a hit! Now I know you guys are all going to ask for the recipe, but I'm saving that one for my next cookbook, so just hang in there! It will be worth the wait, I promise!
I also made a pan of Piggy's in a Blanket made from canned cocktail weenies and Pillsbury biscuit dough and they were the first thing to disappear! The adults blamed the kids, of course, but seeing how I made almost 4 dozen there had to be some adults sneaking those as well!
Wait, did someone say pineapple cheese ball?
The 70's called and wanted their cheeseball back. Man, was that ever fun to make!
I should have taken a photo of the "after" table. Crumbs people, just crumbs. Everything was just decimated! I didn't actually count but we ended up with around 15 adult guests and 10 kids.
I thought I made too much food, because that's what we Ukrainian's do, we make food for 50 people when we have 10 people over. It's just our thing.
Friends of ours, Michael and Karen also provided an amazing playlist for the party featuring some carefully curated songs from the period. It's awesome. Listen to it here:
You guys, this next bit is very, very important to remember when you are throwing a party like this.
Here's the thing about a Mad Men themed party, or any party that has alcoholic drinks from that era: THE DRINK ARE ALMOST STRAIGHT BOOZE. When you are serving drinks like that for 5-6 hours on end, you need to have major food for your guests.
Yes, I was pouring my guests into cabs or Ubers after an evening of cocktails and that's exactly how it should be, but you need to make sure that you have some hearty food that they can eat along with those crazy strong drinks all night.
The Chicken a la King was a really good idea on my part, completely by accident. Hearty, heavy and diluted some of those cocktails.
Now on to the really fun part, the cocktails!
Mike has ALL the recipe for you guys! He went all out for the Mad Men party, we had cocktail stations set up for our guests to try different 1960's era cocktails. We pre-mixed them, set them in ice and away our guests went! The little cards that he designed were the icing on the cocktail cake!
Well, maybe not THE icing on the cocktail cake, because literally two days before the party I thrifted my wooden pineapple serving tray. I had actually seen one of these on my trip to Saskatoon with my friend while we shopped in an antique store and have thought about it since. Then lo and behold, $14.99 in Value Village! Right before my party!
It was meant to be! I loooove it so much. We put all the drink fixings in it – cherries, olives, little umbrellas and the fresh citrus.
First, Betty Draper's gimlet. While she drinks a vodka gimlet in Mad Men, we have some very serious gin-loving friends. We taste tested ourselves and gin was the clear winner.
Get the recipe for a Classic Gin Gimlet.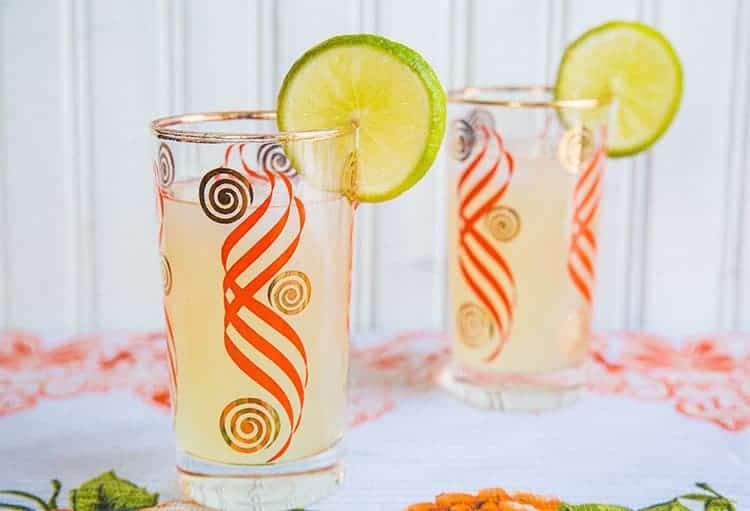 Everyone that has watched Mad Men loves Roger Sterling. He has vodka on the rocks for breakfast, lunch and dinner. With a cigarette for dessert, of course.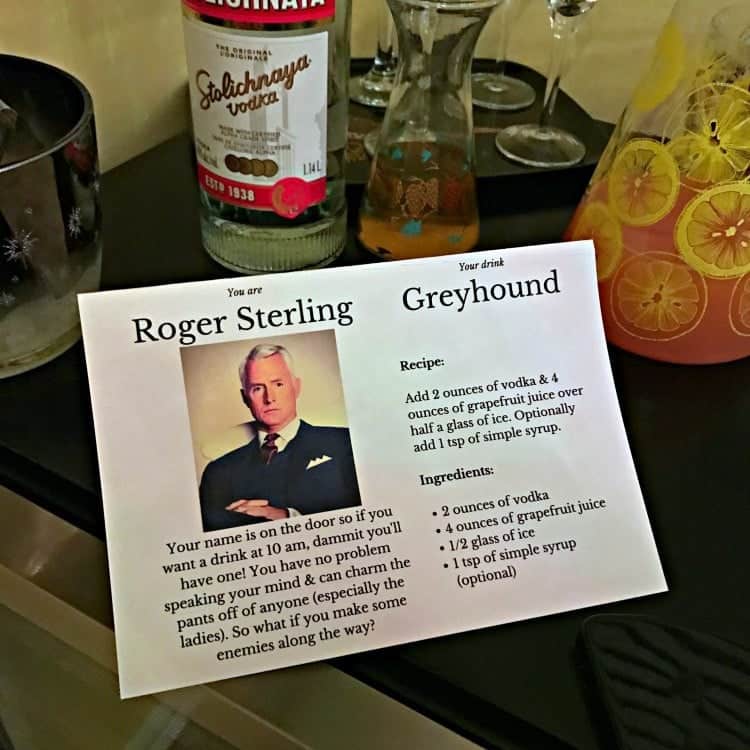 We chose the Vodka Greyhound as his drink for our Mad Men party and I was SHOCKED that this drink went so quickly. I didn't think that grapefruit juice and vodka would be a really popular choice, but it was. Mike made several pitchers of this over the evening.
Get the Classic Greyhound Cocktail Recipe.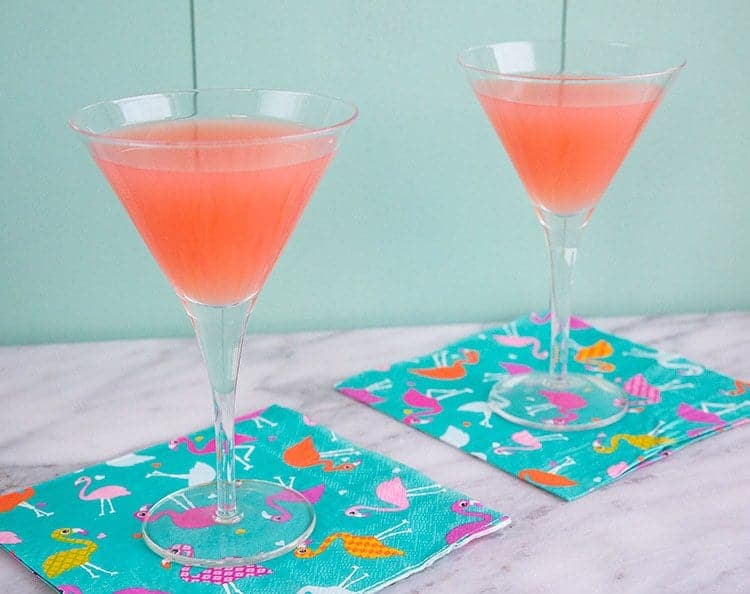 Oh, Don Draper. The character that we loved to love and hate and idolize and…well, you know if you've watched the show. He's the man. He drinks 1960's Old Fashioned's which are a little different from the current day Old Fashioned's. You don't see anyone smashing sugar cubes in the bottom of old fashioned's anymore, that's for sure!
Get the recipe for the Don Draper Classic Old Fashioned Cocktail.
Last but not least, hello Joan! That's my girl. She's amazing. Strong, kick-butt and doesn't apologize for anything. She also appreciated a good strong drink, like the Manhattan.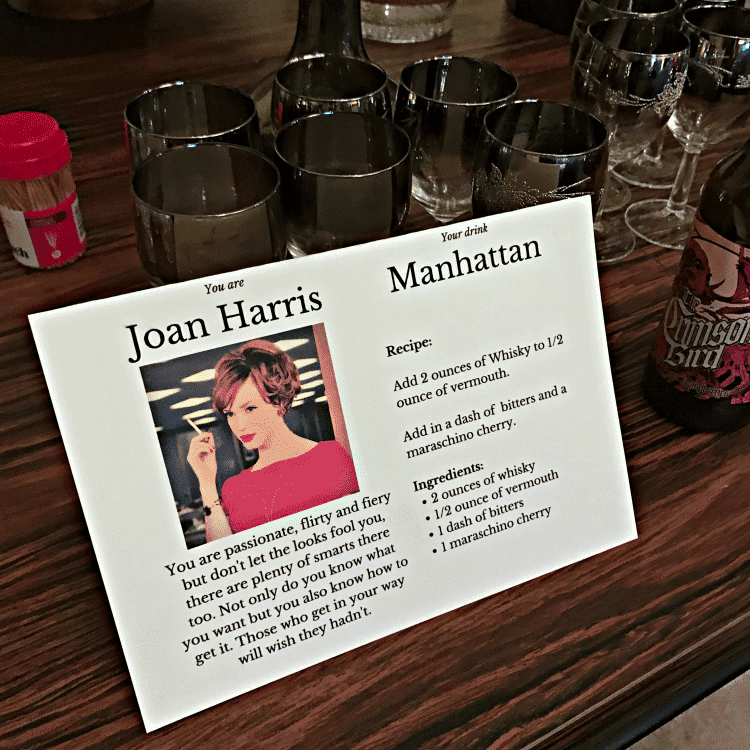 Thus her drink matches her disposition. Whisky and sweet vermouth. Strong, to the point and delicious!
Get the Classic Manhattan Recipe.
The cocktail winners of the night: The Gin Gimlet, with the Greyhound coming in a strong second place! We have a lot of Gin Gimlet converts, I suggest you definitely try that one first!
Food Winners : EVERYTHING. I would say that the deviled eggs were gone first, followed by the whipped shortbread and the Piggy's in a Blanket. You can't go wrong with classics!
Friend Winners – This was an amazing evening and we are already planning party #2! The new theme : Rhinestone Cowboy! February can't come soon enough for my next cocktail party! Everyone had such a good time getting dressed up for a change and trying out new cocktails is always an adventure in itself. Any suggestions for cocktails for my next party? Rhinestone Cowboy…hmmm. I'm going to have to think about that a while.
If you have any questions, leave them in the comments below!
Love you more than theme parties,
Karlynn