Over the years I have finally perfect my Whipped Shortbread Recipe to the point where I think I won't fiddle around with it anymore.
Even though I am sure that many people in the Canadian Food Experience Project are writing about shortbread, for me it's a change of pace. Usually when someone asks me about my treasured Christmas recipe, it's all about my Grandma's Christmas Pudding. While that is one hundred percent a family favorite, whipped shortbread has always and I do mean always been something that my family bakes at Christmas. It seems to be something that a lot of Canadian Prairie folk make at Christmas as well.
Here's a video we put together to show you how easy and simple this recipe is to make:
It's never any other shortbread than whipped. Ever. This is all that graces our dessert tables at Christmas for shortbread. I have made the other kind but have no interest in making traditional again anytime soon as it's just not the same.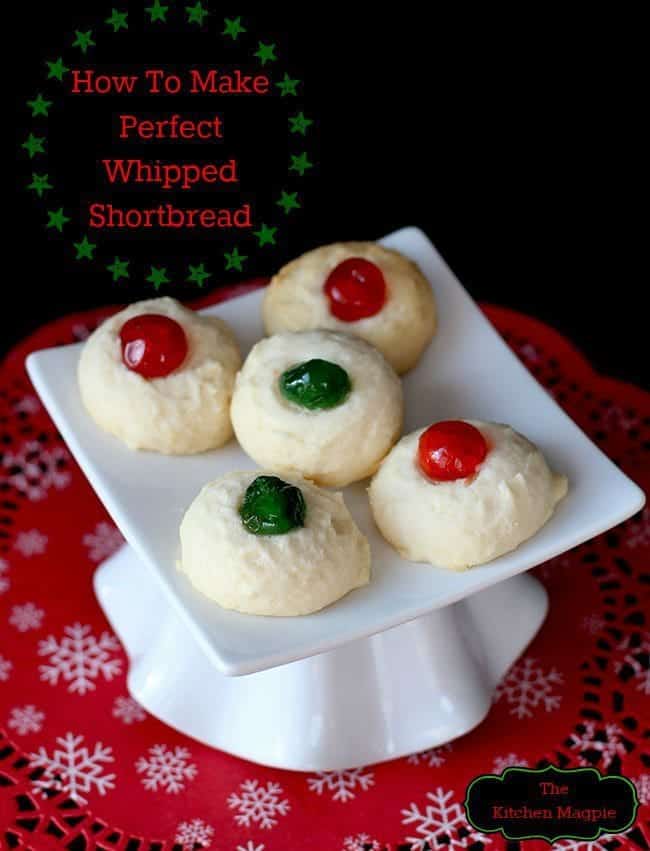 The reason I chose to write about shortbread is because over the years I have taken our family recipe and tweaked how to make it, resulting in the best whipped shortbread my family has ever made.
Whipped shortbread is notoriously fragile and while using cookie presses are so much fun, when I gifted the shortbread I wanted it to stay together a bit more. After experimenting, I found that the best way to make it is using a cookie scoop. The rounded dome and thickness helps these airy bites of buttery delight stay together much better than being dropped by the teaspoonful or shapes from a cookie press.
Whipping it for at least 6 minutes is also mandatory; most people don't whip it long enough and then it's just not as airy as it should be. These cookies should literally melt in your mouth.
We never have used cornstarch and never will. I find it gives a weird mouth feel to it that I don't like.
Baking it a low temperature is the way my family has always made it. We dry it out, like a meringue, and don't bake it so much. Most recipes are 350 degrees but we have always baked it at 250. However over the years I have found that 275 works the best. This also helps the shortbread melt in your mouth instead of baking up a little bit harder which is what baking it at 350 is going to do.
Also – and purists are going to argue with me- we have always used half margarine and half butter. Always. Just like my buttertarts we have run taste tests and sampled and baked and it's always half and half that wins the taste test. We aren't purists, we are about taste. What's the use having all butter and it doesn't taste as good just to be a purist?  Try it and see what you think, get a good tasting margarine and I bet you'll love them. Let's face it, it's not like they are healthy for us anyway, the cookies may as well taste as good as possible!
If you use a hard margarine, it helps to keep the dome shape. Do NOT use light margarine or whipped butters or any "tub" margarine. The water content will flatten these cookies! You need the blocks of margarine.
You can use all butter for taste if you like, but the secret to the dome shape is the hard margarine used. All butter is absolutely amazing as well, so you choose which you prefer. I don't guarantee the dome shape with all butter though!
Without further adieu, here is my whipped shortbread recipe!
Happy Baking everyone!
Love,
Karlynn
How To Make Perfect Whipped Shortbread
How to make perfect whipped shortbread!
Course: Dessert
Cuisine: cookies
Servings: 12
Calories: 215 kcal
Ingredients
1/2 cup salted butter
1/2 cup hard margarine
1/2 cup icing sugar
1 1/2 cups flour
Instructions
Whip the margarine, butter and icing sugar together well. You can use all butter for sure, then it is a shortbread for the purist. Once it looks all deliciously creamy, resist from eating it by the spoonful, and get your flour ready.

Start the mixer and slowly add in the flour, until it has all been added in. Then you can proceed to let your mixer do all the work for you and whip it for 6 minutes. You are wanting lighter than air shortbread here.

Using a small cookie scoop, scoop the dough out onto an ungreased baking sheet.

Top with sprinkles or a piece of Christmas cherry.

Bake them in a 275 degree oven for about 30-35 minutes; you want to dry out the shortbread in essence, not bake it, thus the low temperature. (If you have a warm kitchen or live in a warm climate, cool the cookies in the fridge then bake. They won't flatten out).
Nutrition Facts
How To Make Perfect Whipped Shortbread
Amount Per Serving (12 g)
Calories 215 Calories from Fat 135
% Daily Value*
Total Fat 15g 23%
Saturated Fat 6g 30%
Cholesterol 20mg 7%
Sodium 160mg 7%
Potassium 20mg 1%
Total Carbohydrates 17g 6%
Sugars 4g
Protein 1g 2%
Vitamin A 11.8%
Calcium 0.8%
Iron 4%
* Percent Daily Values are based on a 2000 calorie diet.
8