These Slow Cooker Calico Beans are a fast, frugal and delicious dinner that the entire family will love!
The best part? They can be cooked in the Instant Pot or the oven as well. I finally got around to making this calico beans recipe ( what the heck kind of name is calico beans?) which Mike has literally been bugging me to make all summer long.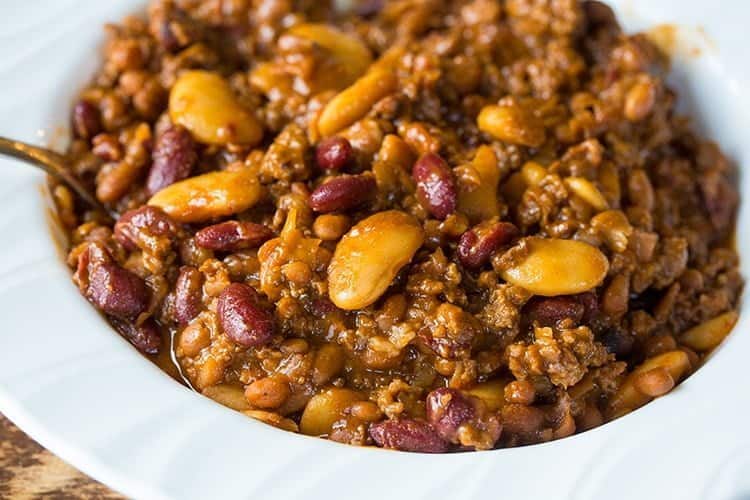 Now, let me be clear, it's not that Mike can't or won't make them, but he insisted that his Mom's calico beans recipe was worthy of a VIDEO. Yes, not everything on here is worthy of making into a food video. I churn out as many recipes weekly as I can here on The Kitchen Magpie so that you always have ideas galore for dinners and desserts. I couldn't possibly make them all into videos, so only the best of the best are awarded that honor and it takes me some time to get around to making the videos that I have on my list.These calico beans are beyond the best of the best. What. The. Heck. Why didn't anyone tell me??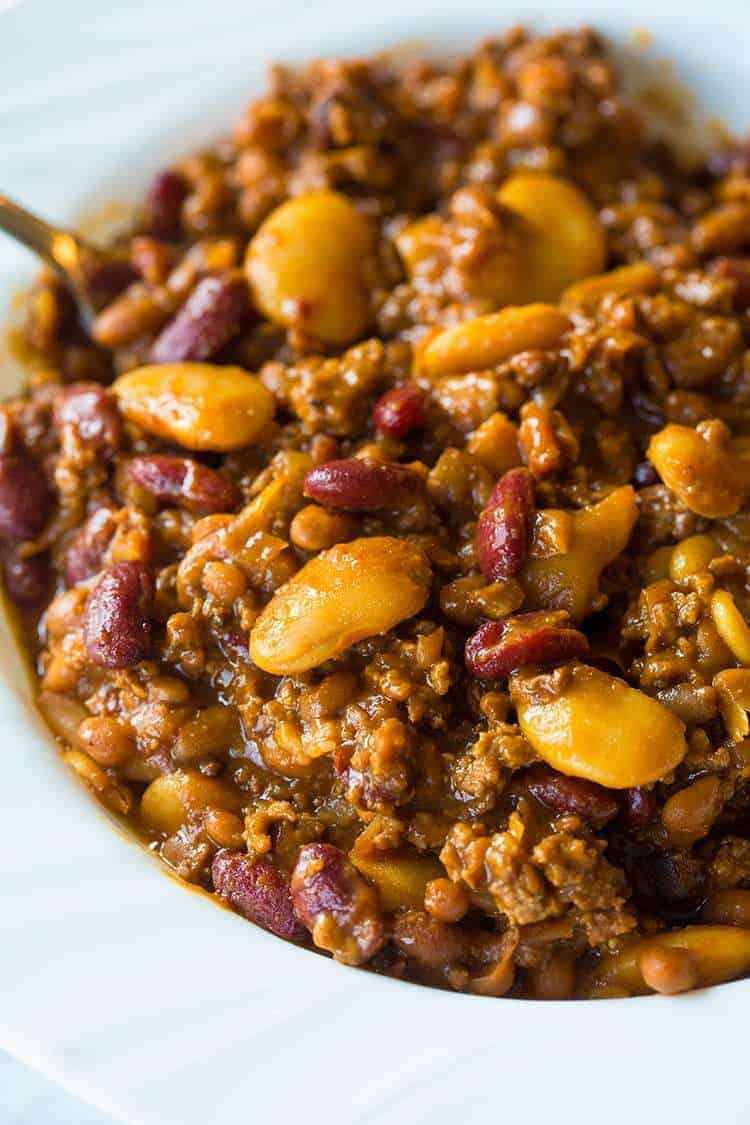 Calico beans are sweet, they are tangy. They are hearty, filling, frugal, cheerful and freaking delicious. Where have calico beans been all of my life? Mike says that his Mom made them all the time when he was younger ( thus he knew how delicious they were already) but I don't remember this dish from my childhood in the slightest. I could have eaten them, but I don't recall them at all.
The kids LOVED them. The kind of love that had them asking, no, they actually were begging me for seconds. The kind of love that had them taking leftover calico beans steaming hot in a Thermos the next day to school for lunch. That's a lot of serious dinner love from my kids.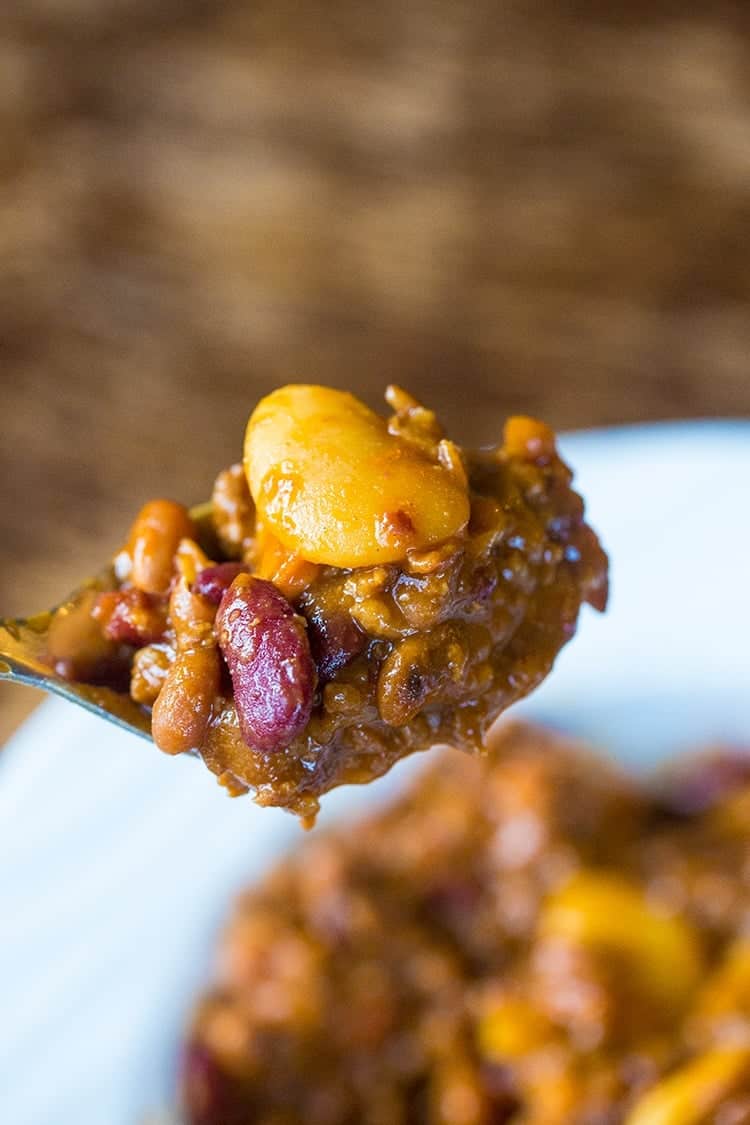 Myself? I am totally obsessed with them. For something that I hadn't ever heard of, I quickly fell in love with them. There is something SO right about how all the flavours meld together in the pot. Molasses, ketchup, mustard, all the fabulous base flavours that the best dishes are made of and then you add in beans, bacon and meat.
So good.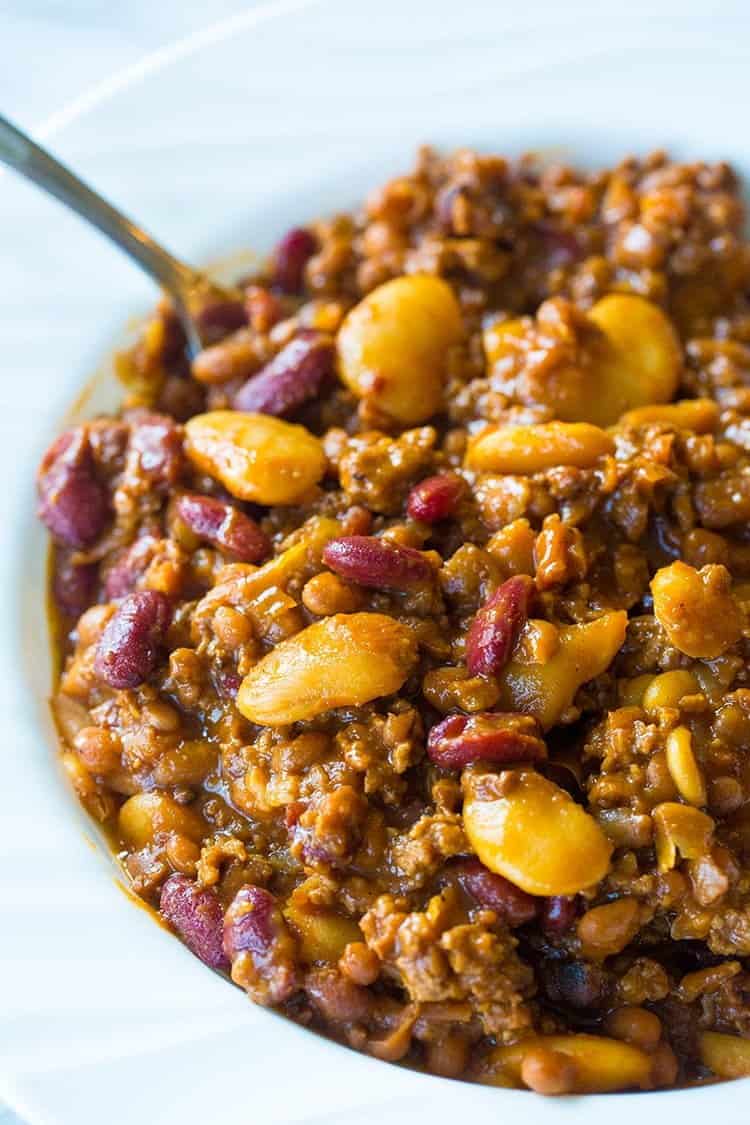 I honestly had to stop myself from making calico beans right away, again, as I don't want the kids to get sick of them but you guys for real, as soon as I finished my one measly bowl (yes, I'm sad, I saved the rest for the kids for school. You can't say that I don't sacrifice for my kids! Right!!??)  I was ready to make them the next day. And eat them with a fresh, carbo-licious buttered bun.
No really. I am THAT obsessed with these.
Make them, please. You will thank me Mike's Mom for it.
Has anyone else tried these? Were they a childhood staple for you?
Happy cooking!
Love,
Karlynn
Slow Cooker Calico Beans
These Slow Cooker Calico Beans are a fast, frugal and delicious dinner that the entire family will love! They can be cooked in the Instant Pot or the oven as well!
Course: dinner recipes
Servings: 6 servings
Calories: 302 kcal
Ingredients
4 slices thick cut bacon diced
1 pound lean ground beef 
1/2 cup chopped onion
1 can 28 ounces molasses pork and beans
1 can 16 ounces kidney beans, rinsed and drained
1 can 16 ounces lima beans, rinsed and drained
1/2 cup packed brown sugar
1/2 cup ketchup
1 tablespoon cider vinegar
1 teaspoon prepared mustard
1 teaspoon salt
Instructions
In a large skillet or in the bottom of your Instant Pot using the "saute" button, cook the bacon for 2-3 minutes. Add in the beef and onion and cook until the meat is no longer pink, then drain.

Combine the beef mixture, bacon, beans, brown sugar, ketchup, vinegar, mustard and salt in a slow cooker or in the Instant Pot.

For the slow cooker, you can cook on high for 3-4 hours, or low for 6-8 hours.

For the Instant Pot, you can also cook on low all day OR use the chili/stew button and cook on high pressure for 15 minutes.

If you want to cook in the oven you can also spoon the mixture into a greased 2-qt. baking dish. Bake, uncovered, at 325° for 45-60 minutes.

Serve and enjoy!
Nutrition Facts
Slow Cooker Calico Beans
Amount Per Serving
Calories 302 Calories from Fat 117
% Daily Value*
Total Fat 13g 20%
Saturated Fat 4g 20%
Cholesterol 62mg 21%
Sodium 796mg 33%
Potassium 415mg 12%
Total Carbohydrates 24g 8%
Sugars 22g
Protein 19g 38%
Vitamin A 2.2%
Vitamin C 2.2%
Calcium 2.8%
Iron 11.7%
* Percent Daily Values are based on a 2000 calorie diet.
156