The sloe gin fizz is a classic cocktail that is perfect for parties and gatherings, it's a light drink ( not heavy in alcohol content) and an interesting sipper!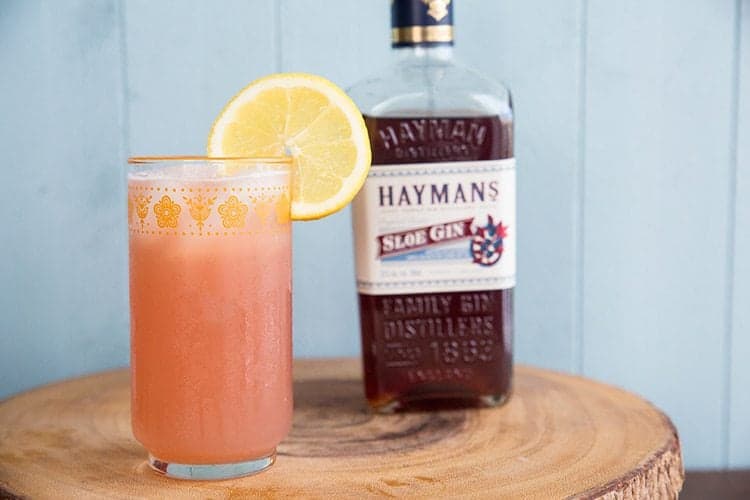 So the other day, Karlynn and I drove across Edmonton (oh, I almost forgot Sherwood Park as well) to try to find Sloe Gin. Apparently, there are quite a few hipsters in our fine city because this stuff, this stuff was HARD TO FIND people.  And when I say hard to find, I mean we literally hit 3 different Wine and Beyond stores (those huge stores you see that rival Costco) in order to find this stuff.  We finally found it and when we did, I bought four bottles.
Why Sloe Gin?
Good question! First, here's what it looks like: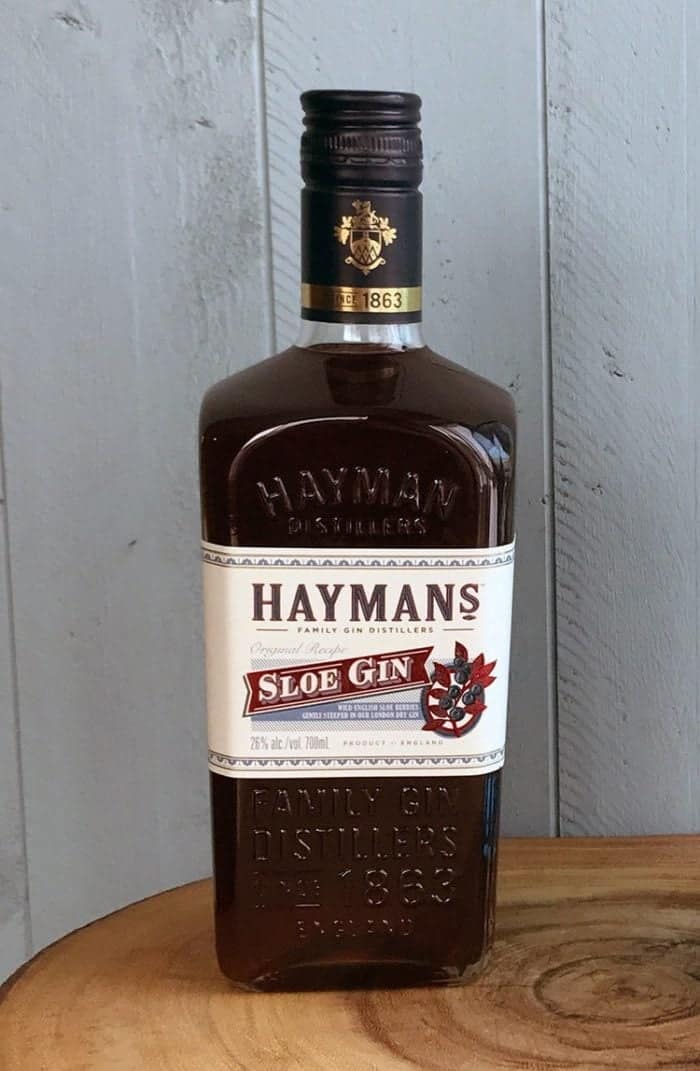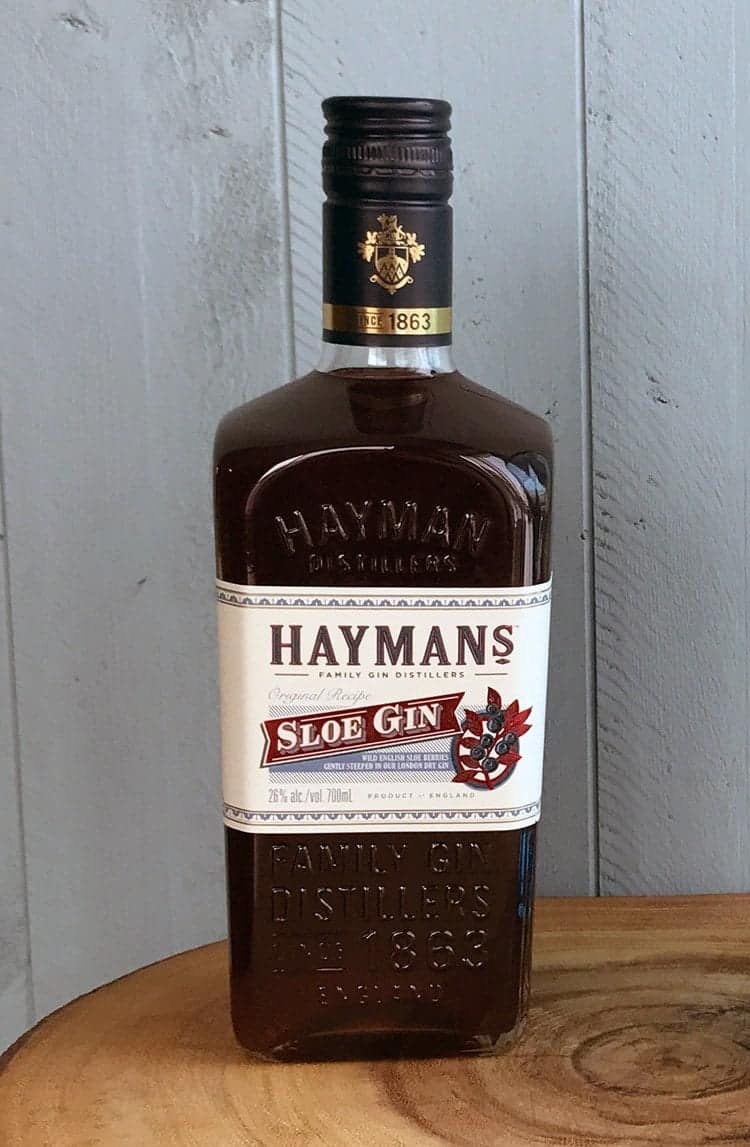 While planning for our next cocktail party (a follow-up to our Mad Men party) we started planning which cocktails I'd make. The popular 70's cocktail, the Sloe Gin Fizz, made the cut which required…. Sloe Gin. Go figure! Is it weird that I originally thought Sloe Gin was spelled Slow Gin? I know, what a great cocktail blogger I make. Oh well, at least I don't pretend to be a bartender right?
OK, I've babbled long enough. Let me tell you how to actually make a Sloe Gin Fizz.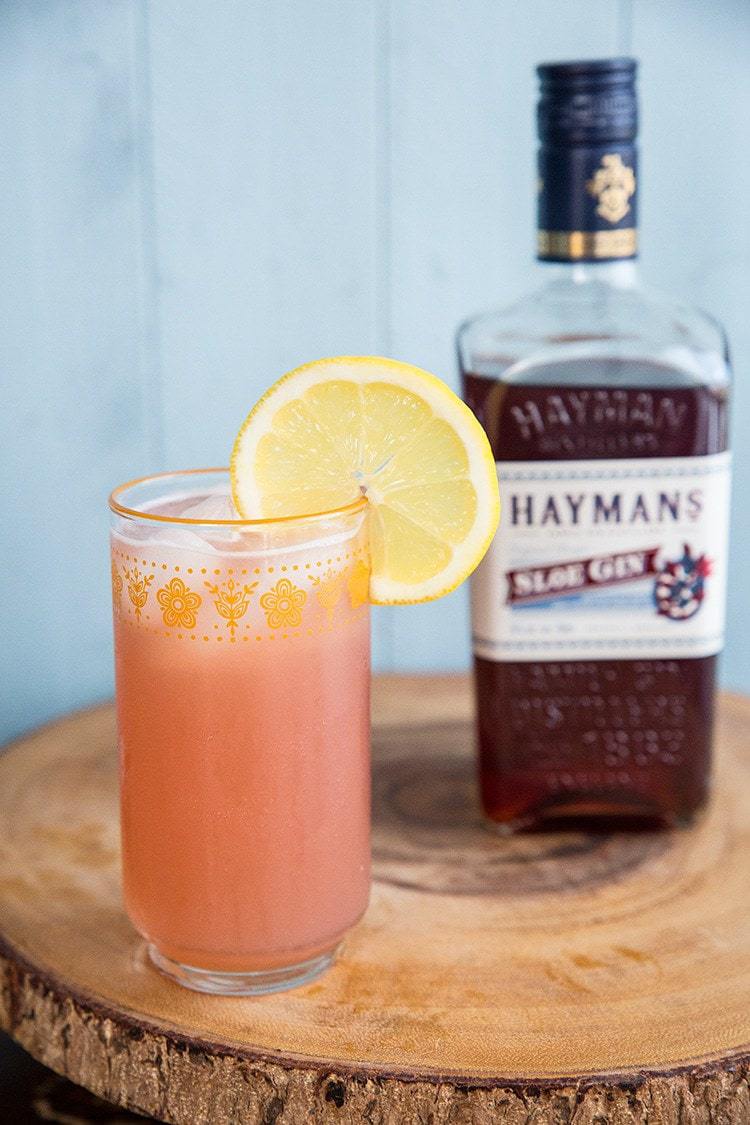 How to Make a Sloe Gin Fizz
To make this bad boy; the way they did in the 50's:
2 oz Sloe Gin
1 tablespoon of simple syrup
3/4 oz of lemon juice
3/4 oz of lime juice
Add to Boston Shaker with Ice
Shake well.
Pour into a glass and serve.
Simple, delicious and waaaay too easy to drink which makes it perfect (or should I say terrible) for our party. This, in my estimate, will be the equivelant to our widely successful; ginventory reducing (oooh new word!); Gin Gimlet recipe. Oh well, that's why I bought 4 bottles.
Pin This Recipe to Your Cocktails Board & Remember to Follow Me On Pinterest!
Sloe Gin Fizz Recipe
The Sloe Gin Fizz is a deliciously light and easy drinking cocktail that was popular in the 70's. Find out how they made it the old fashioned way.
Course: Cocktail
Cuisine: Cocktail
Keyword: sloe gin fizz
Servings: 1
Calories: 194 kcal
Ingredients
2 oz Sloe Gin
1 tbsp simple syrup
3/4 oz lime juice
3/4 oz lemon juice
Instructions
Combine Sloe Gin, simple syrup, lemon juice and lime juice in a shaker with cracked ice.Shake, pour and serve.
Nutrition Facts
Sloe Gin Fizz Recipe
Amount Per Serving (1 g)
Calories 194
% Daily Value*
Sodium 12mg 1%
Total Carbohydrates 17g 6%
Sugars 15g
Vitamin C 17.7%
Iron 4%
* Percent Daily Values are based on a 2000 calorie diet.
60