I think that everyone needs to have a basic Homemade Herb Vinaigrette Recipe in their back pocket. Vinaigrettes aren't hard to make and this one I made sure had ingredients that you have in your fridge or cupboard already. I didn't want to use a rice vinegar or maple syrup in this one, I wanted to make sure that anyone is able to make this recipe by simply going to their fridge.
The only ingredient you might not have is a Dijon mustard, but you know what? Sub in regular mustard and give it a whirl. It's ok. The point is, I want you making a homemade vinaigrette instead of reaching for the bottled dressings that have ingredients on the label that I can't even pronounce most days.
I admit it; the ingredients in store-bought salad dressings bug the heck out of me. I'm not a purist or a crazy label reader -well, sometimes I'm not- but when I am eating a healthy, fresh-from-my-garden salad, I honestly cringe at the thought of pouring all those weird bottled ingredients over my food.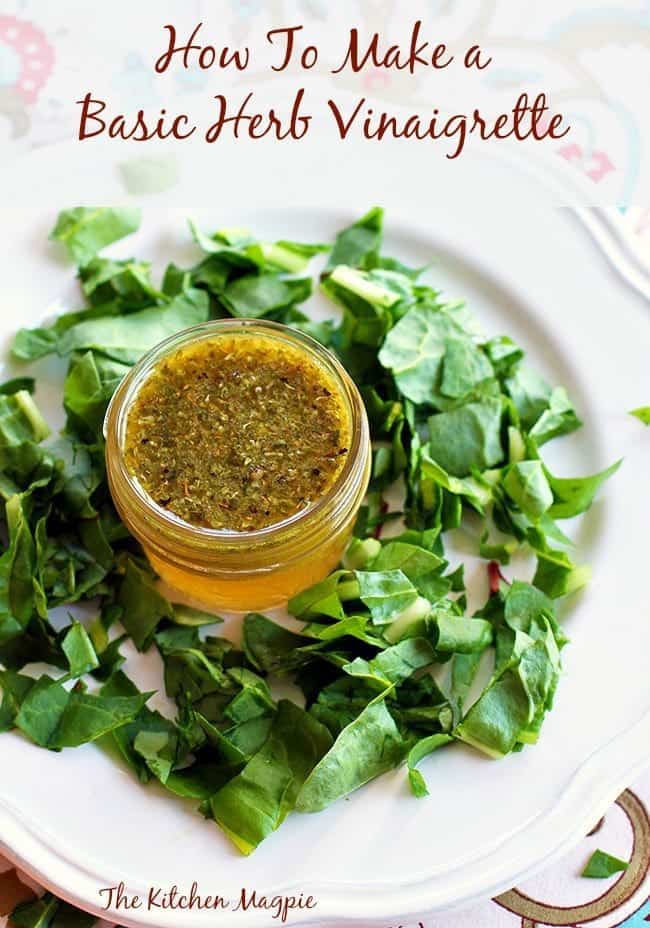 If you can, use a hand blender to mix this vinaigrette as much as you can, but you can't, it's ok. Just make sure to shake it before you use it!
So is anyone else eating salad upon salad from their garden lately? I think I'm growing whiskers and floppy ears from all the greens we are eating…and I wouldn't have it any other way!
Here's some of my favorite salads from this summer!
My Tex Mex Corn and Chickpea Salad. You don't even feel like you are eating healthy!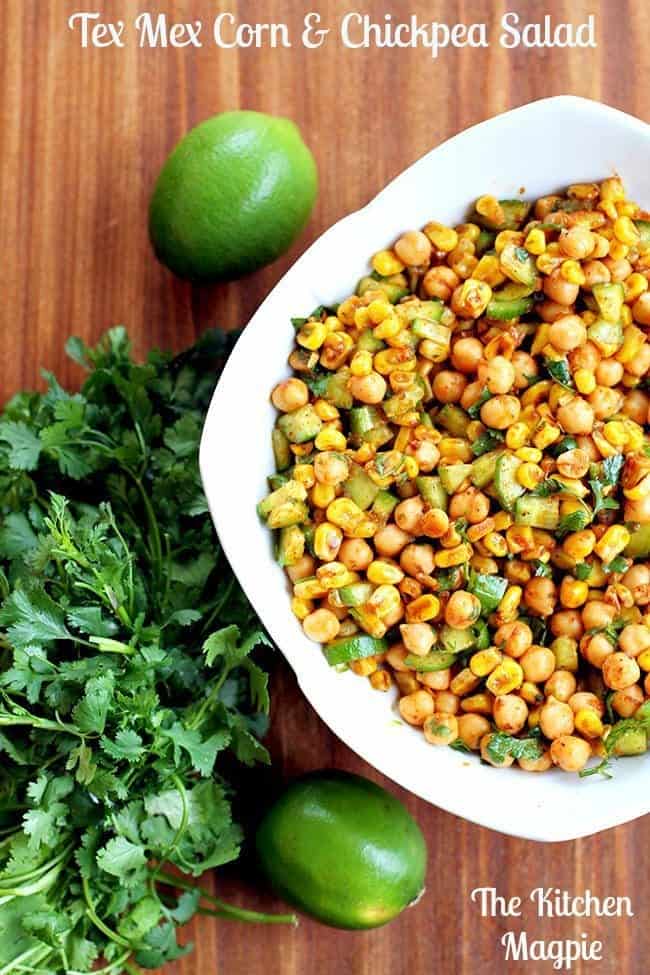 My Copycat Earl's Sante Fe Salad. This salad is a treat!
How about Strawberry, Kiwi and Lime salad? This salad is a fruit explosion of deliciousness!
Happy salad eating everyone! Salad SO doesn't have to be boring or make you feel like your turning into a rabbit!
Love you more than chocolate,
Karlynn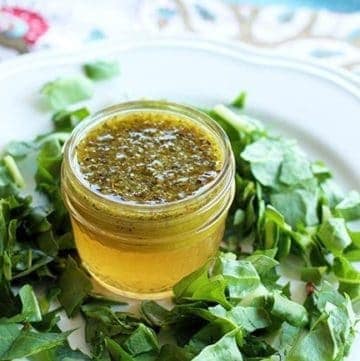 How To Make A Basic Herb Vinagrette
A homemade vinaigrette is so easy to make you'll never buy it in the store again!
Ingredients
1/3

cup

olive oil

2-3

tbsp

white vinegar

depends on how acidic you like it add to taste

1

teaspoon

white sugar

1/2

teaspoon

 dried oregano or basil crushed

I love oregano!

1

teaspoon

Dijon-style mustard

1

clove

garlic minced

1/8

teaspoon

black pepper

1/8

tsp

salt
Instructions
Combine all ingredients in a jar and shake to mix, or if you can, use a hand blended to incorporate it completely.

Store in the refrigerator for up to a week.

Play with the herbs you use, changing them to ones that you prefer!
Nutrition Facts
How To Make A Basic Herb Vinagrette
Amount Per Serving (4 g)
Calories 0
* Percent Daily Values are based on a 2000 calorie diet.
1