This post may contain affiliate links. See my privacy policy for details.
This biscotti was a hit last year, so I thought I would bring it back from the archives. I will be doing a few Recipe Rewinds before Christmas, since the Christmas recipes are so popular.
The candied cherries and fruit in this are lovely and don't be scared if you don't like fruitcake. This reminds me of the fruited bread that one can find in Co-op stores, just a slight enough taste to enjoy, and the crunchiness of the biscotti foils the chewy fruit perfectly.
And of course, anything dipped in chocolate is a hit with me.
Ingredients:
1/2 cup butter
2 cups white sugar
1 1/2 teaspoons almond extract
6 eggs
5 1/2 cups all-purpose flour
1 tablespoon baking powder
1/2 teaspoon salt
1 1/2-2 cups diced mixed candied fruit
Your choice of chocolate for dipping ,white was extremely tasty with this.
I only did half a recipe in the photos, so when you see half the ingredients, such as only 3 eggs, that's why. The full recipe above makes 4 "loaves" that you cut into pieces, two on each baking sheet.
Cream your butter and sugar, then add your eggs in. Once those are mixed, add in the almond flavoring.
Whisk your flour, baking powder and salt together.
Add the flour mixture to the wet ingredients.
Once those are mixed, chuck in your candied fruit. I used some mixed fruit (which has peels etc in it, nice and tangy!) plus some cherries chopped up. If you like them very fruity, use about 2 cups, I went with 1 and 1/2 cups and that was good for me.
Now you need to refrigerate it for about an hour.
Once the dough is cooled and firm from its hour in the fridge, split the dough into 4 equal pieces for your recipe. Mine was 2.
Shape each half into a 12 inch long log, place on a baking sheet covered in parchment paper and flatten slightly.
Until they look like this! Do this with all 4.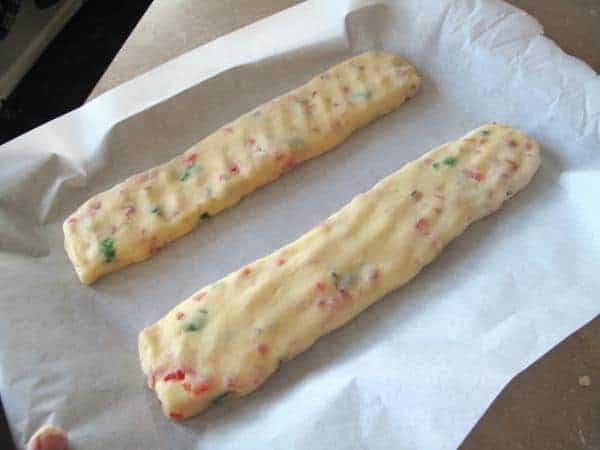 Bake in a 325 oven until browned. Cool for about 5 minutes.
Then once the loaves are cool enough to handle, slice then into 1 inch thick slices.
Put them back on the baking sheet, and toast them in the oven for another 10-15 minutes.
Once they are done, let them cool, then dip them into chocolate, the top, the side, the bottom, whichever you want.
For a good ,crispy biscotti leave them out for a few hours, not only for the chocolate to dry but for them to completely cool. I store mine in the fridge i a container and they are awesomely dried out and crispy!