Oh hey, my new Pan Fried Spinach & Cream Cheese Stuffed Chicken Breasts Recipe Aren't you a lovely, healthy chicken breast dish that is fast and simple to prepare. What was that? You can also use low-fat cream cheese and Parmesan and you have a healthy dinner full of protein and veggies. It's all true.
**This post has been updated from 2015**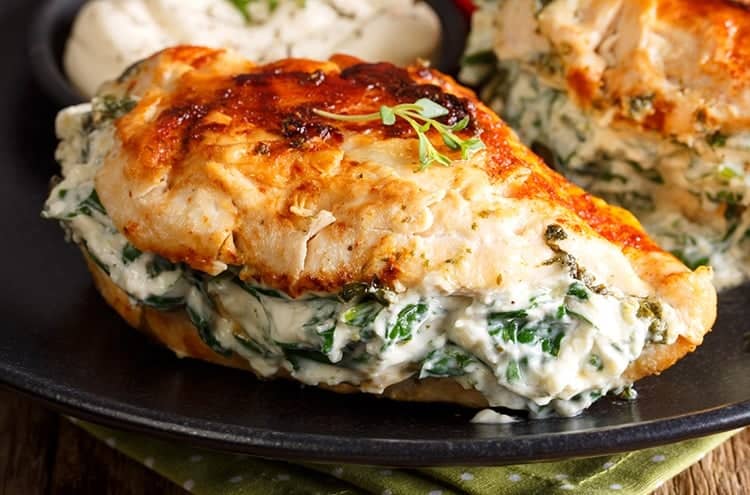 Delicious, Low Carb Chicken Breast Recipe
I love a good stuffed chicken breast recipe just like the next person. The problem usually is that you have to wrap bacon around them to get the filling to stay in ( I know, that's not a problem, Karlynn, that's a smart, salty delicious solution!) and then the filling inevitably leaks its way out of the chicken. I actually have very few stuffed chicken breast recipes on this website for that very reason.
This pan-fried spinach & cream cheese stuffed chicken breast however, solves that problem First, just like the name says, you pan fry the chicken. Then you add the filling, cover the chicken and heat it through.
Simple, yes? And no bacon in sight!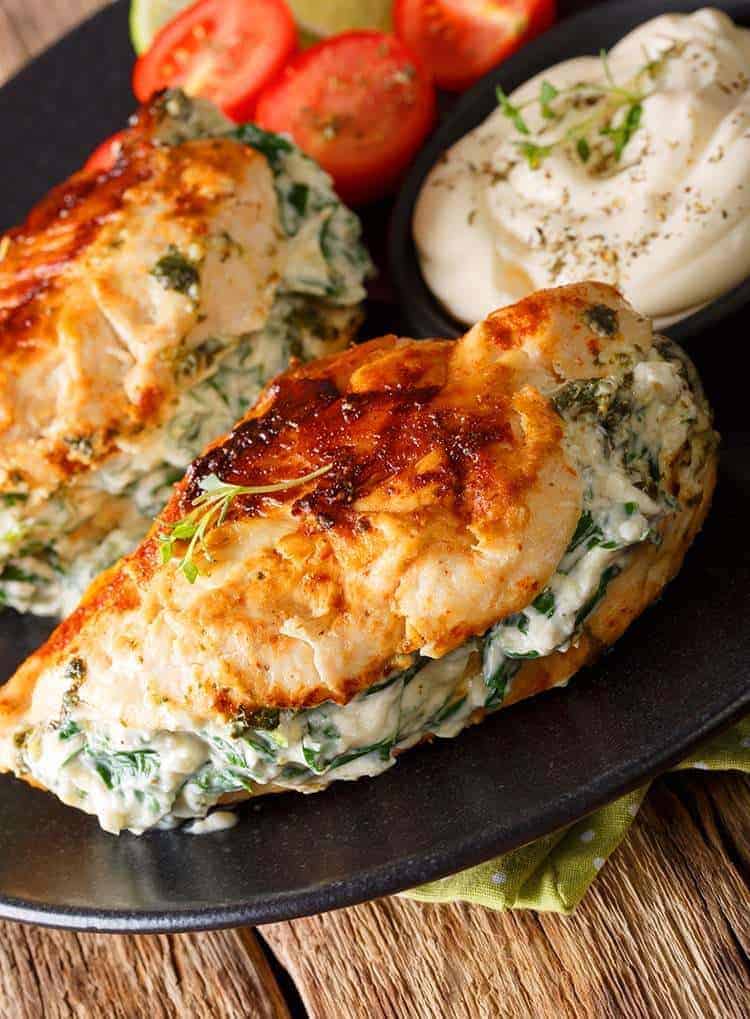 Tips & Tricks for Pan Fried Chicken Breasts
Pan fried chicken is best cooked on medium heat. You don't want to cook the chicken fast on the outside and then have it raw on the inside.
You don't need to cook the spinach cream cheese filling, you simply have to heat it up. That's the brilliance of pan frying the butterflied chicken breasts instead of baking them in the oven wrapped in bacon. The filling doesn't leak out ( as long as you are careful) and you can heat it up slowly and surely.
You could also wrap this in bacon at the point after the chicken is cooked and you stuff the cream cheese in. It really doesn't need it and sometimes bacon is overdone in low carb and keto recipes.
Happy cooking!
Love,
Karlynn
Pin this to your CHICKEN RECIPES or SUPPER IDEAS board!
Pan Fried Spinach Cream Cheese Stuffed Chicken Breasts Recipe
This Pan Fried Spinach Cream Cheese Stuffed Chicken Breasts recipe is one of the best skillet dinners I have made in a while!
Keyword:
chicken breast recipe, stuffed chicken breast
Ingredients
4

chicken breasts

1 10-ounce package frozen chopped spinach, thawed and squeezed dry

1/2

cup

cream cheese at room temp

1/4

cup

of Parmesan  cheese

1

tbsp

minced garlic

1-2

tbsp

minced chives or green onions

1/4

tsp

pepper

salt to taste
Instructions
 Place plastic wrap on top of each chicken breast and using a meat mallet, pound them slightly thinner. ( they will fry up faster if you do this step.)

To butterfly your chicken breasts, lay them flat on sturdy surface. Place one hand on top to hold it in place and then slice 3/4 of the way through the chicken breast. Do not slice all the way through!

 Heat up the olive oil in a large skillet.

Fry the chicken breast in the frying pan on medium heat, approximately 7 minutes a side, until they start to get golden brown and crispy on the outside and reach a temperature of 165°F. You want the mto be cooked before you stuff them!

Combine the spinach, cream cheese, Parmesan cheese, chives and garlic in a bowl and microwave to take the chill off. Make sure it's nice and warm. ( this is such an easy cheat! I was so excited!)

Carefully spoon a quarter of cheese mixture into the middle of the cooked chicken breasts.

 Turn the heat to low and put a lid on the frying pan. Heat for another 5-7 minutes, until the cream cheese mixture has heated through.

Remove and plate. Enjoy!
Recipe Notes
This doesn't store that well, so only make what you are going to eat right away!
Nutrition Facts
Pan Fried Spinach Cream Cheese Stuffed Chicken Breasts Recipe
Amount Per Serving
Calories 382
Calories from Fat 153
% Daily Value*
Total Fat 17g 26%
Cholesterol 180mg 60%
Sodium 453mg 19%
Potassium 875mg 25%
Total Carbohydrates 2g 1%
Protein 52g 104%
* Percent Daily Values are based on a 2000 calorie diet.
893