My mom makes the BEST Homemade Stove Top Stuffing. The end. Period.
No one else makes it the way she does. For years she took a literal box of Stop Top Stuffing and added to it – fried celery ,mushrooms and onions, it's SO good – and it's an awesome cheater way to make stuffing. We have over the years developed a completely from-scratch version of homemade stove top stuffing to make it 100% actually homemade. And it's even better than the packaged stuff, mainly because now we also cook deconstructed turkey on top of it in my new Deconstructed Turkey, Stuffing & Vegetables in ONE Roaster recipe. If you haven't read that post – GO NOW. That recipe will change the way you cook your holiday turkey forever! I mean it!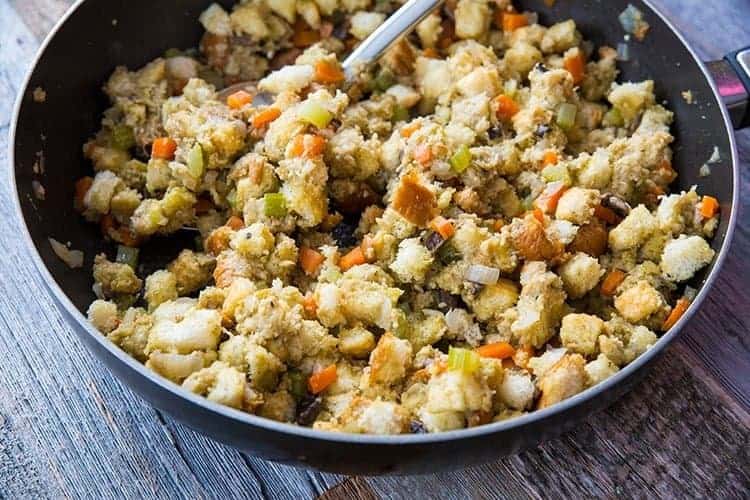 I'm going to admit it and tell you guys that the stuffing (dressing to my American friends) is my favourite part of any holiday dinner. Forget the turkey, give me all of the carbs. And then smother those carbs in turkey gravy. Now while this is an incredible good stuffing on its own, when you make it baked underneath a turkey it is something that I have been craving since I made that deconstructed turkey.
The drippings soak into the stuffing and make it honestly the best I have ever eaten. I can't wait to make this homemade stove top stuffing again for Christmas and do it exactly the way I did before.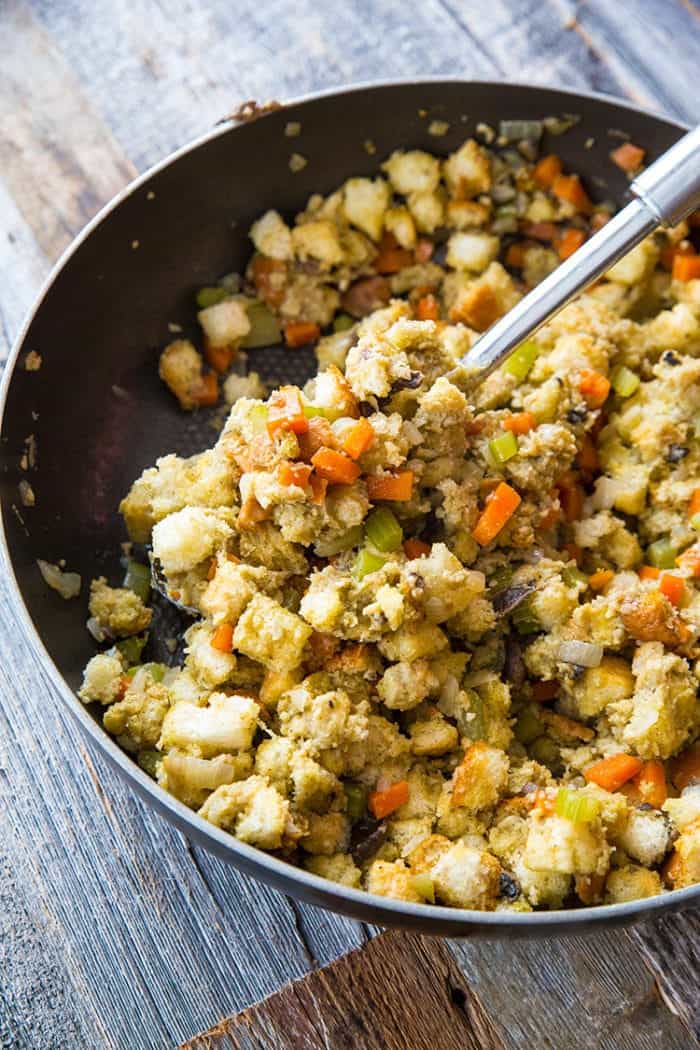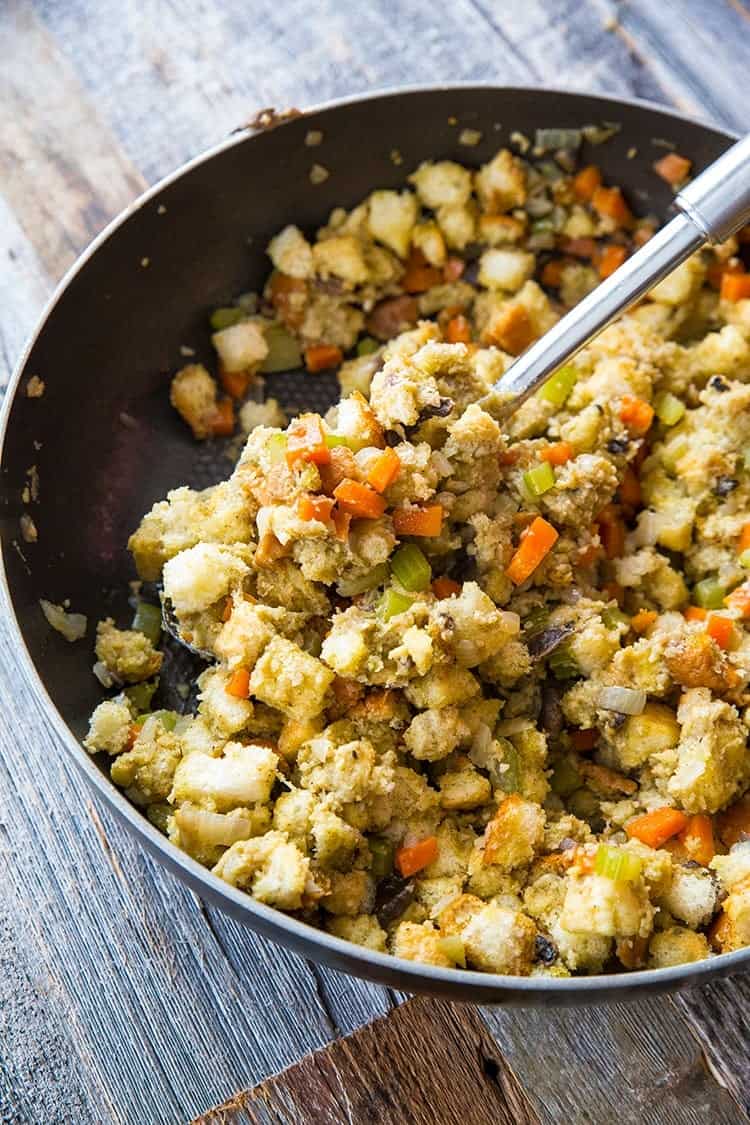 This time I will triple the recipe.
Yes, you heard me right. This recipe was enough for 4 people with leftovers, so it yields 6 servings. That's just not enough homemade stove top stuffing at all, as far as I am concerned. I like a LOT of leftovers and stuffing tops the list as the #1 thing that I want to have a lot of in the fridge to go with the turkey.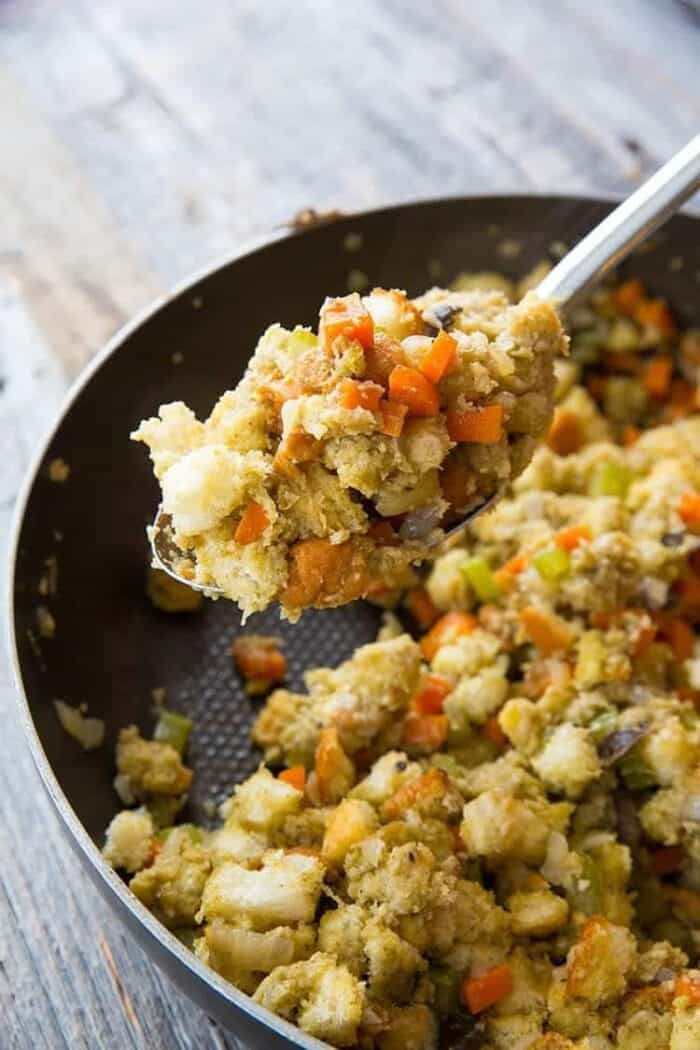 This recipe tripled and cooked under the deconstructed turkey will also be enough to feed a 14 of us, with leftovers which is what I am aiming for at Christmas.
Then I'll tuck some away for me in the fridge and hide it. I'm evil like that.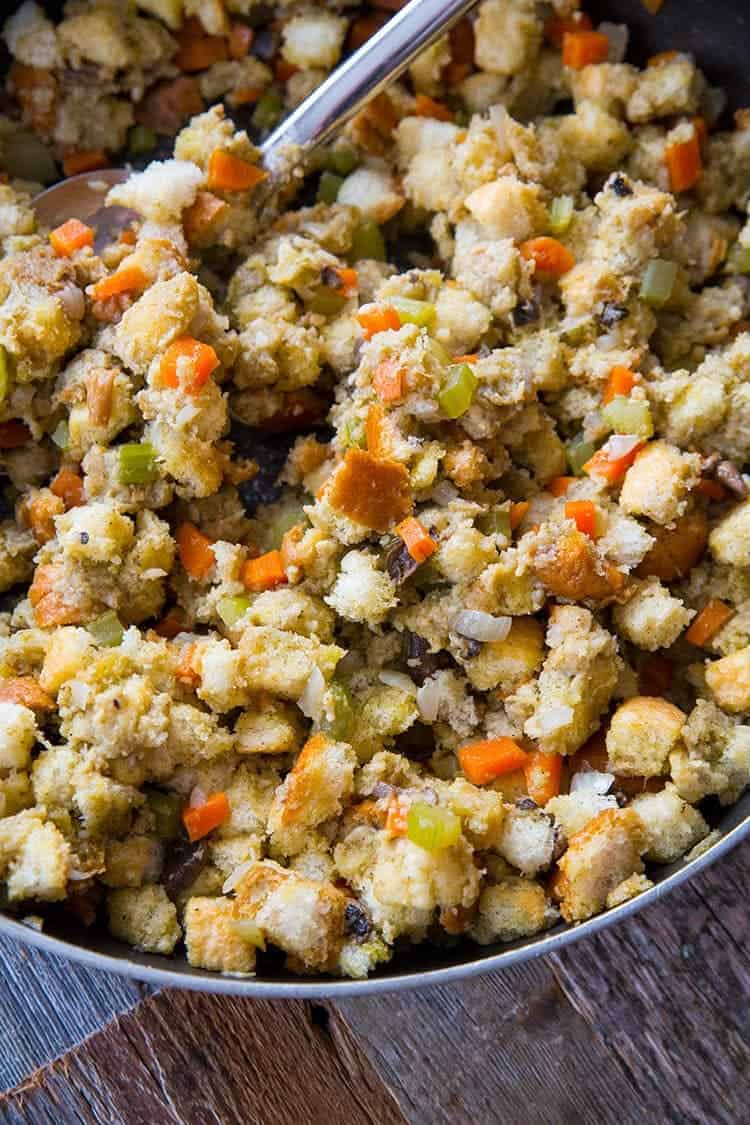 If you are looking for some more seasonal recipes, try these two desserts for a treat!
Salted Caramel Gingerbread in a Mug
So, who else is in for a triple batch of homemade stove top stuffing?
Love you more than turkey dinner,
Karlynn
PIN THIS RECIPE TO YOUR CHRISTMAS, THANKSGIVING & DINNER BOARDS and remember to FOLLOW ME ON PINTEREST!
Mom's Homemade Stove Top Stuffing
How to make Stove Top Stuffing at home and no box is involved! This is ten times better than the boxed stuffing!
Course: Side Dish
Cuisine: American
Keyword: stove top stuffing
Servings: 6 servings
Calories: 368 kcal
Ingredients
10-11 cups of cubed white bread dried out in the oven completely
1/2 cup salted butter
1 cup finely diced white onion
1 cup finely diced carrot
1 cup finely diced celery
1 cup finely diced mushroom
1 tbsp minced garlic
1 1/2 tbsp poultry seasoning
1 1/2 cups strong chicken broth
Instructions
Melt the butter in a large skillet. Add the onion, carrots, celery and mushrooms. Sautee until soft. Add in the garlic and fry for another 2-3 minutes.

Sprinkle in the seasoning and mix throughout. Pour in the chicken broth and stir until combined.

Add in the bread cubes and toss with a wooden spoon etc. to coat the cubes as much as you can with the mixture, trying not to squish the cubes.

Place a lid on top and let sit for 10 minutes.

Remove and serve.
Recipe Video
Recipe Notes
For stuffing that you use under the turkey, double this recipe using a large stock pot and use 1/2 cup less chicken broth per batch as the drippings will help add moisture during the chicken process.
Nutrition Facts
Mom's Homemade Stove Top Stuffing
Amount Per Serving
Calories 368 Calories from Fat 162
% Daily Value*
Total Fat 18g 28%
Saturated Fat 10g 50%
Cholesterol 40mg 13%
Sodium 748mg 31%
Potassium 342mg 10%
Total Carbohydrates 43g 14%
Dietary Fiber 3g 12%
Sugars 6g
Protein 8g 16%
Vitamin A 82.8%
Vitamin C 10.4%
Calcium 23.6%
Iron 19.1%
* Percent Daily Values are based on a 2000 calorie diet.
188