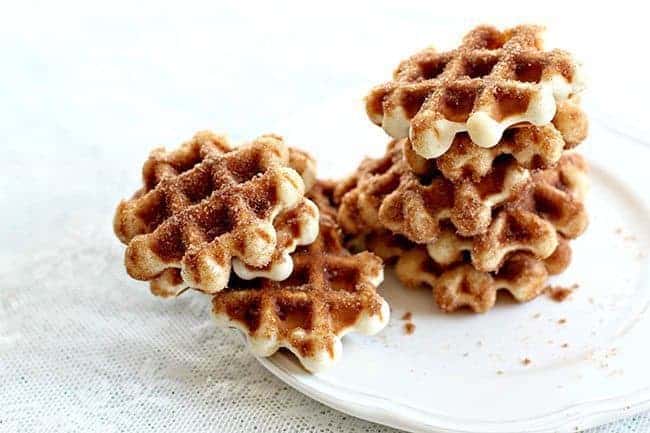 We all know that I generally get excited over recipes, it's just a given. However, seriously you guys, I am THRILLED to bring you this new recipe and a give away from London Drugs to make your holiday season brighter! Eeeek!
I have teamed up with London Drugs to try out an appliance of my choice this winter and if any of you know me by now, you know I would go for the fancy, schmancy super duper waffle maker!
I chose to try out and keep the Breville waffle maker , a top of the line, super fabulous waffle maker. Oh, I have to admit it, I am an appliance girl. I love countertop appliances. I love testing them, buying them, using them and mostly coming up with recipes for them.
It's never enough to just use the recipes that come with the manuals for me – though those recipes are usually fantastic- I have to go a little, um…
Crazy. Actually I prefer creative genius but most people would call it crazy. I just have to create something different. It's sickness, I tell you.
I have mini doughnuts on my mind today, truth be told, because I was thinking of making mini doughnut muffins as I was driving home from dropping the kids off from school. This is what -30 weather does to me, I start thinking of glorious, homey, delicious things to bake.
So when I came home and found that the London Drugs Santa had dropped off a few packages for me, can you guess where my mind went?
Straight to mini waffle donuts.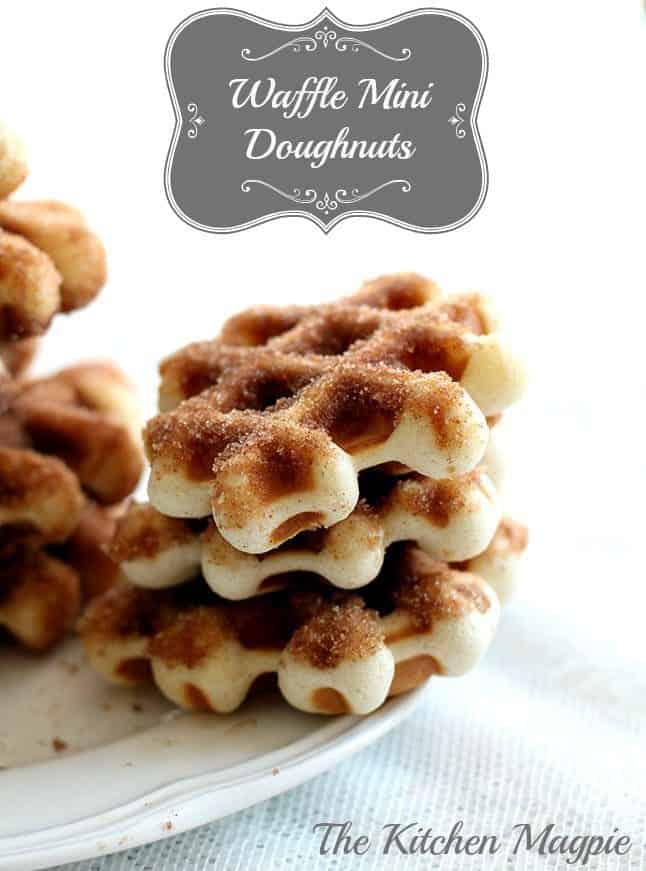 Actually to be perfectly honest, these are not waffles but actual donuts.I took a simple cake doughnut recipe and slightly altered it to make the dough work for cooking in a waffle maker.
These are quite seriously donuts, with a cinnamon sugar coating to top it all off.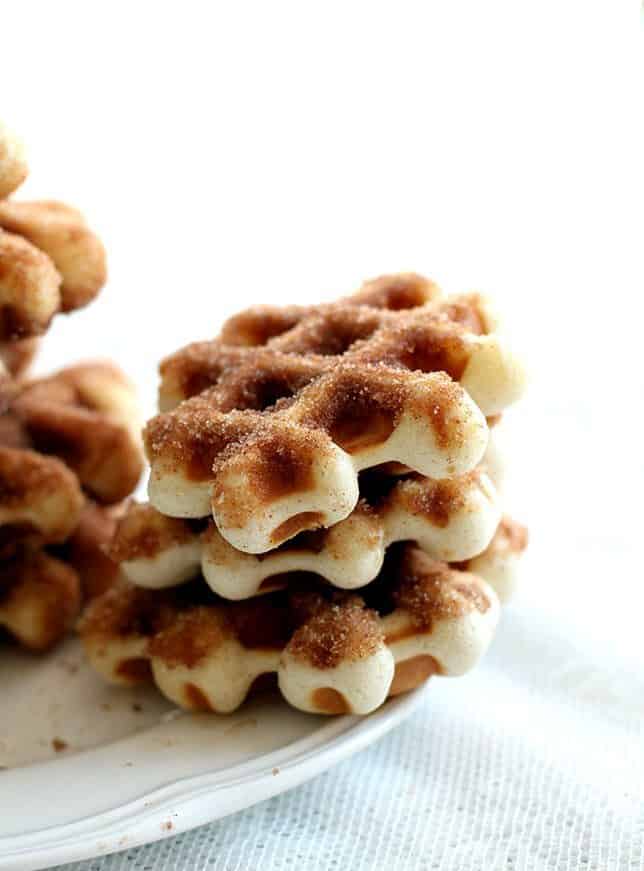 You can vary the size as you wish, I found a medium size to be perfect. You don't want to make them square, else they lose the fun look that they have and then simply resemble waffles.
Just take a moment to absorb this photo. You might now understand why I am so darn excited to share this recipe with you.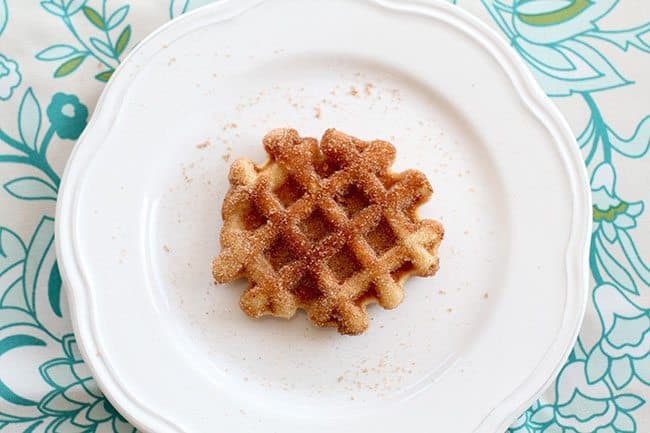 The Breville waffle maker is amazing. You simply put the dough in the middle like shown below and close the lid.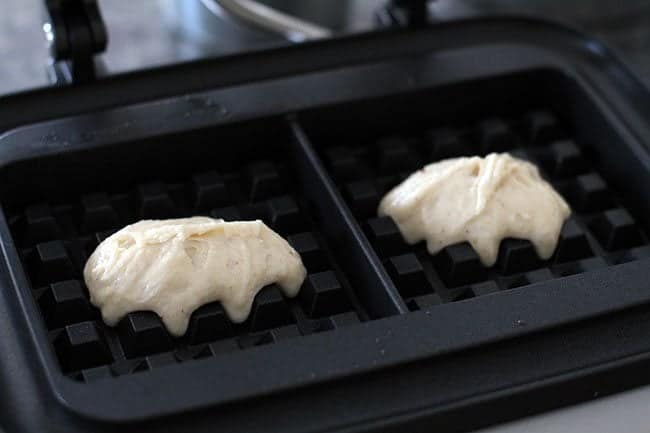 The settings for this exact waffle maker are classic and then three bars for the darkness. Oh, the settings on this are so amazing! There is a reason this is a top of the line appliance!
After the three minutes are up you lift the lid to see this golden brown beauty within.
It may look like a waffle but it is cakey like a doughnut inside, very thick and dense. Remember, these are cake donuts so we are not getting a yeast doughnut result either!
A little side note: 5-10 seconds in the microwave reheats these up perfectly and you'd never know they weren't fresh!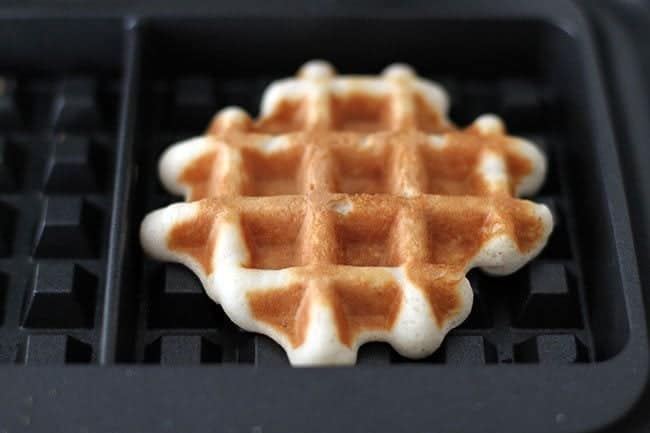 Make sure you try those mini donuts this weekend and let me know what you think!
Love,
Karlynn
Mini Waffle Donuts
Cake doughnuts done in the waffle maker then dipped in a cinnamon sugar coating. Absolutely amazing!
Course: Dessert
Cuisine: Doughnuts
Servings: 16
Calories: 278 kcal
Ingredients
1 cup sugar
4 tsp baking powder
1 1/2 tsp salt
1/2 tsp nutmeg
2 eggs
1/4 cup unsalted butter melted
1 cup milk
3 cups flour
For the topping:
3 tsp cinnamon
1 cup white sugar
1/2 cup melted butter
Instructions
In a large bowl mix the sugar, baking powder, salt and nutmeg.

Add the eggs, milk and melted butter. Beat well.

Stir in the 3 cups of flour, mixing well until it's thoroughly combined. You are going to have thick, sticky batter.

Preheat your waffle griddle.

Place the batter in the middle of each waffle part (some waffle makers will have 2 or 4). You can do large or small doughnuts.

Cook for 3 minutes until golden brown.

Remove the doughnuts from the waffle iron and place on a cooling rack.

Combine the white sugar and cinnamon for the topping.

Dip the waffle in butter, shake off, then dip into the cinnamon sugar mixture.

Set back onto the rack and continue with the other doughnuts until finished. A little side note: 5-10 seconds in the microwave reheats these up perfectly and you'd never know they weren't fresh!

Store (as if you are going to have any left) in an airtight container for up to 3 days.
Nutrition Facts
Mini Waffle Donuts
Amount Per Serving (16 g)
Calories 278 Calories from Fat 81
% Daily Value*
Total Fat 9g 14%
Saturated Fat 5g 25%
Cholesterol 44mg 15%
Sodium 285mg 12%
Potassium 179mg 5%
Total Carbohydrates 44g 15%
Sugars 25g
Protein 3g 6%
Vitamin A 6.4%
Calcium 8.5%
Iron 7.4%
* Percent Daily Values are based on a 2000 calorie diet.
35