This post may contain affiliate links. See my privacy policy for details.
How To Throw A Simple Minecraft Birthday Party – Part 2!
One of THE most popular posts here on the Kitchen Magpie is my How To Throw A Simple Minecraft Birthday Party, and I know why. I keep it simple. No brainer. Fast. Easy. If you want more ideas, hope on over to that post after reading this one. RIGHT HERE. Click that.
I had actually thought that I was done with Minecraft birthdays, as my daughter had expressed zero interest in the past three years that have passed since we had a super fun and successful AND simple Minecraft birthday party for her brother.
Being the amazing kiddo that she is, she decided that it was her turn for a Minecraft birthday party this January.
Right when the final edits for my cookbook were due.
So when I promise you that this is an easy party you guys, I seriously mean it. I phoned in everything that I could.
First, the treat bags. Dollar stores are wonderous places to find these crafty take-out boxes in pink and green. My daughter wanted pigs and creepers. Easy. You find and print out a Minecraft creeper face and a pig face, then cut and glue them onto the boxes.
I filled these with candy watermelon, TNT made from licorice and those classic chocolate rocks. ALL from Minecraft.
Win. If you want some other ideas to fill the treat bags, then check out my other post. I have some easy Minecraft pins there that you can make.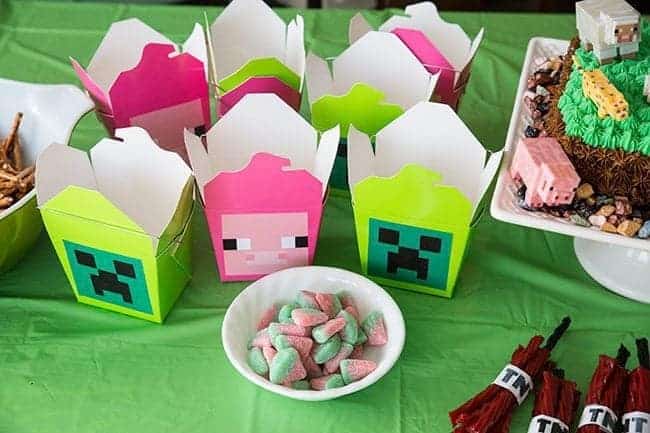 The Mountain Dew creepers?
I drew those on with permanent marker. Five minutes.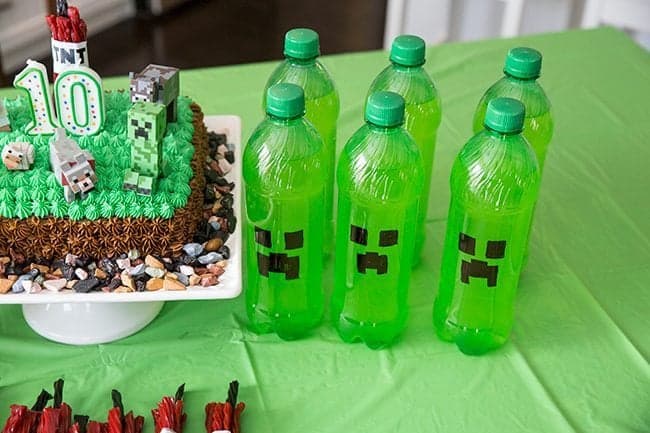 Speaking of those licorice TNT? Could anything be CUTER???
Ten minutes, tops. You print out labels, wrap it around red licorice sticks halves that have one back licorice in the middle for the fuse.
OH EM GEE ADORABLE.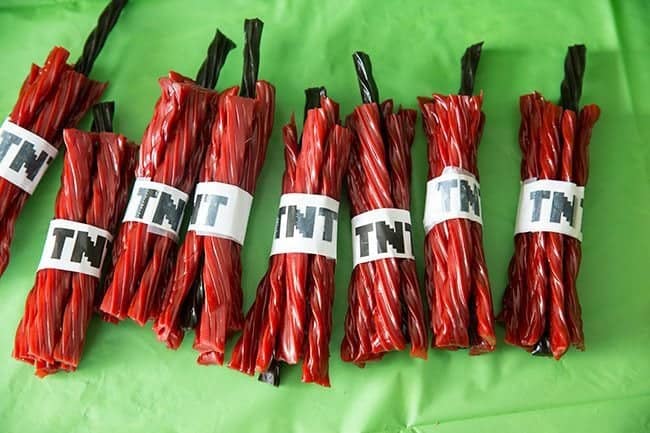 Now, on to the food. God Bless Minecraft for having chicken in the game, because almost every child eats chicken nuggets. Oh yes, chicken nuggets.
Four words: FINAL COOKBOOK EDITS DUE. I needed a Simple Minecraft Birthday Party here folks!
Pre-made, highly-processed, possibly-not-even-real-chicken nuggets were definitely called for.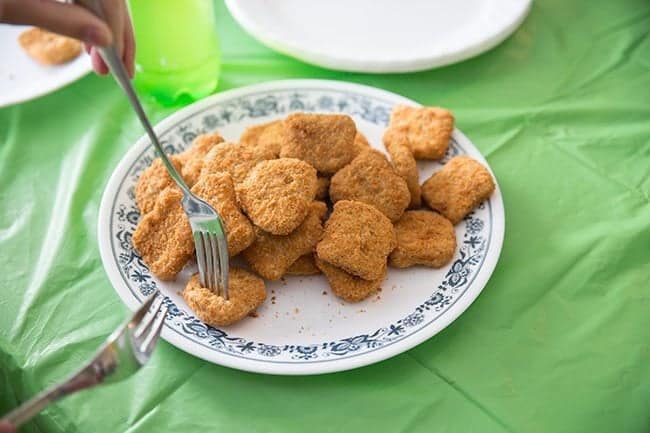 Watermelon? Also in the game. Healthy. Makes up for all the chocolate and chicken nuggets.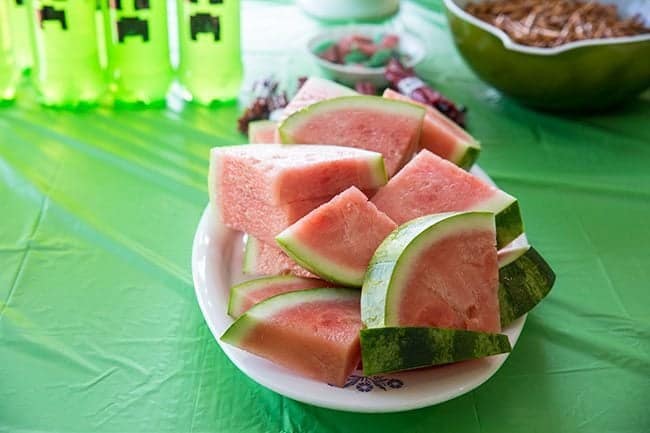 Pretzels for the Minecraft sticks. Healthier than chips and again, makes up for those processed chicken nuggets I served. Remember, this is a simple Minecraft birthday party. We are going for easy!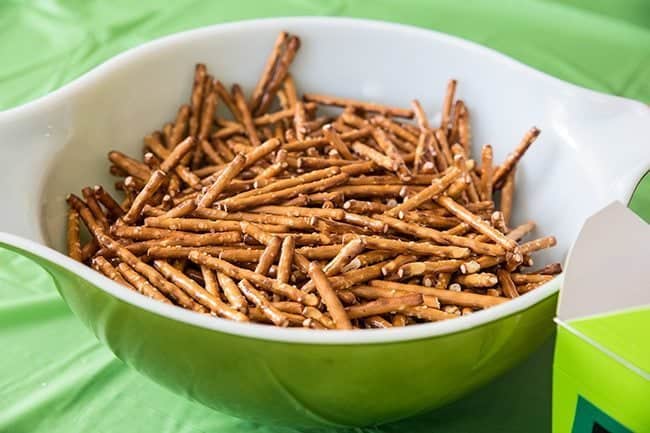 The kids loved it. Throw a Creeper green plastic tablecloth on there for 99 cents, and you have a winner, folks.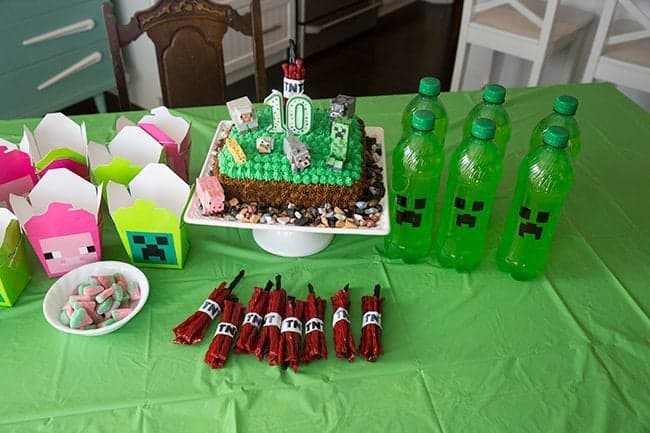 Now, the cake.
This is a) the most complimented on cake that I've made yet and b) the easiest cake that I've made yet.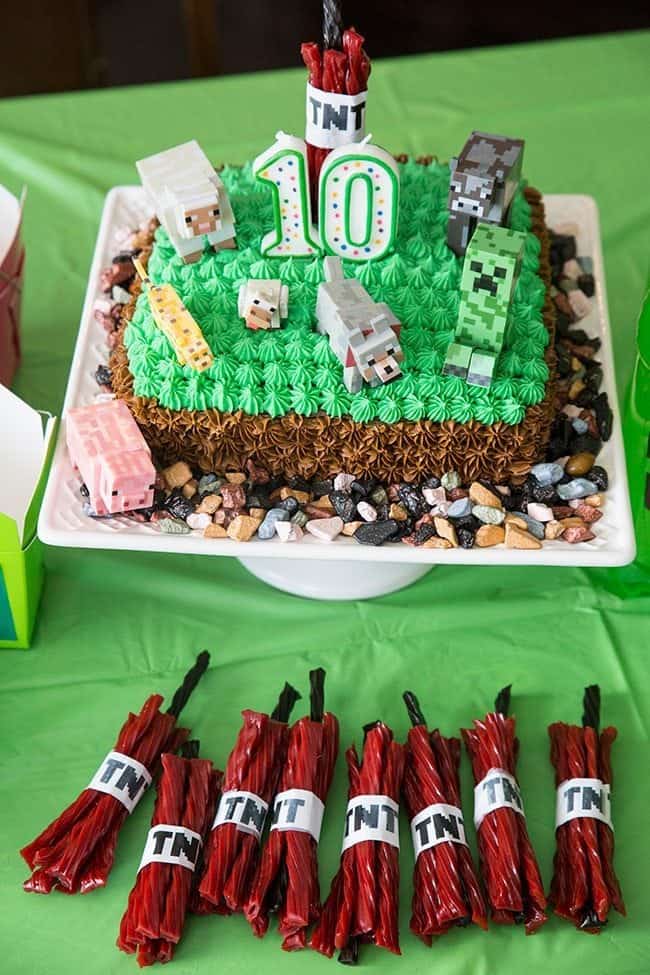 This cake is a cake mix baked into two 8×8 pans. Place one on top of the other, maybe even put some icing in there. Use my Buttercream Icing Recipe for sure.
Color a bunch grass green, a bunch earthy brown and pipe stars with a Wilson star tip of any size. Bigger star = less work for you.
Then my genius idea was to purchase a set of the Minecraft plastic figurines, which were part of our daughters gift, because everything Minecraft seems to have a hefty price tag on it.
Plunk those suckers down on top of the cake. Stick a TNT on there as well then add on birthday numbers.
Throw some chocolate rocks randomly around and you have a seriously awe-inspiring, impress-all-the-children-and-adults-alike Minecraft birthday cake.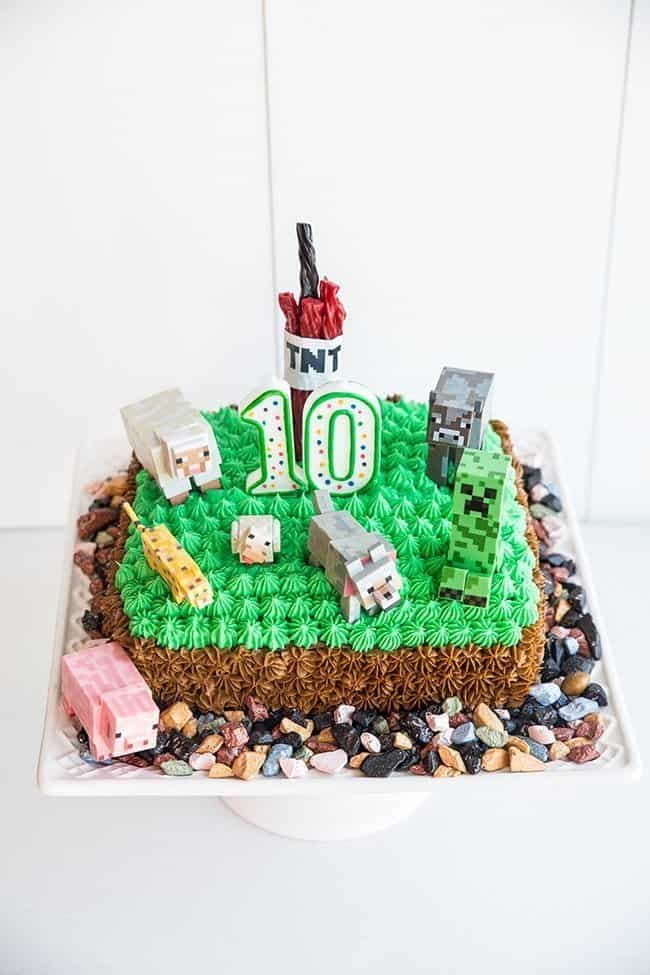 Now really, if you have made it this far, you'll need to check out my other post on how to throw a Simple Minecraft BirthdayParty. You can see that there are easy cupcakes, pins and Creeper party bags to make. Between these two posts, you will definitely have enough ideas!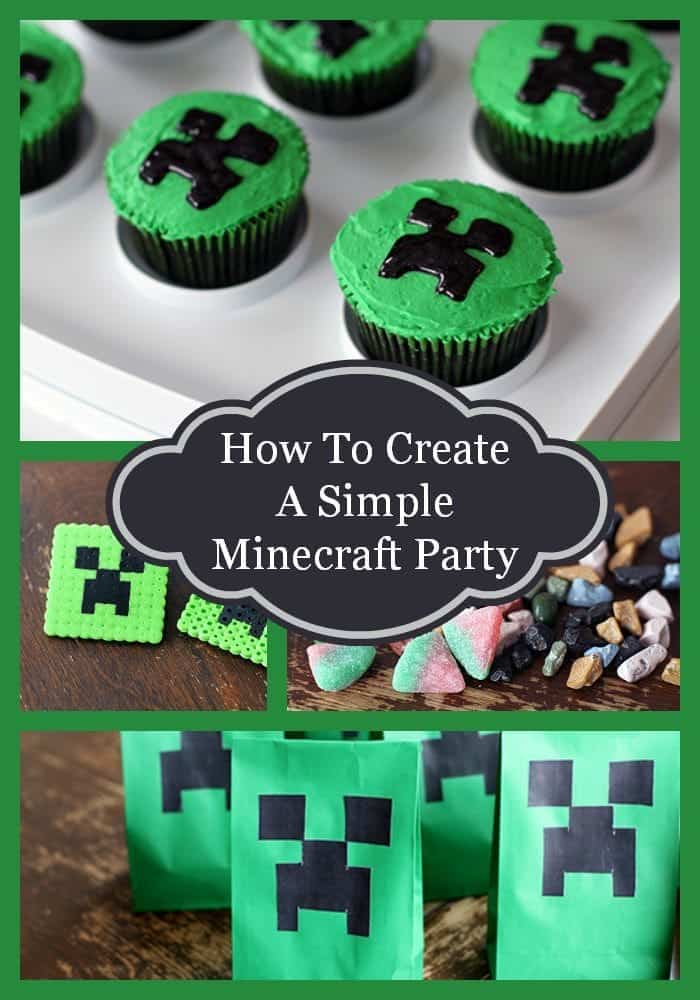 Now make sure to pin this for later!
Have fun everyone!
Love,
Karlynn

PIN THIS RECIPE to your PARTY IDEAS Boards and Remember to FOLLOW ME ON PINTEREST!