This post may contain affiliate links. See my privacy policy for details.
Bananas are one of the best fruits for your family; they are sweet, they are easy to eat, and they are absolutely loaded with nutrition.
However, there is one problem with getting bananas at the store: they're all green!
Trying to eat an under ripe banana is not only horrible, but it is also really physically difficult because of how weirdly hard they can get when they are completely green.
However, while the age old wisdom of "don't buy green bananas" might hold true for the older generation, it is actually really easy to ripen bananas at home yourself.
Why not use some ripe bananas to make some tasty Bananas, Foster? Or some Banana Gingerbread Loaf instead?
Table of Contents
What Makes Bananas Ripen?
Bananas are one of the few fruits out there that have a physical indicator of when they ripen and are good to eat. They turn from a sickly green to a healthy and appetizing yellow and then gradually develop brown and then black spots as they get too ripe and start to go bad.
This change in color isn't just a super helpful tool for picking fresh produce but is actually a scientific process that all fruits go through.
As the fruit ripens, it is more appetizing for animals to eat, plus it breaks down easier, making it more likely the seeds will take root and form a new plant.
We just pick bananas when they are still green and then let them ripen off of the banana bush until they are ready.
This process is caused by ethylene gas, which the plant itself emits over time after being picked. The texture, flavor, and color all change, gradually giving you a tasty and easy way to enjoy the fruit.
So, to be able to ripen bananas at home, you really just need to either mimic that same process and speed it up or break the banana down in other ways.
Ripening Bananas By Cooking Them
One of the ways to make bananas edible and softer that don't involve active ripening is to just cook the bananas.
Use them in a variety of different cooking recipes, from making banana syrup to making some bananas fosters desserts, and cook them for a little while to get them soft.
After all, the ripening process is basically just breaking down the sugars and cells within the banana, which is something that happens when you cook it anyway.
Be warned, though; cooking bananas for too long basically turns them into mush. They are still perfectly edible and usable, but their texture might not be suitable if you were hoping to eat them on their own – you might need a spoon.
Ripening Bananas By Trapping The Ethylene
This method is the best way to quickly and easily ripen bananas when you are looking to eat the banana or otherwise use it normally, meaning you actually want a usable banana and not a pile of mush.
To ripen a green banana, you just need to insulate it somehow so that the natural ethylene gas it creates will be able to spend more time around the banana, ripening it faster than it would on its own.
The typical way to do this is to use a brown paper bag, like the kind you would get at a produce store.
Just keep your bananas in the bag and wait! The gases will gradually ripen the fruit over a day or two, giving you naturally soft and ripe bananas.
Just make sure not to leave them in the bag too long! Bananas are already very finicky with how fast they can turn overripe, but with this method, it happens much faster than you might expect.
Ripening Bananas By Freezing Them
This final method is really good if you want some bananas for a simple recipe in the morning, like making a smoothie.
All you need to do is to stick your bananas in the freezer and leave them overnight.
The freezing process breaks the fruit apart at a cellular level, helping to imitate what happens when it naturally ripens.
After around 8 hours or so, you can take it out and let it defrost, and it will be a lot softer and sweeter. Just make sure that you don't leave it to defrost on the counter because it will definitely leak a lot of water and flood your counter.
Stick it in a bowl in your fridge for a few hours, or leave it in the sink for an hour to defrost and become usable so that you don't get weird banana goo everywhere.
Happy Cooking
Love,
Karlynn

PIN this to your FOOD PREP TIPS BOARD and Remember to FOLLOW ME ON PINTEREST!
Learn to cook like the Kitchen Magpie
Subscribe to The Kitchen Magpie on YouTube
One click and you'll get notified of new videos added to our YouTube account!
Subscribe on

YouTube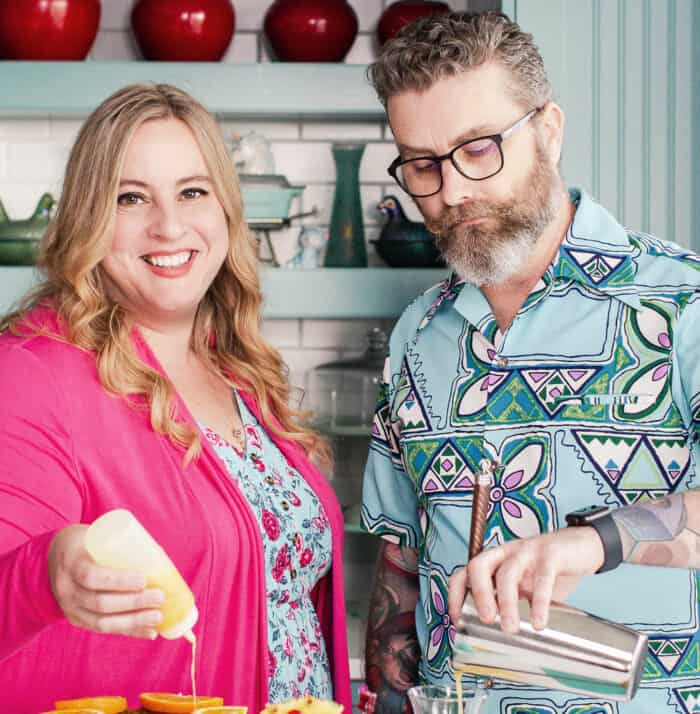 How to Ripen Bananas
Curious how to ripen up bananas that you just picked up from the store? Follow this simple how-to to get them nice and yellow in no time.
Prep Time

5

minutes
Cook Time

2

days
Equipment

paper bag
Author
Ingredients
1

bunch

bananas

(unripened)
Instructions
Place banana bunch in a brown paper bag and allow the natural gases to ripen the bananas.

This typically takes 1 to 2 days.
Recipe Notes
If this method doesn't work or you'd like to use another, read above for multiple options.
Looking to learn more Kitchen tips? Try these out:
• How To Cook a Top Sirloin Roast (and Sirloin Tip)
• Egg Wash