This post may contain affiliate links. See my privacy policy for details.
There are few foods that make more sense to cook in a big batch than soups. Easily storable and even easier to reheat, soups are basically the oldest method of making anything edible; put it in a pot of boiling water and cook it until you can eat it!
However, when it comes actually to store the soup, it can feel pretty challenging, and just a little bit frightening. How are you supposed to freeze your soup, especially if it isn't only water-based, but actually contains cream! It always seems to coagulate and separate on the top!
Here's how to properly freeze your soups, regardless of whether or not it contains cream.
Table of Contents
How to Freeze A Regular Soup
Freezing a regular soup is incredibly easy – you simply need to get it into simple containers and get it into the freezer.
However, there are a few general tips you should know to make the whole freezing process easier. For starters, make sure your soup has actually adequately cooled down to room temperature before you try and stick it in the freezer.
Not only will it be too hot to handle correctly, but the evaporating steam from the still-hot soup can also damage your containers, even melting plastic bags if you chose to freeze it in freezer-safe bags.
Additionally, if your soup contains delicate herbs such as parsley, basil, or dill, consider not freezing them in with the soup mixture. Instead, stop your soup cooking just before adding these herbs, then freeze it in portion sizes.
Then, when it comes to reheating it and getting ready to eat it later, you can simply add those delicate herbs then. This stops the herbs' flavor deteriorating in the freezer, as well as preserving the integrity of the delicate stems and preventing it falling apart into mush.
You can also take this idea a step further and undercook your soup ingredients. When it comes to root vegetables or tubers like carrots or potatoes, if you cook them until they are completely cooked, then freeze them and reheat it later, you will likely find the potatoes have turned to must.
Things continue to soften in the freezer; as the water trapped in the food's cell walls freezes and expands, it breaks down the outer layers and encourages it to break apart. This effect is only increased when you then reheat it again, further breaking it apart.
For hearty, still stable soups able to be reheated, make sure to cook your ingredients just a little bit under what you would like them to be in the finished product.
This is all well and good for normal, regular soups, but what are you supposed to do if the soup you are trying to freeze contains cream or any other dairy product? How do you avoid the fats separating out and ruining it?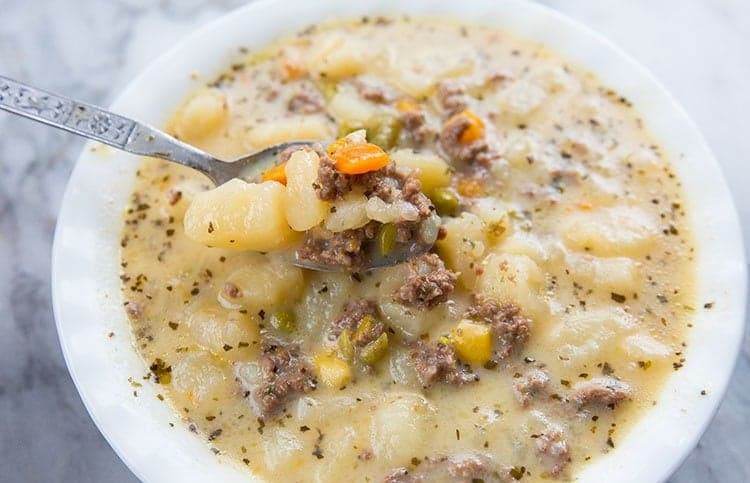 How to Freeze A Cream Soup
The thing to keep in mind about a separated, cream-based soup that you store in the freezer is that it really isn't actually a problem. This separation is just the fats within the dairy, breaking away from the mixture and forming a layer on top.
As you reheat it and whisk it together, the mixture will reform, and you won't have to worry about it. However, if you really want to avoid the visual ugliness that is the solid mass of congealed fat on the top of the soup, there are a few things you can do.
For starters, you can omit the dairy ingredient altogether in your soup. Simply don't add the dairy component until you reheat it, allowing you to freeze the soup before the dairy addition.
Then, when it comes to reheating your soup, add the dairy as it heats up and simply let it cook for a few minutes longer. This way, you don't have to deal with the unpleasant film of fat on the top, but you also get the complete freshness of the dairy.
If you can't be bothered to do that, you can also reconstitute a frozen cream soup using arrowroot or agar agar.
Simply make a thin slurry of equal parts of either arrowroot powder or agar agar powder. Then, add it to the soup as you reheat it.Make sure you don't use too much; as otherwise, you will end up with incredibly thick gelatin of soup that you need to eat with a fork.
For a regular, single serving of soup, a scant quarter teaspoon of either powder is sufficient and will help bring back the soup to its proper equilibrium.
Packaging Advice
Perhaps the hardest part about freezing soups is deciding what kind of container to use to store your soup in.
Do you put it in Tupperware pots or freezer-safe plastic bags?
Generally speaking, Tupperware boxes are always going to be preferable, as they maintain their seal correctly, and have less potential to leech out potentially harmful plastic components.
However, they do take up a lot of room. If you have limited freezer space, consider using freezer-safe bags – they are a bit trickier to ladle the soup into, but they pack down a lot more efficiently. Just make sure that you don't puncture the bag and wind up with soup all over your freezer!
A good rule of thumb on deciding which one to use is to consider the ingredients of your soup. If your soup contains a lot of thick, chunky vegetables and other large ingredients, then use a Tupperware container.
If the soup is instead a lot thinner, for example, a blended soup or a chowder, then it is a lot easier to store it in freezer-safe plastic bags.
Whatever you use, just make sure it is adequately cooled down first!