This post may contain affiliate links. See my privacy policy for details.
Salmon is an incredibly versatile, not to mention delicious, fish that too few people enjoy regularly. While it can seem a bit overwhelming, there are actually all kinds of ways to make cooking salmon not only delicious but simple and quick as well!
Don't forget to learn How to Make Crock Pot Bone Broth to use for poaching your salmon! Make sure to use any leftover salmon that you have to make a delicious Salmon Salad the next day!
Table of Contents
How To Cook Salmon
Salmon is a delicious and healthy seafood that is incredibly versatile and can be prepared in many different ways.
Whether you prefer to cook salmon on the stove, in the oven, on the grill, or in an air fryer, there are plenty of options to suit your taste and cooking style.
However, each method of cooking salmon is slightly different and requires its own particular methods and ways of doing things. So here are a few tips and techniques for cooking perfect salmon every time, no matter how you cook it.
How To Poach Your Salmon
Poaching salmon is often seen as the classic, restaurant style of preparing salmon, as it seems like it should be really complicated.
However, all poaching salmon really involves is gently simmering the salmon in some intensely flavored cooking liquid, like a mixture of wine and chicken broth, until the flesh is tender and the meat flakes.
You can try sous viding your salmon, which is basically the same thing as poaching, only you keep the salmon in a little plastic bag with the flavoring ingredients inside with the salmon. The whole bag gets simmered in your target temperature for salmon, and you cook it until it reaches the desired temperature.
If you want to try poaching or sous viding your salmon, just make sure that you keep a careful eye on it, and ensure that it doesn't overcook and start to fall apart in the cooking liquid.
You are looking for an internal temperature of 145 Fahrenheit typically, so keep a close eye and poke it with a fork now and then to make sure.
How To Cook Salmon In The Oven
Cooking salmon in the oven is a great way to achieve a perfectly cooked and flavorful salmon, as well as get some really good color on it.
Cooking salmon in the oven just involves seasoning your salmon fillets with salt, pepper, and any other desired seasonings.
Then, place the salmon on a baking sheet lined with parchment paper and bake for 12-15 minutes at around 375 Fahrenheit, or until the salmon is cooked through and flakes easily with a fork.
You can also add a glaze or sauce during the last few minutes of cooking to add extra flavor.
Cooking salmon in the oven not only gives a lot of color, but is also a more hands-off method of cooking, making for an easy, low-intensity way to prepare dinner.
How To Cook Salmon Using An Air Fryer
Using an Air fryer to cook salmon is a quick and easy way to achieve a crispy exterior and moist interior, all while using a lot less energy than with an oven.
Prepare your salmon just as if you were cooking it in an oven, but then put it in the air fryer basket and cook for about 10 minutes at 375 Fahrenheit.
Once it can easily flake with a fork, you're done!
How To BBQ Salmon
Grilling salmon on the BBQ is probably the most intense and delicious way to enjoy this flavorful fish, though also the one that requires the most prep.
After preparing your fish and oiling your grill grates, cook your salmon skin-side down for about 4 minutes, turning, and cooking again for 4 minutes on the other side, until it looks like it is just about to start flaking.
Make sure to drizzle a glaze over the top in the last minute of cooking as well. This will not only add color and deep intensity of flavor but also allow you to add a ton of additional flavorings and spices in the form of a custom-made BBQ glaze!
How To Cook Salmon On The Stove
Finally, for those that just want something familiar and easy, you could try cooking your salmon on the stovetop.
After seasoning and preparing your salmon as normal, place your salmon skin-side down on a well-greased frying pan and cook for around 4 minutes, or just until the skin is crispy.
Flip the salmon and cook for maybe 2 more minutes, being careful not to let the salmon overcook.
Pan-frying your salmon can develop some really nice color, but because it is a directional method of cooking (as the heat only comes from one side,) you need to make sure that you don't overcook the outer edges of the fish, all while ensuring that the inside bits of the salmon still reach a safe temperature.
Plenty of fat, a thin piece of salmon, and a low temperature are the keys to this, so take your time and adjust the heat as necessary to end up with the perfect piece of pan-fried salmon that you can.
Looking for more great How To Guides? Try these out:
• How To Cook a Top Sirloin Roast (and Sirloin Tips)
• How to Cook a Boneless Pork Loin Roast
Happy Cooking
Love,
Karlynn

Pin this recipe to your Seafood Recipes Boards and Remember to FOLLOW ME ON PINTEREST!
Thanks to ads on this website, readers of The Kitchen Magpie are now sponsoring 2 families a month through the Edmonton Food Bank. Learn how you can help here.
Learn to cook like the Kitchen Magpie
Subscribe to The Kitchen Magpie on YouTube
One click and you'll get notified of new videos added to our YouTube account!
Subscribe on

YouTube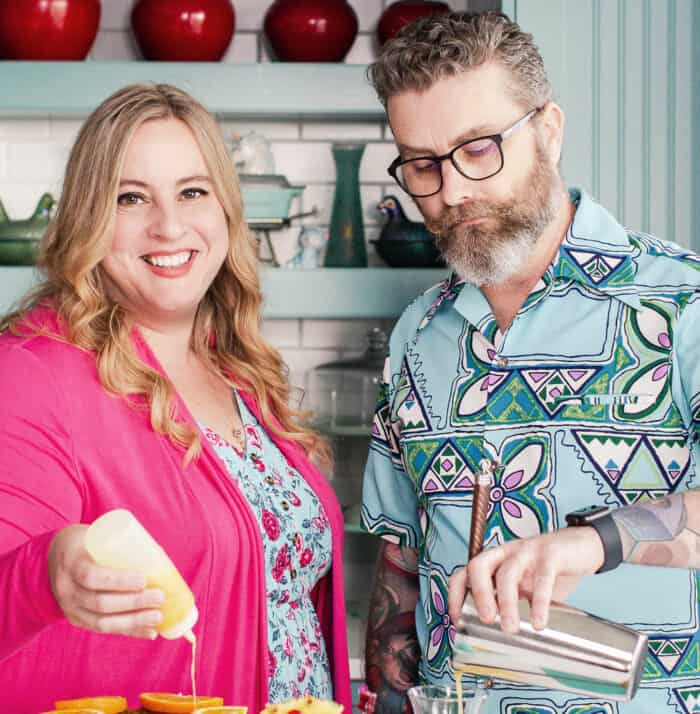 How to Cook Salmon
A delicious way to prepare salmon is with light poaching leaving the salmon moist and delicious.
Prep Time

5

minutes
Cook Time

15

minutes
Course

Dinner
Cuisine

American
Equipment

saucepan
Author
Ingredients
2

pounds

salmon fillets cut into 4 pieces

salt and pepper

4

tablespoons

butter softened

½

cup

chicken broth

½

cup

dry white wine

fresh parsley

lemon wedges

salt and pepper to taste
Instructions
Pat the salmon dry then season with salt and pepper. Divide the butter evenly between the four pieces, spreading on top.

Combine the wine and chicken broth into a medium sized skillet that's large enough to hold the 4 pieces of salmon. Bring to a low simmer.

Place the salmon pieces into the simmering liquid.

Keep at a low simmer and poach for 10-15 minutes until the meat flakes and is cooked completely.

Plate each salmon piece and serve with fresh parsley and a wedge of lemon to squeeze over the top.