This post may contain affiliate links. See my privacy policy for details.
Green beans are not only nutritious and delicious, but they are also a cheap and easy way to provide a satisfying and filling side to any meal! Why not learn how to cook them in all of the different possible ways right here?
For even more ways to cook green beans why not try making a Green Bean Casserole? Or you could make Green Beans Almondine for a slightly richer side dish!
Table of Contents
How to Cook Green Beans
Green beans, with their vibrant color and crisp texture, make a delightful addition to any meal, so long as you cook them properly.
Whether you're looking for a quick and healthy side dish or a versatile ingredient for your recipes, mastering the art of cooking green beans is a must.
In this article, we'll explore different cooking methods for green beans and provide you with tips and important details to consider. From steaming to pan-frying, here's a helpful guide through each technique to ensure you achieve perfectly cooked green beans every time.
How To Prep Your Green Beans For Any Kind Of Cooking
Before you can start cooking your green beans, you need to first get them suitably ready.
Preparing green beans starts with washing them really thoroughly, as they can be pretty dirty depending on where you got them from.
Just rinse them really well under a flowing cold top, making sure to drain as much of the water away from them as possible.
From there, you just need to trim off the tips of the green beans. Unless your packet of green beans comes already trimmed, each individual green bean will need the little thin tail removing, as it doesn't cook down well and can be really unpleasantly chewy.
Don't start cutting each one meticulously by hand, though!
Just grab a good handful and trim them one grouping at a time. This will save a lot of time, all at the cost of a little bit of waste, but it's worth it to not have to spend 5 hours preparing your green beans.
Using an air fryer to cook green beans is a quick and convenient method that yields deliciously crispy results, just like when cooking pretty much anything in an air fryer.
After preparing your green beans like normal,
Toss your green beans in a little bit of oil, and then stick them into your air fryer for around 10 to 15 minutes, or until you start to see the edges of your green beans just beginning to turn brown.
This should result in perfectly tender, fully cooked green beans, all without having to turn on your oven and waste time waiting for it to heat up.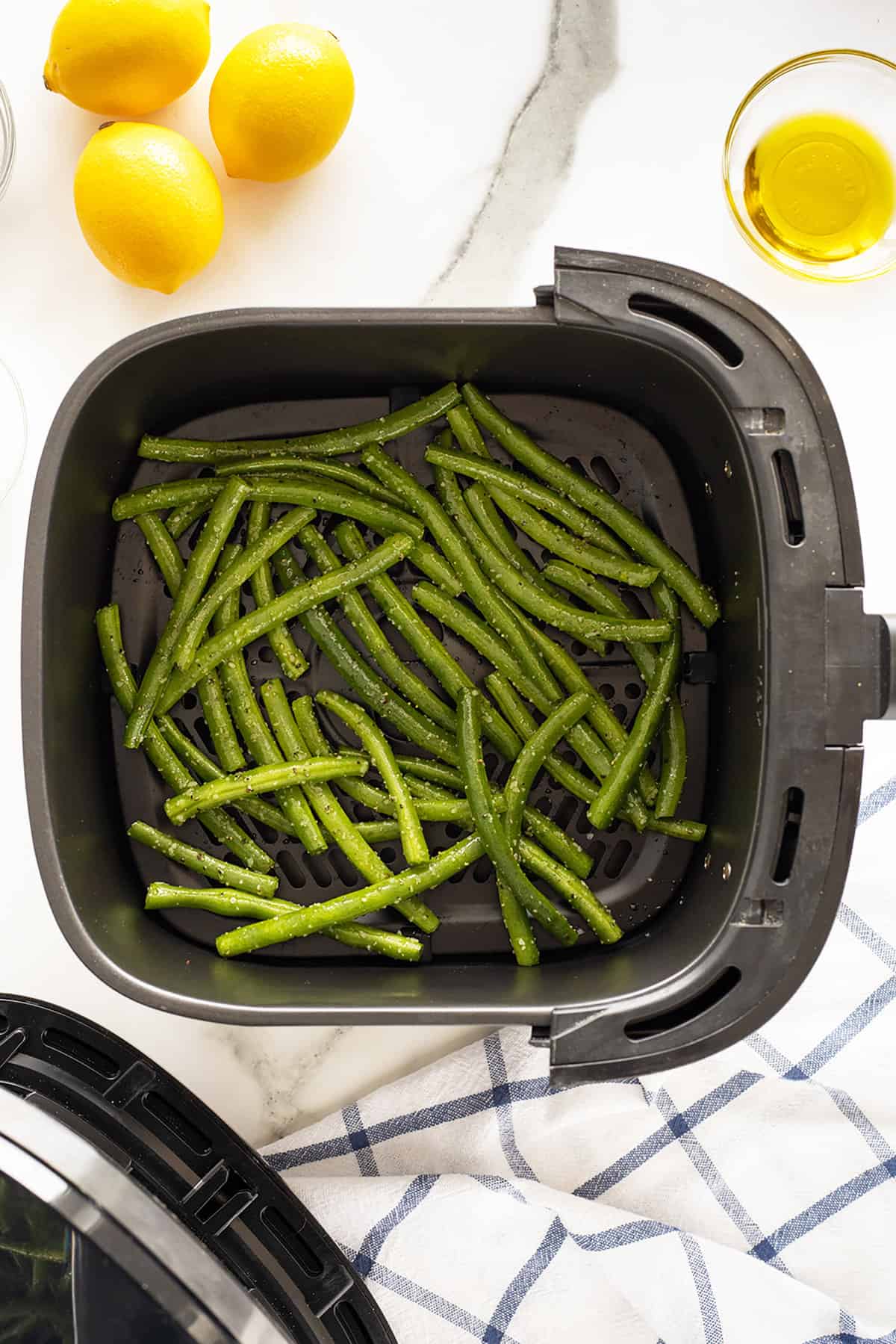 How To Steam Green Beans
Steaming green beans is a simple and healthy cooking method that helps retain their vibrant color and crispness, alongside being really easy to do.
To steam, you just fill a pot with about an inch of water and place a steamer basket or a colander over it, making sure the water level is below the basket or colander.
Then, just bring the water to a boil over medium heat and add the green beans to the steamer basket or colander, ensuring they are in a single layer.
Cover the pot with a lid and steam the green beans for approximately 4-6 minutes, depending on your desired level of tenderness. Check the beans occasionally by piercing them with a fork to test for doneness and remove them to drain when they're done!
If you really want to keep their color, transfer them to a bowl of ice water to halt the cooking process and help preserve their vibrant color.
How To Pan Fry Green Beans
Pan-frying green beans is a fantastic way to add some extra flavor in, as well as sneak in some tasty fat as well.
Just heat a large skillet or frying pan over medium-high heat and add a tablespoon of oil, such as olive oil or vegetable oil, or even something like lard or ghee if you want even more flavor.
Once the oil is hot, add the green beans to the pan, spreading them out in a single layer. Allow them to cook for about 3-4 minutes, stirring occasionally, until they become slightly tender and develop a vibrant green and slightly browned color.
For some more flavor, add a bit of minced garlic, or any other alium like onions or shallots to the pan, give that about a minute to cook, and then remove from the pan.
Season really generously with salt and black pepper, and then serve!
All Of The Different Ways To Use Your Green Beans
Green beans are incredibly versatile and can be used in a variety of dishes. Instead of just eating them on their own, you could amp them up by combining them with these great recipes.
– French Fry Alternative
Green beans can be a nutritious and flavorful alternative to traditional fries. Cut the green beans into long, thin strips and air fry them until crispy. Sprinkle some grated Parmesan cheese over the top for a cheesy twist.
– Salad Filler
Green beans are surprisingly salad leaf-like when they are chopped up nice and fine into thin strips. Why not add them as a crunchy, tender addition to your favorite salad?
Looking for more great How To Guides? Try these out:
• How to Roast and Cook Eggplant
Happy Cooking
Love,
Karlynn
Thanks to ads on this website, readers of The Kitchen Magpie are now sponsoring 2 families a month through the Edmonton Food Bank. Learn how you can help here.
Learn to cook like the Kitchen Magpie
Subscribe to The Kitchen Magpie on YouTube
One click and you'll get notified of new videos added to our YouTube account!
Subscribe on

YouTube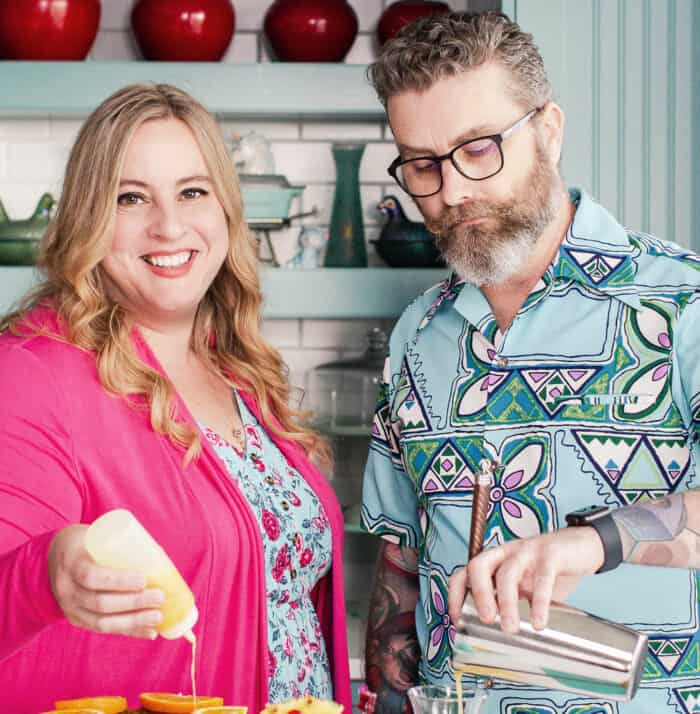 How to Cook Green Beans
Easy way to cook green beans to make them tender crisp.
Prep Time

5

minutes
Cook Time

15

minutes
Course

Appetizer
Cuisine

American
Author
Ingredients
2

pounds

fresh green beans washed and ends trimmed

3

tablespoons

olive oil

1

tbsp

minced garlic

1

teaspoon

sea salt or to taste

½

teaspoon

freshly ground black pepper
Instructions
Preheat the oven to 425 °F

Spray a rimmed baking sheet (jelly roll pan type) with cooking spray then set aside.

Place the green beans in a single layer on the sheet pan.

In a small bowl, mix the oil, salt, pepper, and garlic.

Drizzle the mixture over the green beans, then toss to coat the beans evenly.

Bake in the oven for 15-20 minutes or until the green beans are tender, slightly shriveled and lightly browned.

Season again with garlic salt or salt and pepper to taste if desired and serve.