Pineapple Soda Cracker Dessert/ Pineapple Saltine Cracker Dessert
Oh, I know that you are scratching your head in bewilderment right now, and that's what I was doing when I came across this (badly written) recipe in my family vault. The vault refers to the stacks of papers, magazine cutouts, the one family cookbook that I know of – yes, some relatives did one up in those awesome ring bound church-like books of some family recipes, handwritten scraps of paper and recipe cards.
Have you ever heard of Pineapple Soda Cracker Dessert? Or Pineapple Saltine Cracker Dessert, whichever you prefer to call it. I scoured the internet looking for this recipe, but alas, I only found a weird cheese, cracker and pineapple dessert. This my friends, is one of a kind, right here. I have no idea where this recipe came from originally, and it certainly isn't a well-known one.
It's a pineapple custard filling, as you can see in the photo below, with a crumb topping that is made up of saltine crackers, flour, coconut and brown sugar.
Would you believe me if I said it's absolutely scrumptious? The coconut, while you can't really see it in the photo makes this dessert perfect.
I don't remember the name of this, but as soon as I took my first bite, I instantly knew that I had eaten this, way back in my childhood. I don't know if it was a church function (where these types of dishes are prone to turn up on the table) or a relatives house, but I knew that I had tasted this salty, sweet, crunchy pineapple soda cracker dessert before.
I completely ruined the first batch of this recipe, to be honest, because like any good old family recipe, there were numbers and instructions missing. There was too little butter in the topping (I think that someone mixed up the number) and there were no instructions to drain the crushed pineapple.
Oh hey, pineapple soup, how's it going?
Drain the pineapple. Learn from my testing mistakes.
This is a sweet, pineapple custard filling, super delicious crunchy topping, delight. I can't believe how good it is!!
This is totally your new Easter dessert.
My family's recipe is actually DOUBLE this recipe, but because of the mistakes in the writing I made it into an 8×8 pan instead of a 9×13 so I didn't waste more ingredients. (pineapple soup, remember).  If you are feeding a large crowd, double it and put it in a 9×13, for sure.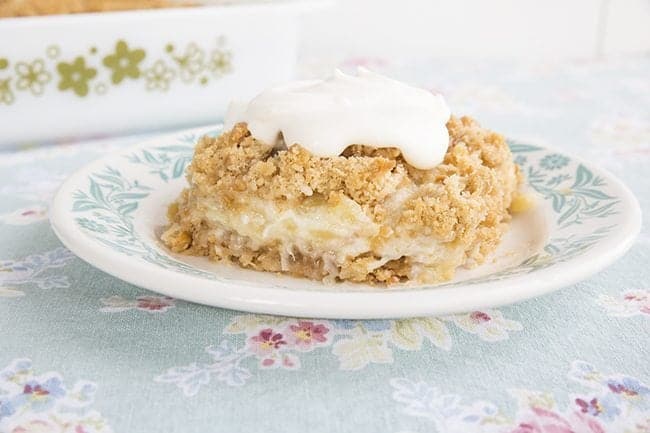 So, is this a blast from YOUR past? Who has heard of this before? Eaten it? My family can't be the only ones who have had this recipe for Pineapple Saltine Cracker Dessert secreted away for decades!
Happy Baking everyone! Who's going to try this for Easter?
Love,
Karlynn

Easter Dessert: Pineapple Soda Cracker Dessert
A one-of-a-kind delicious, sweet and salty pineapple Easter dessert, straight from my family's recipe stash! I've never seen this recipe anywhere else!
Ingredients
3/4

cup

salted butter melted

1

cup

brown sugar

20

saltine crackers crushed

soda

1

cup

of all purpose flour

1/2

tsp

baking soda

3/4

cup

sweetened shredded coconut

Pineapple Custard Filling

1

cup

of water

1

tbsp

cornstarch

1

ml

can of crushed pineapple drained

398

3/4

cup

white sugar

2

eggs beaten until light colored

1

tbsp

butter
Instructions
Pre-heat the oven to 350 °F.

Combine the butter and sugar in the bowl attached to a stand mixer, using the paddle attachment. Mix until combined, then add in the soda crackers. Mix, then add in the flour baking soda and coconut. Mix until combined thoroughly.

Press 2/3 into the bottom of an 8x8 baking pan, reserving 1/3 for the top.

Combine the water and cornstarch in a medium sized heavy saucepan, whisk until dissolved. Add in the pineapple and sugar, then cook, stirring frequently, over medium-high heat until the liquid clears up. Temper the eggs by whisking in a tablespoon of the hot pineapple mixture then whisk into the pineapple mixture in the saucepan. Cook for another 3-4 minutes until thickened and creamy (this will not clear up, you are making a custard) and remove. Stir in the butter until melted in completely.

Pour the sauce over the crust in the 9x9 pan, then cover with the remaining 1/3 of the crust mixture.

Bake in the oven for 20-25 minutes until the crust is nicely browned.

Remove and serve with a dollop of whipped cream or vanilla ice cream on top.
Nutrition Facts
Easter Dessert: Pineapple Soda Cracker Dessert
Amount Per Serving (6 -8 servings)
Calories 0
* Percent Daily Values are based on a 2000 calorie diet.
1